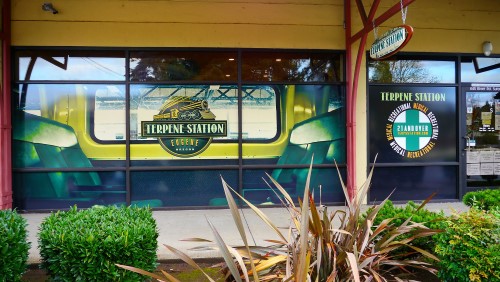 This is the third installment of our series on recreational and medical marijuana, "From seed to smoke: Risks across the marijuana supply chain." In the first installment, we discussed potential risks in marijuana cultivation. The second article discussed potential risks related to manufacturing finished marijuana products.
Potential risks sales establishments face
In many states, marijuana sales are being taken out of the back alley and into licensed retail and medical dispensary establishments. In this article, we'll discuss some of the potential risks these establishments may face. In particular, we'll examine whether we can consider many of these risks as "traditional" retail and related business class risks, including those associated with establishments selling intoxicants.
But first, some definitions
Let's first define our terms. Marijuana is a type of plant that, if consumed properly, can give the user a "high," generally induced by the psychoactive chemical THC. There also exist marijuana-related products that may not induce a psychoactive response to the user, such as cannabidiol (CBD). CBD is a non-psychoactive cannabinoid compound found in marijuana and hemp with apparent therapeutic effects.
Those states permitting recreational and/or medical marijuana use often have different regulations or laws in place to address who can sell and use marijuana - and how.
Recreational marijuana
In eight states and the District of Columbia, so-called "adult," "personal," or "retail" marijuana and marijuana-related products may be used for non-medical ("recreational") purposes, subject to certain limitations. It's important to note that, as of this writing, not all of these jurisdictions currently have regulatory regimes in place for the sale of marijuana. For example, in November 2016 voters in Massachusetts approved a ballot initiative addressing recreational marijuana. However, the state's newly-formed Cannabis Control Commission reportedly has until March 2018 to promulgate rules regulating retail marijuana stores, and the first stores aren't expected to open until July 2018.
Nonetheless, in those jurisdictions that do currently allow retail sale of marijuana, regulations typically address, in part: where retail marijuana stores can operate; the security of the stores; marijuana deliveries; and inventory tracking of marijuana products until their sale ("seed-to-sale"). In general, marijuana stores can only sell marijuana products to adults 21 years or older - and many states limit the per diem quantity of recreational marijuana or marijuana-related products that a single individual may purchase. Other state requirements also typically include: child-resistant packaging and warning labels; prohibitions on the consumption of marijuana on the retail premises; and prohibitions on the sale of alcohol alongside marijuana, or the sale of marijuana to visibly intoxicated individuals.
Medical marijuana
Additionally, in many states, so-called "medical marijuana" and/or marijuana-related products may be purchased and used for medicinal or therapeutic purposes, subject to certain limitations.
According to the National Conference of State Legislatures (NCSL), as of this writing there are 29 states and DC with so-called "comprehensive medical marijuana" programs. The NCSL defines a "comprehensive" program as, in part, one that offers protection from criminal penalties for medical marijuana use; authorizes some kind of cultivation and distribution system for marijuana products; and permits the use of a variety of types of marijuana products, including the smoking or vaporizing of such products, when appropriate.
For example, Maine's medical marijuana program, in part, provides legal protections for patients qualifying to purchase, cultivate at home, and use medical marijuana, as well as for caregivers and dispensaries. Physicians may certify that patients qualify to purchase, possess, and use marijuana under the program. The program also provides rules for the commercial cultivation and dispensation of marijuana intended for medical use.
An additional 16 states have so-called "limited access" medical marijuana programs, which the NCSL defines as programs that permit the use of "low THC, high cannabidiol (CBD)" products "in limited situations or as a legal defense." These programs tend to be more restrictive than their comprehensive counterparts. For example, Missouri's CBD law, in part: limits use to those with "intractable epilepsy;" limits the CBD product to five percent or more of CBD and "no more than three-tenths of one percent of THC;" and prohibits home cultivation of marijuana products.
Similar requirements as those imposed on retail marijuana stores may apply to medical marijuana dispensaries, depending on the particular contours of a state's medical marijuana program. However, unlike a retail marijuana store that can generally sell marijuana products to any adult aged 21 or older, only individuals with qualifying medical conditions may purchase marijuana or marijuana-related products (such as CBD-infused products) from a licensed dispensary establishment. What constitutes a qualifying medical condition varies by state. Comprehensive and limited medical marijuana programs generally permit certain licensed physicians to "recommend," "authorize," or "certify" marijuana to patients with permitted qualifying conditions.
Is marijuana like liquor, tobacco, or completely different?
There are many different ways that insurers and risk managers may want to think about marijuana retail and dispensary operations.
Classification of the risk
As you've probably noticed, many of the requirements for retail marijuana stores may appear similar to those imposed on dram shops and other establishments selling liquor. While it's important to note that some products sold at retail marijuana establishments may not necessarily intoxicate the user - as we mentioned above, CBD-infused products generally demonstrate non-psychoactive qualities - marijuana stores are primarily in the business of selling intoxicants. So should insurers and risks managers consider retail marijuana stores in the same business class as liquor stores?
Not necessarily. Retail marijuana stores may pose risks not always associated with liquor stores. Unlike intoxicating liquors, many marijuana products are meant to be smoked and inhaled. Smoking and inhaling marijuana could cause future health complications. According to the National Institute of Drug Abuse (NIDA), "marijuana smoke irritates the lungs, and people who smoke marijuana frequently can have the same breathing problems as those who smoke tobacco." Is there a similar risk of third-party latent bodily injury from smoking marijuana as there is from smoking tobacco - and could suppliers be held liable? (Note: The NIDA states that a definitive link between marijuana smoking and an increase in lung cancer risk has not yet been made.)
Be that as it may, many liquor stores also sell tobacco products alongside intoxicants. So why should retail marijuana be considered any differently? Well, some states not only allow the license-holders to sell marijuana, but also to cultivate and process the plant (or some combination of the three) on the same premises. For example, under Oregon law, a retailer may also be licensed to produce finished marijuana products, such as THC-infused baked goods, on the same premises, as long as the retailer possesses a state Department of Agriculture food establishment license. The retailer would then have to comply with applicable health and safety regulations governing food establishments. The underwriting of liquor store risks may not typically encompass restaurant-related risks.
And there are further risks to consider if we're talking about a combined cultivation/retail operation. Marijuana cultivation introduces new risks not otherwise contemplated in a regular retail operation - including potentially heightened risks of fires and explosions. (For more information on cultivation risks, check out the first article in our series.) When we think of liquor store risks we're not usually contemplating underwriting any risks associated with cultivating, say, wheat or rye in controlled environments.
Do you want that to stay or to go?
There may also be risks associated with on-site marijuana consumption. As we mentioned above, most jurisdictions prohibit the consumption of marijuana on the retail premises - or anywhere that isn't a private residence or on non-commercial private property, for that matter. However, a handful of jurisdictions have begun or are planning to begin to allow the sale and consumption of marijuana on certain premises.
In July 2017, Denver, Colorado officials had reportedly released final rules for a pilot program to allow marijuana consumption on appropriately licensed commercial premises. According to the Denver Post, the new rules will permit applications that would allow for marijuana consumption areas on licensed premises either for single events or on an annual basis subject to certain limitations, including, in part:
compliance with the state's indoor smoking ban
"odor control" in the event that the licensee allows smoking or vaping marijuana
access restrictions to persons age 21 or older
consumption not be visible to the public
consumption not be permitted if liquor is being served
In Maine, a voter-approved 2016 ballot initiative that addressed recreational marijuana legalization included provisions to license and regulate so-called "retail marijuana social clubs," defined as facilities that sell marijuana for on-premise consumption. Perhaps this kind of operation could have a similar risk profile as a brewery or distillery that also serves drinks on-premises? This too remains to be seen.
Medical marijuana dispensaries
Many of the risks just discussed could also apply to medical marijuana dispensaries - depending on the particular requirements of a state's medical marijuana program. However, medical establishments and permitted healthcare practitioners may also encounter potential professional liability risks, including those related to improperly evaluating a patient's qualifying condition or running afoul of any relevant regulations.
Other risks to consider
There are, of course, many other potential risks that retail and dispensary operations could face, including product liability, pollution, and theft risks.
Product liability: As we noted in the first part of our series, operators along the marijuana supply chain may face potential liability if the marijuana sold is contaminated with pesticides. There have been a number of reports of marijuana product recalls as a result of contamination.
In April 2017, the Oregon Liquor Control Commission (OLCC) issued its first recall of recreational marijuana after tests at a retail store showed that a strain contained levels of the pesticide pyrethin in excess of the OLCC's acceptable limits.

Earlier this year, in March, a group of medical marijuana users in Canada filed a class action suit against a marijuana producer, generally alleging that the producer sold products containing myclobutanil and bifenazate, which are reportedly considered toxic.

In February, researchers found potentially dangerous bacteria and mold from medical marijuana samples in California.
As a result, many states that permit recreational or medical marijuana sales have begun regulating permitted and prohibited pesticides and other crop treatment chemicals.
Pollution: Marijuana plants and derivative products can reportedly emit strong odors. Marijuana cultivation and processing facilities are especially at risk of emitting potentially noxious odors that may potentially constitute a nuisance. For example, last year a marijuana cultivator in Boulder, Colorado was reportedly fined $14,000 for noxious odors wafting onto neighboring properties.
States and local jurisdictions may also regulate odor pollution. Washington state has air quality and odor control regulations and even requires approval for marijuana producers and processors. There may be similar risks of odor pollution from retail stores and dispensaries, particularly if they sell dried and cured plant matter.
Theft: Retail stores and dispensaries may face an increased theft risk, both because of the concentration of high-value property and the large amounts of cash typically found at such operations. Even in states that permit legal sales, marijuana and marijuana products are not cheap; prices for an ounce of pot in a state that permits marijuana sales can typically cost over $200. Regulations on cultivators and retailers may also restrict the supply of marijuana, driving prices even higher. Marijuana from states with legal marijuana can fetch even higher prices on black markets in other states where the drug remains illegal under state law. And though legal marijuana sales under state laws may be cheaper than black market prices, there nonetheless exists a heavy concentration of high-value products in retail and dispensary operations that may make them attractive to theft.
Additionally, many marijuana businesses, including retailers and dispensaries, rely on a cash-only business model. Because marijuana is currently illegal under federal law, most financial institutions are reportedly cautious or entirely unwilling to offer services to marijuana-related businesses - despite certain federal guidances, including one from the US Department of the Treasury, that have sought to expand marijuana business access to financial services. The high values of cash on-site may also make such operations attractive to theft.
Learn more
The potential risks and considerations facing retail and dispensary operations we've discussed in this article only scratch the surface. The marijuana market and state regulations are evolving rapidly, and its current prohibition under federal law continues to affect this evolution. The ISO Emerging Issues team continues to research and track potential considerations related to marijuana. You can find more of our research on ISOnet (ISOnet login required).
Stay tuned for our next installment, when we'll look at potential risks related to using marijuana products, including considerations related to employment and driving under the influence.
---
Lucian McMahon is a product development specialist with the ISO Emerging Issues team. You can contact Lucian at lucian.mcmahon@verisk.com.
---