UBI adoption accelerates in China and Brazil
By
Yuran Li
| September 22, 2016
Can two of the world's largest economies catch up to the United States in terms of usage-based insurance (UBI) adoption? China and Brazil, with their respective technological and infrastructure advances coupled with policy trends and other economic factors, may very well do so in a short period of time.
A better question might be: Are the two countries anywhere near overtaking the United States on the UBI front? At first glance, that would seem unlikely. When compared with China and Brazil, the UBI market in the U.S. is considerably more mature—more than a decade has elapsed since the first commercial UBI program was introduced into the American marketplace. Indeed, with more than 2.6 million UBI policies written in the U.S. (as of mid-2014), nearly 50% of the world's total UBI policies reside there. But future projections for growth in connected cars, population, and new vehicles on the road suggest a potential exists for UBI adoption to expand exponentially in China and Brazil—especially in China—over the next few years (see Figures 1 and 2).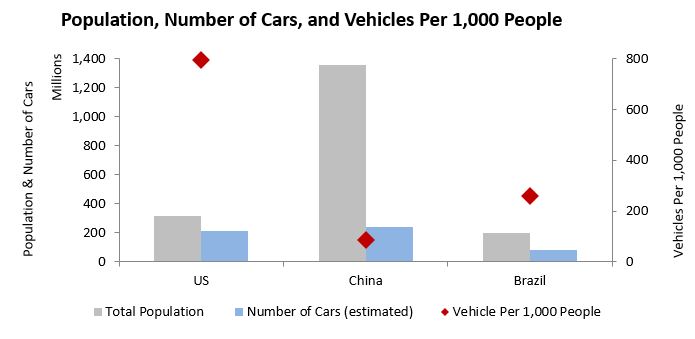 China, the world's second-largest economy and biggest auto market, added more cars in 2012 than its total number of cars on the road in 1999. To keep up with the significant growth in demand for automobile insurance and regulate the operation of the insurance marketplace, the China Insurance Regulatory Commission (CIRC) has been pushing for reforms. Although UBI and telematics products have not yet been offered to the Chinese market, the CIRC has reportedly been allowing greater latitude recently, including allowing a larger number of auto insurers in multiple regions of the country to develop their own coverage and calculate premiums that better reflect drivers' potential risks.
Those changes are potentially helping to establish a foundation for a UBI market in China. In recent years, the number of Chinese telematics service providers (TSPs) operating in China has increased as well. These TSPs have the ability to collect driving data, but (according to one consultant active in the region) they face various challenges. Those challenges reportedly include finding a value proposition, targeting a service market, and potentially competing with the original equipment manufacturers (OEMs) that have begun providing telematics technology in vehicles. In addition, one major U.S.-based automaker recently announced a partnership with China's — and the world's — largest wireless telecom carrier to launch in-vehicle telematics and 4G LTE (fourth-generation long-term evolution data technology) services for Chinese consumers in early 2015.
As OEMs start entering or plan to enter the market with connected-car programs, the amount of usable driving data is expected to increase dramatically. To that end, insurers equipped to make use of these valuable data points are likely to have an advantage when UBI competition heats up.
In Brazil, another country with a large appetite for cars, the number of vehicles on the road doubled between 2003 and 2013. The first telematics UBI auto insurance product was introduced in the country in 2014, and based generally on available reviews provided by insureds, that offering was well-received.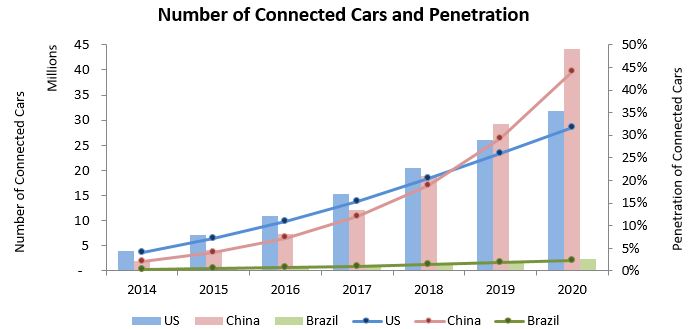 Soon after, a second insurer, the international subsidiary of a U.S.-based company, partnered with a local telematics service provider to launch another UBI product, creating potential competition in Brazil's insurance market. Brazil has also welcomed global OEMs.
In 2015, two major automakers launched telematics-based initiatives there. These new programs and technologies will accelerate the growth of connected vehicles and ultimately increase the volume of data collected on driving behaviors as well as Global Positioning System (GPS) information. Insurers and data intelligence providers able to leverage that data and set up risk models or pricing tools can potentially gain significant competitive advantages when rolling out UBI programs.
Perhaps it's not only a question of what country — the U.S., China, or Brazil — will lead in UBI adoption but also a matter of each country working cooperatively to develop and advance the next generation of UBI programs to benefit the global marketplace. The United States has an arsenal of substantial expertise and knowledge. China, a fast-growing market, is adopting new concepts and exploring potential opportunities every day. Brazil, an emerging economic player with an expanding population, is undergoing rapid development to become a more competitive player in the UBI marketplace. From this global perspective, each country has a unique value proposition to share.
For more information, visit the Verisk Telematics Data Exchange™.
This article was produced by Verisk Telematics and first appeared as part eight of a ten-part series of articles on PropertyCasualty360.com, which has permitted its reuse.
---