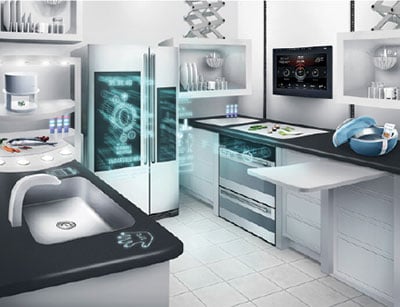 The Casualty Actuarial Society (CAS) hosted a roundtable discussion on homeowners telematics at its annual meeting in November 2014. The relatively new concept goes by other names, including smart homes or connected homes. The burgeoning market of home telematics is part of a larger concept called the "Internet of Things."
David Cummings, senior vice president, Personal Lines and Analytics, ISO Insurance Programs and Analytic Services, moderated a panel that included Steve Lekas, vice president, Property Product Management, Verisk Insurance Solutions – Underwriting; Mike Patterson, executive director, Property Pricing, USAA; and Lauren Vingiano, Business Development, Canary.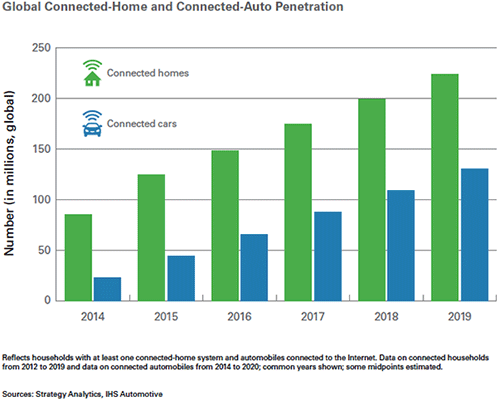 USAA is a Fortune 500 financial services company offering property/casualty and life insurance and banking and investment services. Canary offers a smart home security system that uses machine learning to monitor video, temperature, air quality, and other information for its users. It's built to learn and adapt to your patterns over time, sending intelligent alerts with HD video directly to your smartphone to reduce false alarms.
Here are some key takeaways from the panel.
David Cummings: What's the most exciting aspect of the connected home for the insurance industry?
Mike Patterson: I think the most exciting component is loss prevention and loss mitigation. With GPS technology, we have a good idea of the condition outside of a home and even the condition of the roof, but we really don't know anything about the home's interior. There will be many methods for us to better understand what's inside the home, and I think there will be a lot of opportunity there.
Lauren Vingiano: It comes down to data. For the first time, we'll have insight into what's happening inside the home. At Canary, we think within five years we'll have more information on physical places than any other company. What we can do with that data is exciting. For example, if there's a string of break-ins in a neighborhood, we might enable law enforcement to make that neighborhood safer. In a high-rise, we might be able to detect a gas leak or a fire early on and get ahead of it before it spreads to other apartments. If there's an earthquake or other natural disaster, we'll be able to tell when it hit different areas of the state based on movement in the devices. For us, it's really about everything you can do with the data to improve life.
Cummings: What are the challenges we face when we use this information for insurance?
Patterson: The number one challenge is the volume of the data and its lack of uniformity. There are many new entrants into the market, and if you're partnering with one or a few, are they going to be around a while? The other challenge is that Google, Apple, and Microsoft are also gathering data. Will we see nontraditional competition from Google possibly getting into the insurance business?
Steve Lekas: A daunting aspect is how small the penetration of the connected home market is: an estimated 1 percent for the United States and 2 to 3 percent claim frequency for the homeowners line of business for the fire, theft, and water perils. Between those two factors, it may take a long time before insights are available. I think that's one of the bigger challenges.
Vingiano: Right now, not many people have a connected home. I think the challenge is getting past the early adopters and to the masses. We've seen companies focusing on connecting things just because they have the technology that enables them to do so. At Canary, we have brilliant engineers and designers from companies such as Google, Apple, IDEO, Motorola, and more who want to solve real problems for real people. I think this approach will help us reach a broader audience.
Cummings: Will insurance incentives or discounts be the answer for getting devices into homes?
Lekas: My original position is we [insurance businesses] would put them in homes. But as I spend more time understanding this market, I believe insurance may be an incentive to purchase the technology but will likely be only a secondary use case for consumer adopters.
Patterson: There are so many other industries getting into this technology — security companies, consumer electronics companies, energy companies. How can the insurance industry get involved and take advantage of the data so it benefits policyholders? That will be interesting.
Vingiano: I know insurance companies offer some level of discount on homeowners and renters insurance for customers that have security systems. It can be as high as 15 percent. That's one way in. Other companies are just putting a high value on the devices. Whether it's incentivizing discounts, giving devices to customers, or marketing them in some other way, it's all about getting the devices to the masses.
Patterson: From the start, a lot of discounts can simply be participation discounts. Insurers may provide the devices for free or give a discount to participate.
Cummings: How long before the average homeowner has connected monitoring devices?
Lekas: Many of us are just going to have the technology because it's part of the product or service we're purchasing. You may buy a TV and it's going to be a connected TV. Or as a personal example, my municipality's connected water meter.
Cummings: Auto telematics employs the recycling of devices as a tool to help make them more useful or prevalent or less expensive. Will we see that in the home market?
Lekas: I don't think that's going to be viable in the home. It would be just incredibly cumbersome to have users installing and uninstalling devices and sending them back to recycle.
Patterson: If a home is equipped with these devices, is it transferable to the next homeowner? Hopefully, that technology is already there.
Vingiano: In New York City, only about 12 percent of renters have insurance, and renters are 85 percent more likely to have a break-in. I think the push is going to come from devices that are affordable and easy to install or require no installation. The advantage of those types of security systems is that you can take them with you when you move.
Patterson: And, as you suggested, even portable — moving your security system from one apartment to the next.
Lekas: And the connected home could become a part of building codes at some point. You may recall the 1973 America Burning report and smoke detector adoption from that point on. If the savings are great enough, you could see the policy push here.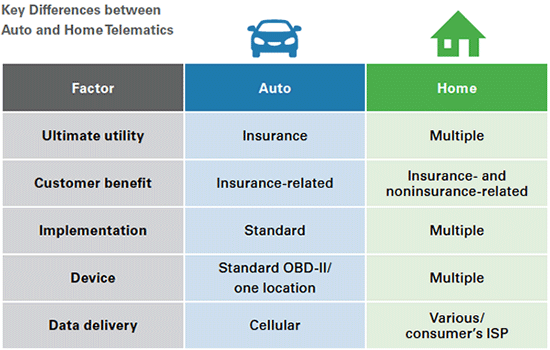 Cummings: How willing will people be to share their connected home data with their insurance company for an incentive such as free equipment or a policy discount?
Patterson: I think there's going to be more comfort in sharing data. I read an interesting article in which someone was giving out cookies in New York City in exchange for some piece of personal information. It was amazing how people would share personal information for cookies!
Vingiano: When you download a new app, you probably notice it says "create a new account" or "log in with Facebook." You have this trepidation and wonder, What are they going to do with this data? But then you just want to get through to the app, so you hit "OK" and log in with the Facebook option. People share information even when they aren't convinced they should.
Lekas: How we accommodate the request for access may have a lot to do with it. With Gmail accounts, for example, we give Google access to our e-mails, which companies use for targeted advertising. There's a company called Mint that centralizes all your financial information. It has access to all of your banking information: transactions, mortgages, loans of any kind. You give up the right to privacy for the value of the tool. I think we'll have some of the same here. It's how we frame the request for permission and how we explain the kind of value we're providing.
Cummings: How do you view the data management challenge behind these tools as addressed by the insurance industry?
Patterson: I think you really need to have the systems and the storage to handle this amount of data. And you're going to have to ask yourself, How much data do I want, and how frequently do I want it updated? Once you can handle that type of data, the next data analytics challenge is the lack of uniformity. You may understand one device well, but how does that translate to another device?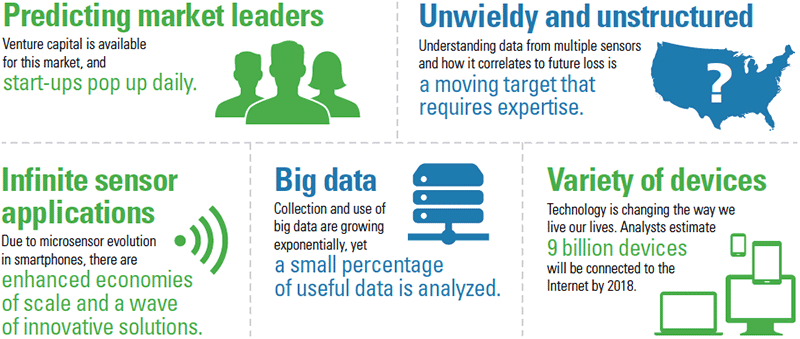 Cummings: Is telematics driving us toward more individual equity and less of the collective sense of insurance — the sharing across broad numbers of shoulders of risk? In a world where you can achieve 100 percent individual equity, is there any need for insurance?
Patterson: I respectfully disagree with the notion that there will be no need for insurance. There's still going to be proper risk classification — not all the way down to the individual but with smaller homogenous groups because of the data we have access to. We have to weed out the low-value items and determine the key information. Also, we're a regulated industry, so I doubt regulators are going to allow us to use some of the other variables even if we could possibly justify them.
Cummings: What are the potential commercial property applications for connected-home technologies?
Lekas: There's a lot of excitement in the commercial space. But the insurance implications are a lot less clear at this point. Obviously, the commercial risks are much more heterogeneous; therefore, it's more difficult to assess the benefit of those devices. You get away from most of the privacy issues, so there are benefits. Certain tech companies are focusing on that space.
Cummings: How will exposure for insurers change if the devices they provide homeowners fail?
Patterson: We still have to learn how to secure data and overcome privacy and security concerns. Then we can examine product failure.
Cummings: Will homeowners have the same willingness to have devices in their homes as drivers do regarding their cars? How close is the industry to a viable discount with the current technology?
Patterson: Most insurers are in an experimental phase right now simply trying to collect some data through small pilots, whether with their own employees or a sampling of their policyholders. Insurers will have some type of participation discount just to collect that data. Many participants in the industry have some discounts already, so more are likely to follow.
Cummings: For consumers who haven't yet put connected devices in their homes, where's the best place to start?
Lekas: Actually, I think it comes down to what your concerns are. If you want to have water leak prevention at your shore house, then that's where you begin. If you want to monitor your children, then that's your starting point.
Vingiano: The insurance industry seems most concerned with water, fire, and theft — in that order. So look at those issues and see if it makes sense for your customers and for you.
To learn more about the Verisk connected-home research study, designed to accelerate the time it takes insurers to generate actionable insights, please contact Joe Wodark at jwodark@verisk.com or 779-324-5935.
David Cummings, senior vice president and actuary, Personal Lines, ISO Insurance Programs and Analytic Services, is responsible for ISO's personal lines insurance programs. He leads ISO's initiatives to enhance its offerings through analytics and predictive modeling across all lines of insurance.
Steve Lekas, vice president, Property Product Management, Verisk Insurance Solutions – Underwriting, is responsible for product development and management strategies for property lines as well as leading the development and launch of innovative property products. Before joining Verisk, he was director of homeowners Product Management and Actuarial at Esurance (an Allstate company).
Mike Patterson, executive director, Property Pricing, USAA, has more than 18 years of experience in personal lines pricing, predictive modeling, reinsurance, and catastrophe risk management. He earned a bachelor's degree in actuarial science from Penn State and became a CAS Fellow in 2003.
Lauren Vingiano, Business Development, Canary, is responsible for creating strategic partnerships across several industry verticals. Before joining Canary, Lauren spent nearly a decade as a management consultant, advising Fortune 500 companies how to protect their people, operations, finances, and reputation from a variety of security and operational threats.