Insurers are always looking for ways to identify high-quality applicants as early as possible in the quote phase—before binding coverage. Such identification leads to a better customer experience and faster binding.
Verisk Insurance Solutions has developed a powerful multistep technique to achieve those goals.
Here's how it works:
The consumer provides basic identifying information.
Verisk then queries multiple high-quality, independent data sources simultaneously to obtain the information required to complete the application.
Finally, we cross-corroborate the application information to verify its accuracy.
The result is a measurably higher-quality application. Our research shows that applications completed using the approach outlined above have a 25 percent higher instance of low-risk applications and half the rate of very-high-risk applications as measured by RISK:check® Point of Sale.
Prior research has shown low-risk policies perform 60 percent better than very-high-risk policies as measured by first-term loss ratio. There are several reasons for that finding.
First, the use of third-party information makes the application process simpler for the consumer. There's no longer a need to have the driver's licenses and VINs for all drivers and vehicles at hand when the consumer wants to shop for insurance. Not having that information ready can often cause a consumer to abandon a quote or use "dummy data" to populate an application. Using third-party information results in a more complete and accurate application in less time — and with fewer consumer keystrokes.
Secondly, acquiring application data from independent information sources curtails potential fraud at the earliest point in the process. Insurers either provide applicants' information back to them to verify or verify it behind the scenes as the consumer enters the data. Applicants are less likely to leave off vital information (for example, I "forgot" to include my 16-year-old on the application) if they realize the insurer is already aware of it.
Finally, and this is key, the information sources are used to cross-verify each other, ensuring that no single source serves as the sole basis of application underwriting and rating data.
Low-Risk Applications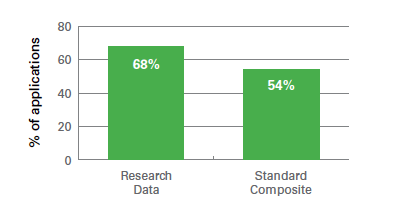 Very-High-Risk Applications