Faster and more cost-effective claims processing
When a rare EF5 tornado touched down last May in Moore, Oklahoma, hundreds of property claims professionals immediately deployed to offer help and begin the recovery process for their policyholders. Adjusters processed claims faster and more cost-effectively than ever before using the extensive data, analytics, and modeling tools from three Verisk Analytics companies.
When a rare EF5 tornado touched down last May in Moore, Oklahoma, The combined expertise of Atmospheric and Environmental Research (AER), Xactware, and AIR Worldwide provided damage assessments in unprecedented detail, helped storm victims begin the recovery process as soon as possible, and provided lessons that the industry can apply to future storms.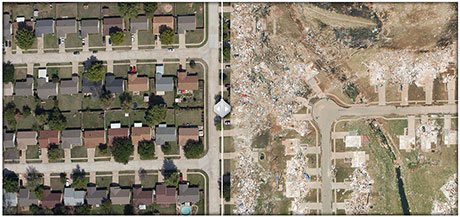 A coordinated response provides unparalleled detail
The three Verisk companies provided an unprecedented level of detail about the tornado and its aftermath — information that enabled claims professionals to understand the damage path in relation to property locations and to document and quantify storm damage faster and more efficiently.
AER quickly provided an analysis of the storm track after the tornado, enabling cat teams to plan their response.
Xactware captured before-and-after high-definition aerial photos and provided software and services to help claims professionals manage and document storm damage.
AIR visited Moore to document the damage and collect data that will enhance future storm models.
Mapping damage paths with greater detail improves cat response and claims projections
AER used advanced weather radar and satellite change detection to create near-real-time analysis of the Moore tornado track through the AER Respond™ service, which provides high-resolution analysis of tornado damage locations. Insurance carriers can analyze the damage path in a variety of geospatial platforms to fine-tune the potential effect on policyholders and establish future loss reserves.
"Quickly learning which policyholders have been affected during and after a tornado outbreak is an industrywide challenge that we've worked with insurers to address through the introduction of new weather analytics over the past year," said Kyle Beatty, senior vice president at AER. "By combining AER's weather radar and satellite damage analyses with high-resolution aerial imagery and ground surveys from our Verisk sister companies, we've been able to understand the impact of these events like never before and help the industry serve customers better and faster."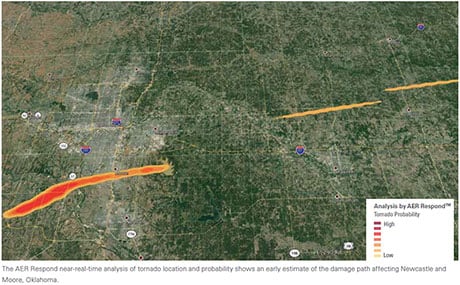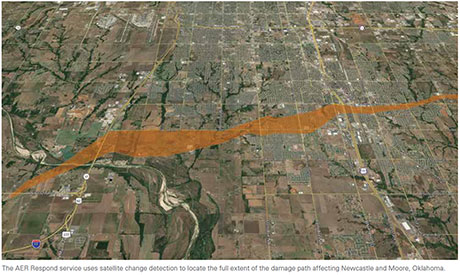 Capturing details before a site visit means policyholders get help faster
Xactware's property data included ultra-high-resolution aerial imagery of structures both before and after the tornado struck Moore. Xactware collected the prestorm data at the end of 2012 when it documented the Oklahoma City area for Xactware's Property InSight™ nationwide library of ultra-high-resolution images and data. After the tornado, the company redeployed to the area to capture poststorm data that gives property professionals valuable insights using an unprecedented level of detail about damaged and destroyed structures.
"The devastation was almost surreal," said Scott Stransky, senior scientist at AIR Worldwide and leader of the AIR site visit. These before-and-after photos below appear in an interactive presentation that demonstrates how the three companies harnessed weather radar, satellite-based damage analysis, ultra-high-resolution aerial imagery, and ground surveys after the devastating tornado.
"The Property InSight data we collected from Moore offers professionals a unique and detailed way to immediately determine dimensions and clearly see exterior and roof features as they were before the storm — gutters, ridges, chimneys, and even individual shingles," said Jeffrey C. Taylor, Xactware's vice president of Property InSight. "Property InSight doesn't just include highly detailed photos; it's strictly calibrated to allow our team to collect actual dimensions and data about structures. That kind of information ultimately helps insurance carriers get policyholders back on their feet as soon as possible."
Earlier this year, Xactware also captured data of St. Louis before and after tornadoes swept through that area. Prestorm and poststorm data of both St. Louis and Moore gives a useful comparison of structures affected by a number of tornadoes.
"Property InSight data packages give professionals the opportunity to start estimating rebuilding costs even before civic authorities allow them into neighborhoods to assess the structures," said Taylor. "An estimator can arrive on-site with detailed dimensions, a roof plan, and data about the materials used to build the home. It's also an invaluable way to help make rebuilding easier and faster for victims of these tragic storms."
Damage survey findings enhance catastrophe models for claim projections
AIR offers an online service called ALERT™ (AIR Loss Estimates in Real Time), which provides up-to-date information and loss estimates in real time for major natural catastrophes worldwide. ALERT is exceedingly valuable to claims professionals, helping them prepare for the claims process by providing a full range of plausible impact scenarios. Claims departments can use catastrophe modeling to help allocate resources, identify in advance where to deploy adjusters, and formulate the most effective claim strategies.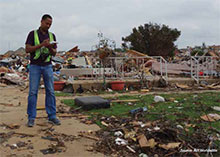 Shortly after the Moore tornado, AIR dispatched a ground team to survey the storm damage. Team members gathered practical insights into the cross-sectional wind profile of the rare EF5 tornado. The data collected included damage characteristics for various occupancy and construction types and damage mechanisms of wind-borne debris. That information will enhance the validation and calibration of the vulnerability functions of AIR's severe thunderstorm model, which provides the tools companies need to manage severe thunderstorm risk easily and proactively.
"We surveyed cross sections perpendicular to the tornado path at several points along its track," said Scott Stransky, senior scientist at AIR Worldwide. "The data gathered from this event will go a long way toward enabling us to develop a new relationship between the level of damage and the distance from the center of a tornado, where the wind speed — and therefore the damage — is greatest.
"Combining that relationship with policy conditions and historical data dating back to the mid-1970s, the sophisticated algorithms we're developing will significantly enhance our U.S. and Canada severe thunderstorm model updates anticipated for release in 2014. We'll be able to estimate damage with a greater level of accuracy, property by property, from both simulated severe thunderstorms and actual events in progress."
To learn more about how Verisk companies are helping insurance professionals and the victims of the Moore tornado, visit these websites: AER, Xactware, and AIR Worldwide.