We continue the Visualize connected-home article series with this third installment. Steve Lekas, vice president, Property Underwriting, Verisk Insurance Solutions, and Joe Wodark, property product manager, Verisk Insurance Solutions, discuss the trends, challenges, and applications of connected-home technology, focusing on the implications for the insurance industry.
We hear a lot about connected home devices these days. What are your thoughts on how "techies" and insurers are using this technology?
Steve Lekas: I have a device in my home called Netatmo. It's a personal weather station that tells me, among other weather details, how CO2 levels are changing inside and outside my house. When I originally purchased the device, I didn't know exactly why monitoring CO2 levels would be important; but as I've learned, when I cook for my guests, I see spikes in CO2. Knowing that, I now open my windows when I see the levels rising to avoid any dangerous effects of continued exposure. My behavior has changed because of the information I've received from the device. That's exactly the reason why insurers see a tremendous opportunity to use smart technology to prevent and mitigate losses and provide additional value-added services to their policyholders. That's just one example from the virtual landslide of information available to those of us investing in smart-home technology — what we refer to as the "Internet of Things" (IoT).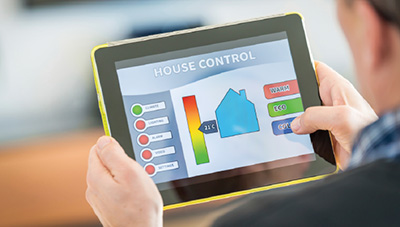 Joe Wodark: A recent study points to a not-so-surprising boom in traditional devices, such as smartphones and tablets, as well as an even faster growth rate for many other connected devices that fall under the Internet of Things category. The number of IoT devices in the world will very likely increase to more than 9 billion over the next three years. Some estimates put that figure in the tens of billions by 2020.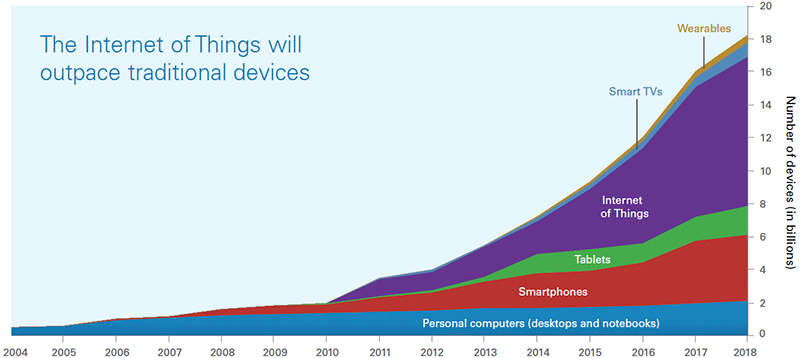 Global revenue from that industry should jump from $48 billion to $120 billion in roughly the same time frame. Fueled in part by the growth of smartphones and technological advances that make sensors cheaper to manufacture, these devices are moving more into the mainstream and no longer serving as niche products for technology enthusiasts.
Specifically within the connected-home sector, current penetration of North American households is around 4 to 5 percent and expected to grow to nearly 16 percent by 2017.
What factors will drive mainstream adoption of connected home technology?
Wodark: Consumers have different motivations for using smart home systems. It may be to ensure home security, save on energy bills, or avert property damage. It may be because it's a cool thing to do. Or it may be because those systems can offer tremendous flexibility and conveniences for managing your household and monitoring your home. The consistent theme insurers should note is that the technology improves quality of life for their policyholders. That's a major difference when comparing the consumer benefits of auto and home telematics. Consumers are likely to adopt connected-home technology without being asked to by their insurance company. The benefits of the technology go far beyond insurance, and that will likely be a key driver in the consumer's ultimate buying decision.
Lekas: In addition to the product I use to monitor air, there are products to monitor water use in the home: When is it running? How much is running? Is there a leak? Devices will also give us similar information about electricity use. Other devices turn the technology toward a more personal level. Such devices can sense motion in each room of a house, letting you know when your kids are home from school or what a pet is up to while you're away. There are also many insurance applications. Homes with wireless routers can tell us about every personal device connecting to it, which means that now you can know who's home and at what times. Certain devices even tell us if someone is smoking. Some companies are investing in radio frequency identification (RFID) technology for roofing materials to give us information on how a roof is aging or functioning after a loss event. The insurance applications of the technology could be limitless.
Top Reasons for Using a Smart-Home System*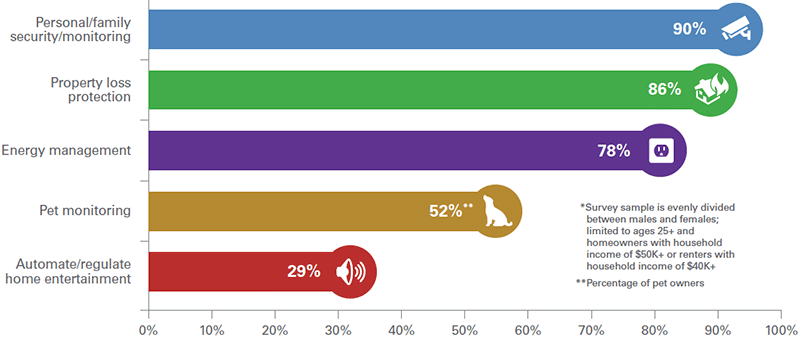 Just how much data are we talking about?
Wodark: To say those billions of devices will be producing a lot of data is obvious. To put that in real terms, insurers looking to collect this data can expect between 5 and 15 megabytes of data per household per day. That's largely dependent on the volume, variety, and velocity of the data being collected. To make effective use of so much data, insurers will need special expertise and infrastructure.
While the amount of data produced by connected devices will be enormous, insurers face the challenge of capturing sufficient amounts of exposure data in terms of home years to complete their analysis. According to the Insurance Information Institute's Insurance Fact Book 2014, the combined claim frequency for fire, water, and theft perils is approximately 2.7 percent. With current connected-home penetration at 5 percent, an insurer with 1 percent market share partnered with a smart-home technology company with 1 percent market share could expect approximately 11 claims from homes with connected devices this year. That's hardly enough data to generate actionable insurance insights.
So, what are some of the implications for the insurance industry?
Lekas: The first challenge is predicting who the smart-home market leaders will be and which companies you'll want to partner with to access their data. Rapid growth and optimistic revenue projections are leading to a flood of new interest from established companies and start-ups. Insurers will not only need to think about the longevity of their partner but should also consider how that partner's technology helps attract and retain the insurer's target customer.
Billions of devices transmitting continuous streams of information will create mountains of unstructured data, not to mention demands for greater bandwidths. The challenge here will be how insurers choose to structure their data collection strategy. Also, various technology providers may not use the same calibration methods. For example, one app or device may monitor temperature differently from another or may differ in how frequently it updates data.
Insurers will face new types of security challenges. Insurance is a conservative industry and for a good reason. The industry already deals with heavy regulation and plenty of litigation. Insurers develop business on the promise that they'll make things better when things go badly. That's why as insurers venture into connected-home technology, it should be a major concern that any connected device can be hacked. Unfortunately, security standards may not always be the first component tackled by some new smart-home technology companies. As an industry, we must make security a priority when selecting a technology partner.
Wodark: The automotive telematics industry has done the homeowner industry a great service on the regulation side by starting the dialogue on many of the "Big Brother" issues. Of course, a home is very different from a car. Our homes are our safe place — our fortress. Insurers will have to work through trust issues as they ask policyholders to provide access to what goes on in their homes. It's bound to feel different than allowing access to certain data about their cars or anything else for that matter, and insurers should anticipate that policyholders would expect incentives for their participation.
The good news is that the comfort level is improving with the younger generations, and there's a willingness among those who are more tech-savvy. The most eager adopters are apt to be tech enthusiasts. People immersed in technology are much more likely to swap personal information in exchange for access to new and appealing technology. For insurers with those types of consumers in their target customer profile, this offers a great opportunity.
The last, but far from least, hurdle insurers face is obtaining consumer permission to use the data. I anticipate that will be easier for some types of data and more difficult for others. Legislators may rule certain data to be about the property and other data to be about the person. Each ruling carries different legal implications.
Regardless, home automation companies are making certain promises of trust to their consumer base. The issue of trust will affect how those companies interact with insurers, specifically what those companies share with insurers. To mitigate the issue, insurers should follow in the auto industry's footsteps and begin by offering discounts for certain smart technologies and selecting less intrusive ones. Consumers may be more willing to share their data from a water sensor than from a router that describes who's home at any point in time.
Which insurance applications will we see first?
Lekas: Connected-home technology has many applications — some obvious and some not so obvious. My suggestion as insurers get involved in this type of research: Start with the obvious, such as monitoring potential causes of loss to prevent damage before it occurs. Better still, find the technology that's already helping consumers prevent loss. Focus on correlating connected-home data with loss experience to develop more refined rates. Another application is developing new products such as a "lived-in" home product for secondary or seasonal residences.
Getting involved early is important. As the industry evolves and more and more devices create more and more data, it may be hard to catch up. Refining your data collection method might seem a logical place to start, but in the time it takes to do that you may miss some of the most powerful, less obvious information. That's where true competitive advantage may lie.
What about the not-so-obvious?
Wodark: Being aware of all possible interactions between sensor technologies and losses can uncover new underwriting and pricing insights. Could there be a correlation between the existence of a smart tea kettle and decreased liability losses? Or could homes fitted with smart doorbells have fewer theft claims? The earlier an insurer can validate the obvious applications, as Steve previously described, the sooner some not-so-obvious interactions can be revealed.
As insurers strategize their entry into the connected-home market, however, they shouldn't lose sight of why consumers are interested in the technology in the first place. Consumers are pursuing new technology because of its potential to improve their quality of life. That motivation should guide the types of insights insurers seek to discover. There's revolutionary potential for connected-home technology to address the home security needs of policyholders in real time and interactive ways, redefining what we think of as traditional insurer-policyholder relationships. Consumers, for example, can look to these technologies to provide a sense of security for their loved ones and ways to save money beyond insurance, such as energy usage — some real out-of-the-box possibilities.
Where Do You Fall on the Adoption Spectrum?

How is the insurance industry responding?
Wodark: Insurers are responding in different ways to connected-home opportunities. They should take a look at where they fall on the adoption spectrum and continually reassess their position in light of their ideal strategy.
So where should insurers begin?
Lekas: A good starting place may be to focus on getting a sample of data. Insurers can capitalize on this opportunity only after they've determined which devices are most relevant, what data elements are predictive, at what frequency they should collect the data, and how the experience of policyholders changes when sharing data with their insurer, just to name a few.
Developing strategic alliances to help you get access to information and understand the data is key. The industry is changing quickly, so you should remain open to multiple partnerships as shifts in market leadership occur. Look at research and development as an ongoing investment to reduce losses and build stronger policyholder relationships.
Wodark: Connected-home technology creates value for consumers that extends beyond insurance. It's important to get involved early to tackle the complexities and threat of adverse selection. The industry presents great challenge and equally great promise. Taking a long-term view toward product, profitability, and relationship possibilities will serve you well. Currently, approximately 5 percent of the insurance industry is working on usage-based rating plans for connected homes. We think now's the perfect time to connect actionable insights with connected homes.
How can you best capitalize on the growth of smart-home systems? Collecting data is key. But individual research efforts are likely to result in insufficient data to generate actionable insights. Verisk's research program accelerates the time it takes to generate actionable insights. To learn more about the Verisk connected-home research study, please contact Joe Wodark at jwodark@verisk.com or 779-324-5935.