A telematics data exchange can significantly accelerate innovation in usage-based insurance (UBI) by making the exchange of driving data more convenient for drivers, insurers, and automakers. With its capacity to make driving history more portable, a data exchange also has societal implications that may change the nature of vehicle ownership as we know it.
Reduced cost of ownership
A telematics data exchange can facilitate UBI programs, which typically offer price incentives to consumers who adopt safer driving habits or reduce their mileage. If insurance premiums were to be based on how a consumer actually drives or on annual mileage — rather than on traditional proxies that consider age, gender, marital status, make and model of vehicle, and so forth—the cost of auto insurance could potentially decline. According to Edmunds.com, an automotive pricing guide, Auto insurance accounts for 10% of overall five-year vehicle ownership costs, so such savings could be meaningful. In addition, there could be a correlation between fewer miles driven and/or safer driving and other societal benefits, including reduced accident rates, lower vehicle emissions, and lower air pollution levels.
Driver safety
By participating in a data exchange, drivers can receive feedback on their actual driving behavior through data collected from their vehicles, which is then transmitted to the exchange. This can flag their unsafe driving patterns and potentially encourage them to modify their behavior on the road. Improving driver safety and reducing accident rates are also priorities for insurers. Society also benefits from safe driving, especially in light of a new National Safety Council (NSC) report, which indicated that 2015 witnessed the largest percentage increase in motor vehicle deaths in 50 years. The NSC also reported that 38,300 people were killed on U.S. roads last year, and 4.4 million more were seriously injured.
Ease of insurance shopping
Many consumers shop for competitive quotes through online programs. But driving history information cannot be easily transferred from a current insurer to another insurer when a consumer is renewing a policy. So, when consumers switch to another insurer, the insurer must gather their complete driving history all over again. If driving history were readily available in the form of a portable driving risk score that is based on personal driving behavior — which a telematics data Marketing to new segments: Telematics offers insurers the ability to generally focus their resources in tailoring specific insurance products to attract and retain various categories of drivers (safe drivers, urban dwellers, millennials, and so forth). Such programs include pay-how-you-drive, pay-as-you-drive, manage-how-you-drive, and distance-based insurance—all of which generally fall under the UBI umbrella.
UBI programs typically appeal to millennial drivers (those born between 1982 and 2000) and reflect this generation's general concerns about paying a fair price for insurance. Telematics and UBI programs provide tools that can help insurers price risk based on actual driving data, as opposed to using some of the traditional proxies that may potentially place millennial applicants in a higher risk class. Millennials may therefore perceive a UBI program to be more equitable or as better serving their needs. In addition, safe-driving feedback offers insurers an opportunity to engage and educate their millennial customers in a unique way and potentially encourage improved driving performance.
Pricing risks more precisely
Currently, premium discounts on traditional auto insurance are usually limited to the bundling of insurance for multiple vehicles or types of insurance (for example, home and auto), protection devices (such as antilock brakes, airbags, and the like), and defensive-driving courses. UBI uses individual and current driving behaviors — rather than relying largely on aggregated statistics and driving records that are based on past trends and events — making premium pricing more individualized and precise. As the chart below illustrates, UBI, with its emphasis on actual driving data, supplements traditional proxies and can be a factor in assessing risks more precisely.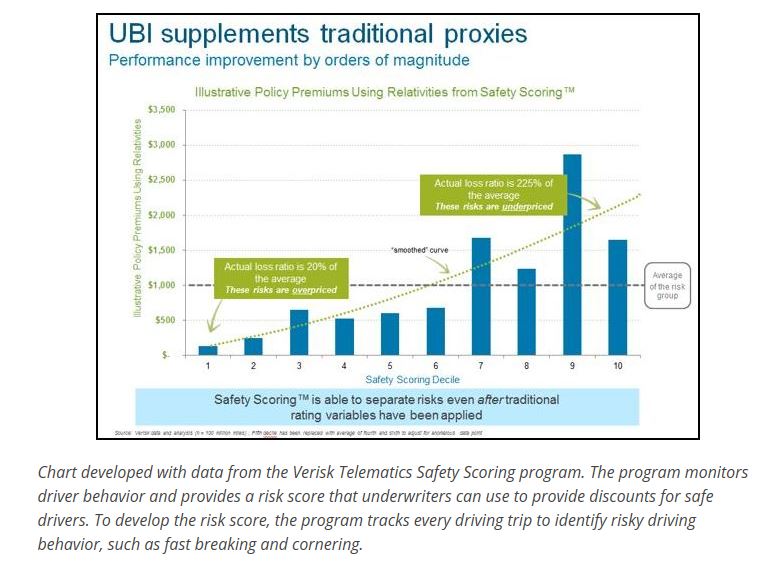 Improved claims ratios and fraud detection
Driving data can improve claims ratios and may ultimately reduce claims costs. Data collected in an accident can assist in defending claims, potentially minimizing legal costs. One study found a correlation between claims and loss costs and mileage driven, particularly within existing price rating factors (such as class and territory). The data also can help with crash detection, automatic alerts, and first notice of loss prefill, with accurate and timely information on auto claims. Essentially, this can help reduce the "gray area" often left to interpretation during the claims process, particularly if there is confusion as a result of fraud.
New customer-engagement opportunities
Knowing driving behavior history can open additional opportunities to engage with customers. Insurers may spot opportunities to offer insurance discounts or provide safe-driving feedback to policyholders, strengthening the insurer/customer bond. Some insurers offer tangible benefits for safe driving, such as rewards cards and discounts on goods and services. Insurers can incorporate driving data into programs that offer gamification incentives for teens (such as safe driving competitions in which area high schools compete for the title of "most improved" in return for incentives).
Insurers have successfully collaborated with programs such as Students Against Destructive Decisions and Mothers Against Drunk Driving and have even sponsored prom events for students who pledge to drive safely and not drink or text while driving. Driving feedback programs for teen drivers offer peace of mind for parents, as do telematics technologies such as geo-fencing that can provide alerts when a driver leaves a geographic boundary, and speed alerts for newly licensed drivers.
Emergency assistance
Telematics systems can be helpful, and even lifesaving, for drivers. This technology can bring emergency assistance to the site of a crash, help first responders decide where to send accident victims for treatment, assist police in tracking stolen vehicles, and direct motorists to the nearest gas station.
Vehicle maintenance
Automakers can also use telematics to assist them in updating customers' vehicle electronics systems remotely. Similarly, automakers could easily alert drivers about recalls. Taking into consideration a report by the National Highway Traffic Safety Administration, which cited 63 million vehicle recalls in 2014 alone related to safety defects, this could prove a significant benefit. Automakers could also tap into the power of telematics to make computer-based safety upgrades without requiring the driver to go to a dealer, to conduct customer campaigns, and even to schedule maintenance appointments.
Safer vehicles
Following an accident, investigators can review data collected from telematics systems to try to determine what happened and to evaluate how a vehicle performed in a crash. This information may also lead to future safety advances in automotive design. How can telematics deliver these societal benefits across auto manufacturing, insurance, and other related industries?
A telematics data exchange platform, which facilitates the flow of driving data from automakers, telematics service providers, and Internet of Things providers to insurers, offers the answer. Participating insurers can also use the exchange and the data made available by the consumer for pricing auto policies more precisely, for claims management and customer engagement, and far more.
For more information, visit the Verisk Telematics Data Exchange™.
This article was produced by Verisk Telematics and first appeared as part six of a ten-part series of articles on PropertyCasualty360.com, which has permitted its reuse.