The adoption of the financial credit score as a rating variable for premium underwriting was an innovation in its time. What have insurance industry watchers called out as "the next big thing"? Telematics. Over the past decade, insurers have transitioned from discussion and experimentation to market introduction of insurance telematics. We'd like to introduce you to telematics and give you some vocabulary to help you stay abreast of the growing trend.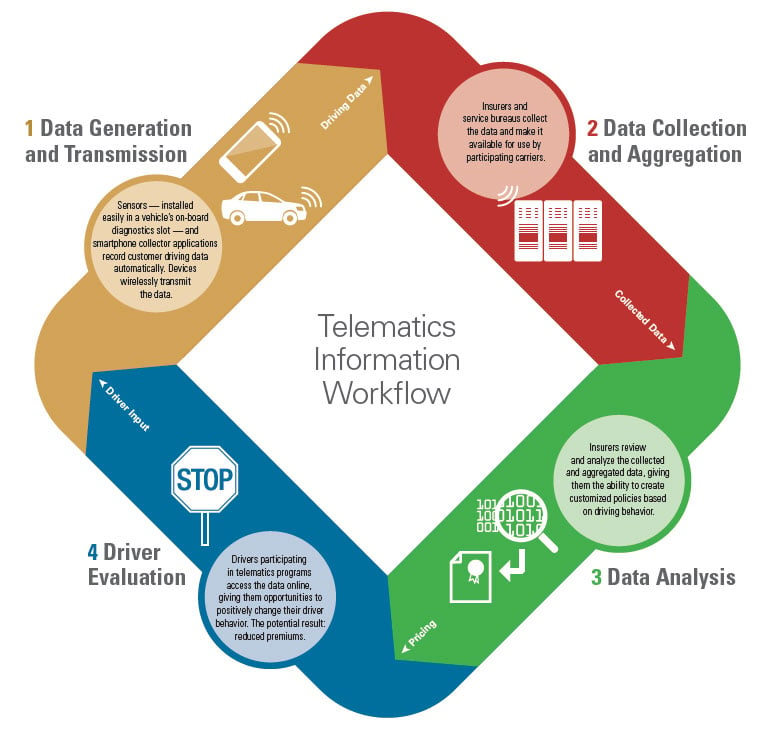 Telematics is a technology. In the taxonomy of the Internet of Things, a phrase coined by Kevin Ashton in 1999 that has gained currency in the past few years, telematics is in the topic family of machine-to-machine (M2M) communication mechanisms. The enabling technologies stem from telecommunication advances that have reduced the cost of connecting associated but remote endpoints: everything from smartphones to temperature sensors. The word telematics implies a bidirectional exchange between endpoints for sensing or measuring feedback or control.
Currently, telematics is the adopted terminology for all technologies associated with communication for a motor vehicle, from Google's self-driving vehicles to aftermarket location-reporting gadgets. Since the advent of the General Motors OnStar program, there's been an increasing penetration of telematics capabilities and services in automobiles. Estimates put expected penetration by 2017 at more than 70 percent for car manufacturers' new vehicles. Today's telematics in insurance usually refers to one-way collection of available information from a vehicle. Strictly defined, that's telemetry, a subtle but important difference, because telemetry doesn't impose control over a vehicle. The figure above is a simplified diagram of the process available today.
The type of data that devices can collect from or about a vehicle varies by implementation, typically drives cost, and is constrained by regulation and customers' willingness to share. Programs in place use sensors to determine factors as simple as distance (vehicle-miles traveled) and as sophisticated as camera-based recording. Devices transmit and store the resultant collection for immediate or deferred analysis, meaningful interpretation, and/or visualization.
Many brand-name telematics programs fall into categories: usage-based insurance (UBI), pay-as-you-drive (PAYD), and pay-how-you-drive (PHYD). In the early days, the definitions of those acronyms were imprecise. But as they imply, the factors affecting premiums are generally how much (far), when, how well (behavior), and where (location) the vehicle is driven.
Why insurance telematics matters
Today, insurers begin calculating premiums primarily with self-reported information. Starting from that premise, a portion of Verisk's underwriting business is helping carriers verify and validate the data provided — everything from accurate vehicle identification number reporting to traffic violations. Information is valuable. Something as basic as annual usage (by distance) verification could help a carrier underwrite low- or seasonal-usage vehicles confidently.
"But they were highway miles…"
It follows that the more a vehicle is used, the more it's exposed to risk. However, very quickly the limitations of that standard are questionable. You also need to consider how well the driver operated the vehicle in all conditions. Proxies for driving behavior include age, education level, and driving experience (years), which underwriters have enhanced with the use of credit-worthiness — an additional proxy to predict the probability of a crash and subsequent claim. But as reliable as they have proven to be over the past several decades, those factors are only proxies.
What is different today?
The opportunity now exists for direct measurement of driver behavior in place and time. Vehicle electronics capture hundreds of sensor inputs for processing by on-board controllers and reporting to diagnostic ports. Aftermarket device vendors have integrated technologies to allow the collection of such data (revolutions per minute, manifold air flow sensor output, malfunction indicator lights, engine trouble codes, and so forth) and combine it with time, precise GPS position, gravitational forces, and even ambient cabin noise on a second-by-second or higher frequency.
Experts distill and analyze those measurements to identify patterns that indicate poor or dangerous driving habits, such as rapid acceleration or cornering, harsh braking, or excessive speeding (>80 mph). Furthermore, systems can now link the collected telemetry with other sources of data, such as weather, traffic, and road type, to provide context to improve understanding and insights about the driver.
The race is on to interpret the data and prove what the industry has termed "demonstrated predictive potential" of the collected data elements as a direct measurement of behavior and risk. As mentioned earlier, we're in the early days of the technology. And except for the current carrier leader, which has more than a million UBI policyholders, there isn't yet a single repository with enough data to validate risk rating models based on behavior measurements.
What is the market?
Personal lines insurance carriers covering more than 60 percent of insured passenger vehicles have or are actively pursuing telematics-based UBI programs in every state. Forty-five states have four or more personal lines carrier programs.
The prevailing business model for insurance telematics has offered prospective (or, at times, existing) policyholders a discount for joining a program. That's a self-selecting process that has attracted low-usage, or "good," drivers to be early players in insurance telematics. Early adopters have generally pursued a "price-play" approach to increase market share while improving their risk pool. The pursuers are following to avoid adverse selection, an erosion of their profitable, lower-risk book of drivers.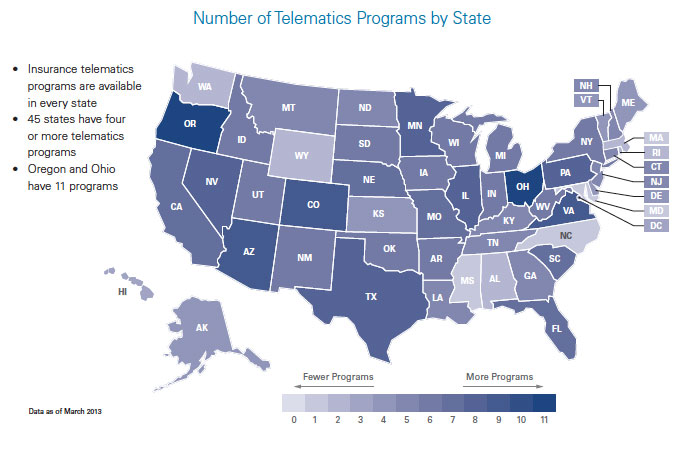 What is Verisk doing?
We've devoted significant effort to telematics over the past several years, including an internal prototype of an end-to-end system our company fleet and employee volunteer private vehicles are testing. Those efforts have resulted in the Applied Informatix® suite of analytical tools, which includes the GeoMetric® rating rule. We've recently filed the rule to help personal and commercial lines carriers launch a telematics-based program that fits within their existing rating structures.
We're also incorporating telemetry technologies in the Verisk Crime Analytics tools for National Equipment Register applications for heavy industrial equipment. That illustrates a key quandary faced by overlapping industries: How many times must companies collect telemetry for cost-sensitive solutions? The answer lies within a core Verisk competency — data collection and aggregation. We collect only once. There are many applications for vehicle telemetry within the insurance industry and other sectors, as well as for the vehicle owners themselves. The "collect once, use many times" nature of the sensitive data makes Verisk the right "home" for it.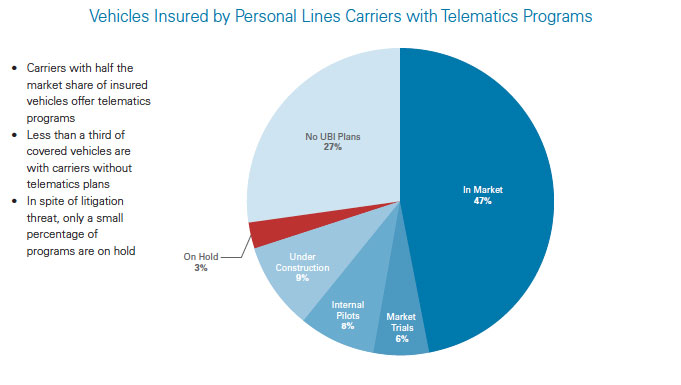 Verisk innovations are state of the art, and the company is poised to lead. We can perform the next steps in the field. The one-of-a-kind collection of participation-oriented data coupled with data from internal and external leaders in weather, traffic, and road mapping domains is a key ingredient we can use to transform driving data into meaningful driver insights.