Visualize is pleased that Insurance Auto Auctions (IAA) has offered to share its insights on the state of the auto salvage industry.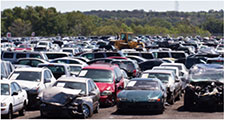 In the United States, the insurance industry declares approximately 3 to 4 million vehicles each year as total losses. The automotive salvage industry includes buyers of those total-loss vehicles. The salvage marketplace has experienced strong demand over the past few years, and Hurricane Sandy resulted in an estimated 240,000 vehicles in the Northeast salvage market in 2013, according to the National Insurance Crime Bureau.
The Manheim 2013 Used Car Market Report notes several other trends in the salvage market:
The average age of total-loss vehicles continues to rise, while the value of such vehicles has declined.
The buyer base for salvaged vehicles is broadening beyond recyclers and rebuilders.
Salvage buyers have become more dependent on technology to buy, sell, and manage inventory.
One of the companies spearheading the charge in the automotive salvage industry is Insurance Auto Auctions (IAA), a leading North American salvage auto auction company. Each year, IAA auctions more than a million salvage vehicles to registered buyers around the globe. IAA's diverse auction platform of live, Internet, and proxy bidding finds value in all types of vehicles and produces exceptional returns for insurance companies as well as dealerships, rental car companies, fleet lease companies, and charitable organizations. Their model maximizes the number of buyers for each vehicle for sale, which can help drive faster cycle times and generate stronger returns on vehicles. At the same time, it can also ensure that all vehicles have the appropriate title and that IAA sells only to properly authorized buyers in full compliance with state regulations.
Many people who've had accidents learn from their insurance companies that the cost of repair is more than their car is worth. That leads them to ask, "Where do total-loss vehicles go?" Below is a quick overview to help answer that question.
IAA's auction process
Given the significant global market for total-loss vehicles and/or their parts, IAA is a matchmaker for buyers and sellers in both live and e-commerce business environments. IAA collaborates with sellers to facilitate the sale of vehicles deemed total losses.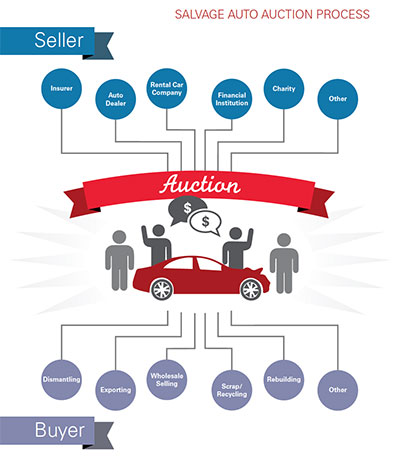 IAA has the knowledge and expertise to market inventory to registered national and global buyers (dismantlers, recyclers, auto body shops, rebuilders, salvage yards, and exporters) through its extensive network of auction venues. When a vehicle comes to IAA, its experts have a detailed process to inventory the vehicle, prepare it for auction, and load it for transport once it's sold. Throughout the process, the IAA team facilitates the transaction to make the purchasing process easy and efficient, including titling and transportation.
Helping insurers and others
IAA services help clients achieve the best possible outcome from every auction. For vehicle providers such as insurance companies, IAA can assist at multiple stages throughout the salvage disposition process, including the procurement of vehicle title paperwork.
IAA's efforts to provide a vast network of local, national, and international buyers ensure that vehicles sell quickly and for the best possible price. The company also monitors state and national legislation that affects the industry.
For vehicles that aren't roadworthy, IAA remains committed to the environment and practices effective vehicle disposition. Each year, IAA keeps more than a trillion pounds of motor vehicles and parts out of overcrowded landfills.
Taking action during a catastrophe
In the wake of catastrophic events such as severe storms, hurricanes, and floods, IAA helps provide immediate assistance to insurance companies and those affected in surrounding communities. By efficiently removing damaged vehicles in catastrophe-stricken areas, IAA can assist with critical rebuilding efforts and aid its insurance partners by quickly servicing their policyholders. IAA's dedicated catastrophe department — comprising a strong network of affiliates and led by committed, responsive team members — has the experience and insight to mobilize in a matter of hours.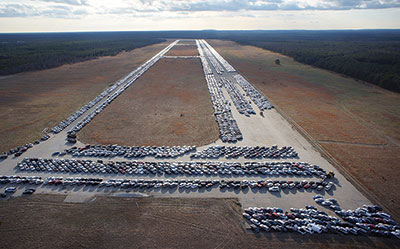 A growing global base
IAA has built a robust footprint of more than 160 physical facilities across the United States and Canada. In addition, IAA continues to develop and cultivate a mature global base in more than 110 countries. To support the needs of its growing international presence, IAA provides buyers access to six languages through the company's website, including English, Mandarin Chinese, Spanish, French, Polish, and Russian. The IAA Buyer Services group is also fluent in ten languages to assist global buyers.
Continued investment in technology
Recognizing the needs of a digital society, IAA is constantly assessing and developing technology to remain a leader in cutting-edge client offerings. IAA's mobile-friendly website with enhanced online vehicle search options offers new ways for buyers to find and bid on vehicles. The company introduced its first mobile app in 2010, allowing buyers to bid, buy, and pay for vehicles with their mobile phones. IAA also offers CSAToday?, an online resource providing comprehensive salvage analysis and information for the claims professional. According to John Kett, president of IAA, insurance providers can reap significant benefits from salvage auto auction companies' technology investments — especially for claims management and the disposition of salvage vehicles.
The company has also developed a series of mobile technologies to make it easier for buyers to search, bid on, and purchase vehicles from their cell phones or other mobile devices. By tapping into the GPS technology in smartphones, IAA's mobile site informs buyers which of IAA's more than 160 branch locations are closest to them. IAA launched new applications for iPhone and Android phones in the past year, giving users all the functionality of the mobile site, as well as a customized dashboard of user activity and alerts and the ability to participate in eight auctions simultaneously.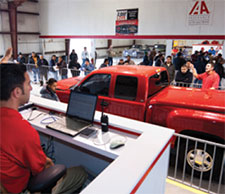 Moving forward
Operating in a rapidly changing industry, IAA offers insurers and its other clients a wealth of industry insight. The company provides vision and critical thinking on trends affecting clients' businesses and the communities in which they work and live. With today's expensive vehicle features and high repair estimates, it's more important than ever for insurers to understand the value in every total-loss vehicle. And salvage auto auction companies can help them do just that.
Jeanene O'Brien, vice president of global marketing at Insurance Auto Auctions, Inc., is responsible for all marketing efforts. She analyzes and reports business and economic trends that affect the salvage industry. Before her current position, she was vice president of provider marketing. A 17-year veteran in the property/casualty industry, she has a history of executing innovative brand strategy and client growth and retention campaigns.
---
Preview IAA's thought leadership. For more information on IAA and its services, contact Jeanene O'Brien at 708-492-7328 or jobrien@iaai.com.