Forbes magazine recently ranked Verisk Analytics 18 out of 100 on its list of the World's Most Innovative Companies. The list recognizes companies that investors expect to be innovative now and in the future. We join notable companies such as Tesla, Salesforce, Amazon, and Netflix among the top 25 on the list, and Verisk ranks first ahead of our industry counterparts in the Research & Consulting Services category.
Forbes acknowledged Verisk's innovative approach to providing data analytics to professionals in insurance, energy, healthcare, financial services, and risk management.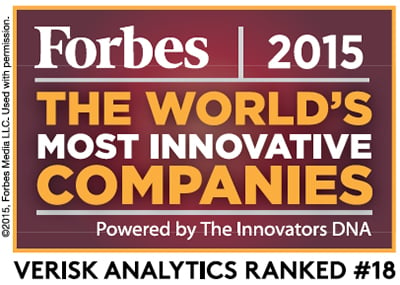 "We're honored to be recognized by Forbes for our commitment to innovation," says Scott Stephenson, president and chief executive officer of Verisk Analytics. While making the Forbes list is a significant achievement, Stephenson pledged that Verisk will not be content to rest there. "We remain focused on ensuring that Verisk continues to be an innovative data analytics provider, helping our customers protect people, property, and financial assets," he says.
Examples of Verisk innovation include our recently introduced Verisk Telematics Data ExchangeTM, the first-of-its kind critical data link between insurers and consumers who drive connected cars. Another Verisk innovation can be found in our new service that uses device intelligence to fight policy and claims fraud.
"We're passionate about visualizing the future," Stephenson adds. "We anticipate the needs of our customers, reach for fresh ideas, and collaborate to develop actionable, game-changing solutions."