Verisk's Internet of Things (IoT) experts Joe Wodark and Drew Doleski introduce "Connected," a Visualize series that looks at potential insurance uses for data from connected devices across homes, vehicles, and more.
We're smart, but will they love us?
Without doubt, Amazon's A.I. assistant Alexa was the star of this year's Consumer Electronics Show (CES 2017). From Wi-Fi-enabled refrigerators to robots that seem to do everything but take out the garbage, multiple smart-home applications boasting Alexa's patented technology figured prominently on the show exhibition floor in Las Vegas in January. Alexa was also the "brains" behind an oven so thoughtful it calls if you forget to turn it off and a child monitor that tells you what to do when the baby won't stop crying.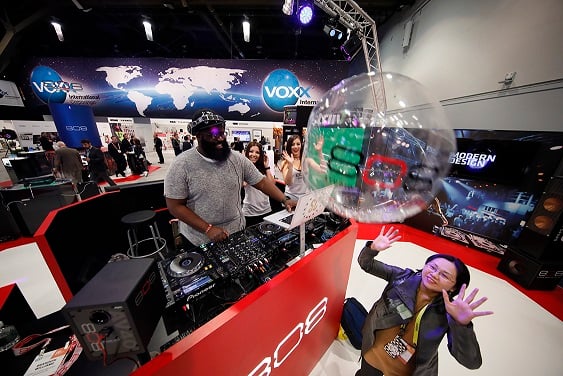 If it's true that on the technology adoption curve, innovation eventually reaches critical mass, here's the question: Does Alexa have what it takes to deliver the smart home to adoring consumer masses?
That's the question Visualize posed to Joe Wodark and Drew Doleski, Verisk's resident IoT experts, who attended CES 2017 along with their colleagues, who are helping to build the Verisk Data Exchange™. In the following excerpt, they share observations about the state of the connected-home marketplace — and of course, tell us what they think of Alexa.
What do this year's CES trends signify?
Joe: I've been coming to CES for years, and each year I wonder if this is going to be the watershed year in terms of the connected home. I do see the space growing bigger and moving forward this year, but in terms of it moving toward mass-market consumer adoption, we're just not there yet.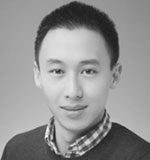 The last I heard is that the current connected-home adoption rate in the U.S. is anywhere between 5 and 20 percent. That's based on how you define "connected home," with the higher end of that range encompassing homes with traditional monitored security systems and the lower end representing homes equipped with self-installed, self-monitored point solutions.
Drew: Everyone is trying to look into the future and find identifying markers that might indicate the direction of the marketplace. But as far as a leading value proposition to drive smart-home technology into the mainstream, I think it's still a big unanswered question.
What is the product category, the incentive, the industry—such as insurance-that's really going to unlock this for the mass market? I think that's what the technology community is still really grappling with.
Just how much data is out there?
Joe: The other unknown is the quantity of data we're talking about.
Drew: Everyone wonders how many smart devices are or will be out there—and how much connected data that translates into.
Joe: Yes, that's the million-dollar question. I've seen estimates for the number of connected devices that range from 20 billion to 50 billion by 2020.
Drew: No one really knows.
Joe: All we do know is that the number will be massive. The other unknown is how much of that will be useful from an insurance perspective.
Drew: I think the data presents more challenges in the smart-home space than were presented in the automotive space. Smart-home data has many different variables, so it's harder to ascertain what's relevant for insurance purposes. The data can be far less consistent than what auto telematics was built on, such as hard braking, hard cornering, and the like, because those are always-available data points across all vehicles.
But not all connected homes are equipped the same way, and even for those that have a similar mix of devices, there's a contextualization problem with smart-home data. For example, when a door opens or closes, is it a front door, an interior door, a medicine cabinet, a liquor cabinet, or a pet door? It can be difficult to say.
Big news and early opportunities
Joe: Those are the challenges today. But we've identified some opportunities available right now for insurers looking for an entry point. We can get into that in a bit. But let's talk first about what we saw at CES.
What do you think was the big news in terms of connected-home technology at this year's show?
Drew: It felt like most of the big players had some sort of voice integration this year. New Alexa-enabled products from third-party manufacturers were prominent since Amazon released this technology to outside partners.
Joe: Definitely—voice control took center stage this year. Amazon's Echo and Echo Dot and Google's Home might become the focal point of a connected home. They answer your questions and can help control all your smart-home products. The question is how is that type of technology relevant for insurance?
Drew: Liberty Mutual implemented one of the first insurance applications for Alexa last September to help consumers navigate the insurance quote process. By simply using their voices, consumers can get an estimated quote, access an insurance glossary if they hear insurance terminology they're not familiar with, and even locate the nearest independent agent and set an appointment if they still have questions. It's linked to an online knowledge resource that customers can also access for information or advice on things like preparing for a roadside emergency or moving into a new house.
Joe: And Allstate has also ventured into applying the technology. Their Alexa-based voice app helps customers locate an agent via a ZIP code search or find out when their next auto insurance bill is due. I understand it's just the beginning, and Allstate is looking at other ways to use the technology.
What about smart cameras?
Drew: Beyond voice, let's not forget the other popular crowd-pleaser at CES. Consistently for the past several years, we saw connected video cameras as another hot area because their use cases around security are fairly straightforward.
Joe: That's right. As you know, I was born and raised on the south side of Chicago, and many of my friends still live there. I talked to them recently about what I do for a living, and they immediately responded by saying, "Oh, we know all about smart home technology. We love video doorbells!" The whole block is installing Internet-connected doorbells because they've had problems in the past with daytime burglaries. What happens is a burglar rings the doorbell to see if anyone is home. If no one answers, they kick in the door."
Drew: They're called "knock-knock" burglaries. Now there's an interesting example of a use case that drives consumer adoption.
So if you had to give a final assessment of the connected-home industry and where it stands today, what would you say?
Advances eroding barriers
Joe: I'd say that while the industry is still challenged with consumer adoption of its tech, we're seeing progress being made by technology companies and service providers to address the issue. In just one example, the industry's getting a heavy assist from Amazon, which just rolled out free "smart-home consultations" in more than a half-dozen cities on the West Coast. Consultants come to your house to evaluate your Wi-Fi signal strength and then let you play with a lot of smart-home products. They leave you with a customized list of smart-home products to buy and install. We're seeing retailers doing similar things to make these products easily accessible to consumers.
So, consumer education and distribution-channel ease, which have been two major barriers to mass consumer adoption, are being addressed in significant ways. That's the important news.
Next in the series: In part two, Wodark and Doleski discuss how property/casualty insurers can leverage connected-home data to better assess and mitigate risk, improve pricing strategies, and create new revenue opportunities. They also suggest market points of entry for insurers that want to get a program started and gain first-mover advantage.