What are some of the benchmarking best practices in the property/casualty industry? What's above or below the standard norm? Benchmarking analytics, when done right, can use the power of aggregated industry underwriting data for insurer growth and differentiation. Benchmarking allows a carrier to compare certain metrics against the aggregate of "everyone else." That approach benefits all participating carriers without compromising the identity of insurers or policyholder data.
A market study of cross-sector company performance over the past 40-plus years shows that, for a host of key metrics, there's been a measurable magnitude of change in performance, as shown in the chart below.
With those study results in mind, understanding the basis of competition is critical for both leaders and challengers. Developing key metrics is a dynamic and often recursive process. But once we understand those metrics, benchmarking becomes an important step to steer corporate direction.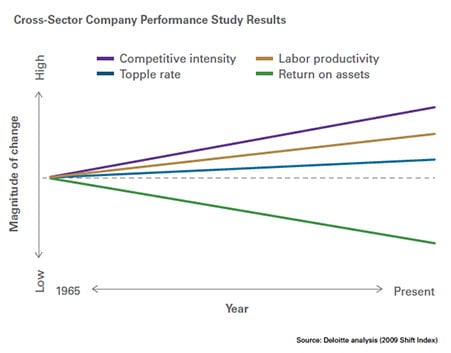 The study reveals that, in spite of significant increases in labor productivity, increased competitive intensity among corporations over the same period may be limiting company performance, as measured by return on assets. That phenomenon is particularly startling because the dominant competitive intensity metric may be creating a performance ceiling that contributes to an increasing topple rate (the frequency at which a change in corporate leadership occurs within different industries). That finding is pertinent to incumbent leaders in a given industry because it highlights the risk to their position. For the rest of the challengers, it's a measure of attainable growth.
Key questions insurers should ask and metrics they should use
For the insurance industry specifically, there are six key areas of short-term focus for benchmarking, as shown in the figure below. Each of the key areas represents a quantifiable aspect of an insurance carrier's business. In fact, a collective view of the elements provides a useful indicator of an insurer's overall performance, especially from a short-term perspective. Because of the quantifiable nature of each of the key areas, benchmarking, by way of metrics, can provide an insightful view and an opportunity for an organization to change direction as appropriate.

How do insurers use benchmarking data?
In the continuous push to drive differentiation, benchmarking is a useful tool to measure dissimilarity — intentional or otherwise. The investment in benchmarking is not insignificant, and carriers should evaluate carefully how much data they need and how best to acquire or share data.
As part of Verisk's efforts to understand the role benchmarking may play today, we surveyed more than 630 insurance employees. We designed the survey to solicit information that helps us understand how the insurance community uses benchmarking data and how effectively it's disseminating the data within different insurance organizations.
Below are some word clouds that summarize the survey results.
The Types of Industry Benchmarking Insurance Companies Prefer (based on response frequency)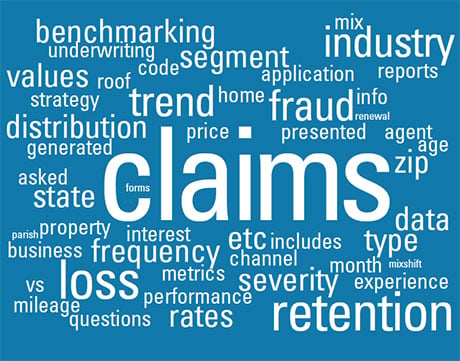 The Types of Data Elements Insurance Companies Use for Benchmarking (based on response frequency)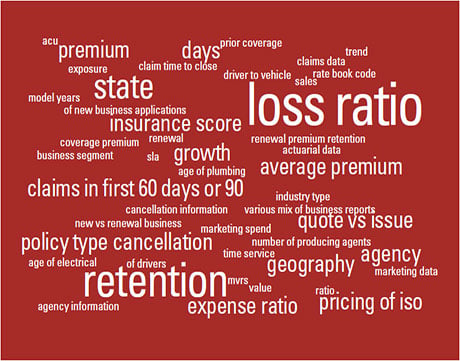 We asked survey respondents their level of satisfaction with their current benchmarking analytics. Seventy-one percent responded they were only somewhat satisfied, and 9 percent identified they weren't at all satisfied. Only 20 percent of those who responded were satisfied. In addition, one-third (33 percent) of those surveyed reported they aren't currently using any benchmarking data. Those results support the initial hypothesis that there's indeed demand for more insightful and impactful benchmarking. To that end, Verisk is exploring new ways of providing improved comparative benchmarking tools, including evolving our benchmarking products for consumption through dashboards and new digital channels.