This article introduces a Visualize series based on a Verisk – insurance solutions Innovation Paper: The Challenge of Auto Insurance Premium Leakage.
According to Verisk estimates, personal lines automobile insurers face at least $29 billion a year in premium leakage—missing or erroneous underwriting information that undermines their rating plans.
At the same time, insurers are contending with tightening margins on one hand, and competitive pressure to grow market share and boost retention on the other.
Valuable policyholders could defect and new prospects could slip away if rates are too high, or if the insurer subjects customers to unwarranted inquiries in pursuit of missing premium. It's a challenge to strike the right balance.
The dilemma
In a market where customer loyalty is rare and the potential for churn is high, the premium leakage issue can appear at once:
too costly to ignore
too expensive to address
too risky to relationships
The knotty nature of the issue can push premium leakage to the bottom of the agenda, although the problem appears to weigh heavily on the minds of insurance leaders.
More than 80 percent of respondents to the 2016 Verisk Auto Insurance Premium Leakage Survey were at least "moderately concerned" about premium leakage, with nearly half "very concerned" or "extremely concerned."
Auto insurance leaders are most concerned that premium leakage leads to decreased profitability and increased loss ratios,1 which are associated with policies that show more fraud risk indicators.2 Rapid growth in phone or web-based shopping and purchasing means less face-to-face interaction and makes misrepresentation easier. But when pricing is broadly aligned with risk, the lifetime value of retention may outweigh the potential recovery of modest short-term leakage.3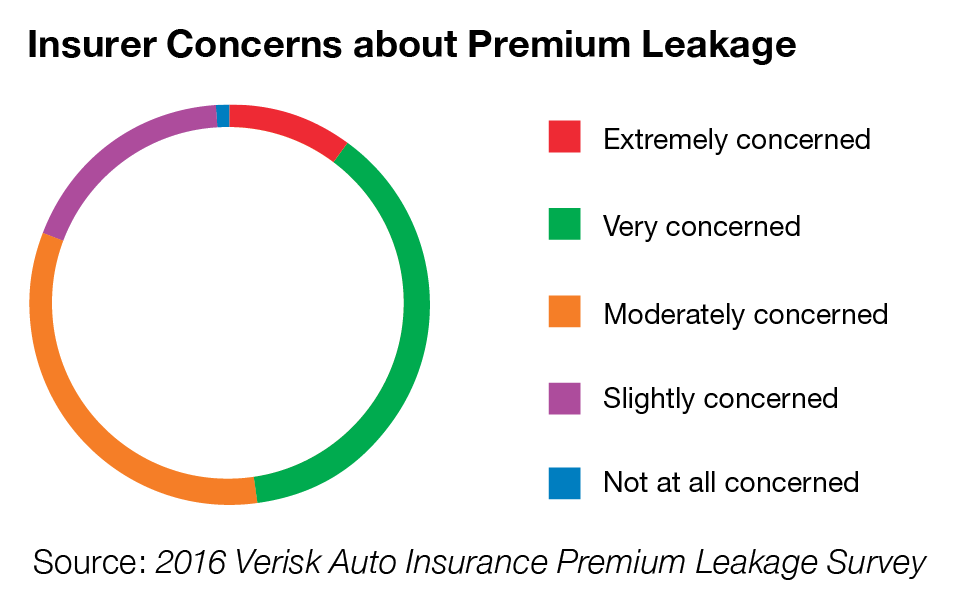 Where the leaks are
Premium leakage often starts at the point of sale and comes about in various ways:
Dishonest or erroneous reporting of information by the applicant
Agents guiding applicants to shade the truth to lower their rate
Absent or unverified prefill functions that omit important underwriting information
Unrecognized drivers are the leading source of leakage. Click to enlarge.
Leakage can be compounded throughout the policy life cycle as events such as a new job, a major driving offense, or a new driver in the household change a policyholder's risk profile.
Overcoming the inertia
The challenges of leakage can discourage focused action. Insurers may be concentrating on other initiatives or put off by the expected cost of managing anti-leakage programs. But successful companies are using data and analytics to move past those obstacles:
83 percent of respondents in the top 100 by direct written premium monitor for premium leakage vs. 57 percent of smaller insurers4

73 percent of respondents check data sources on the policyholder's history at point of sale or initial quote*
69 percent of respondents reported using data analytics in their renewal process
*Among insurers that monitor for premium leakage
The Verisk – insurance solutions Innovation Paper is based on the findings of two recent Verisk research initiatives. The 2016 Verisk Auto Insurance Premium Leakage Survey explored insurers' concerns, programs, and plans regarding premium leakage.
Verisk also conducted a client analysis for 82 insurers split evenly between the standard and nonstandard markets. The insights from these initiatives provide readers a deeper look at premium leakage by source, best practices for tackling it, and cutting-edge tools that can enable a focused, strategic approach to balance growth, retention, and profitability.
References:
1. 2016 Verisk Auto Insurance Premium Leakage Survey
2. Verisk client analysis
3. Ibid.
4. 2016 Verisk Auto Insurance Premium Leakage Survey
---
Steve Lekas is senior vice president of Underwriting Solutions for Verisk – insurance solutions. You can contact Steve at SLekas@verisk.com.