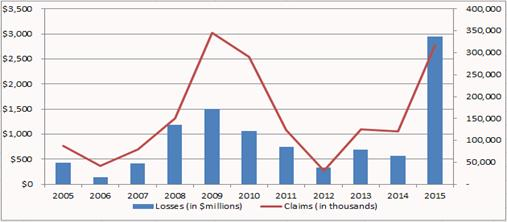 From 2005 through 2015, Property Claim Services® (PCS®) designated 29 catastrophes during the month of February, which included 27 weather-related events and two workers' compensation events, collectively causing approximately $9.5 billion in insured losses.
Designated in 2015, CAT 68 was the largest February winter storm since 2005. This event involved 20 states, generating approximately 217,000 claims and causing an estimated $2.1 billion in insured losses.
February 2015 was also the most active in catastrophe frequency since 2005, with PCS designating five catastrophes. These resulted in approximately $2.9 billion in insured damages and more than 317,000 claims.
Learn more about PCS.