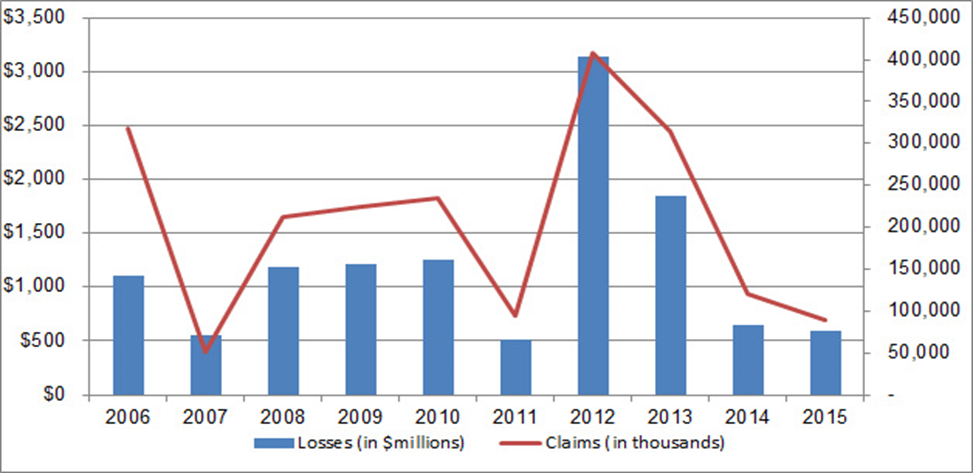 Between 1950 and 2013, the month of April saw more violent tornadoes—EF4 and EF5—than any other month. Over the past ten years, there have been 267 tornadoes on average in April in the United States. The April 2011 tornado outbreak is ranked as the most active tornado month on record, with 758 confirmed tornadoes and an estimated 364 fatalities. That exceeded the historic 267 tornadoes recorded in April 1974. Last year, 185 tornado reports were recorded for April.
Additionally, tornadic activity tends to be accompanied by hail, which has been included as a peril in each Property Claim Services® (PCS®) event designated in April for the past ten years. Although April is an active month for violent tornadoes, overall tornadic activity typically peaks in May and June.
In April 2014, PCS designated Catastrophes 38, 39, and 40, all of which involved tornadic activity. Those events generated more than 402,800 claims and over $2.9 billion in losses.
Since 2006, PCS has designated 42 catastrophes in the month of April, an average of just fewer than four per month. Those events resulted in close to $35.6 billion in losses in that ten-year period, averaging $3.56 billion per April.
For access to vital PCS information on the go, download the new PCS-Mobile app for iPhone.