Notes from the AIR damage survey team in Florida
By
Tim Johnson
| September 21, 2017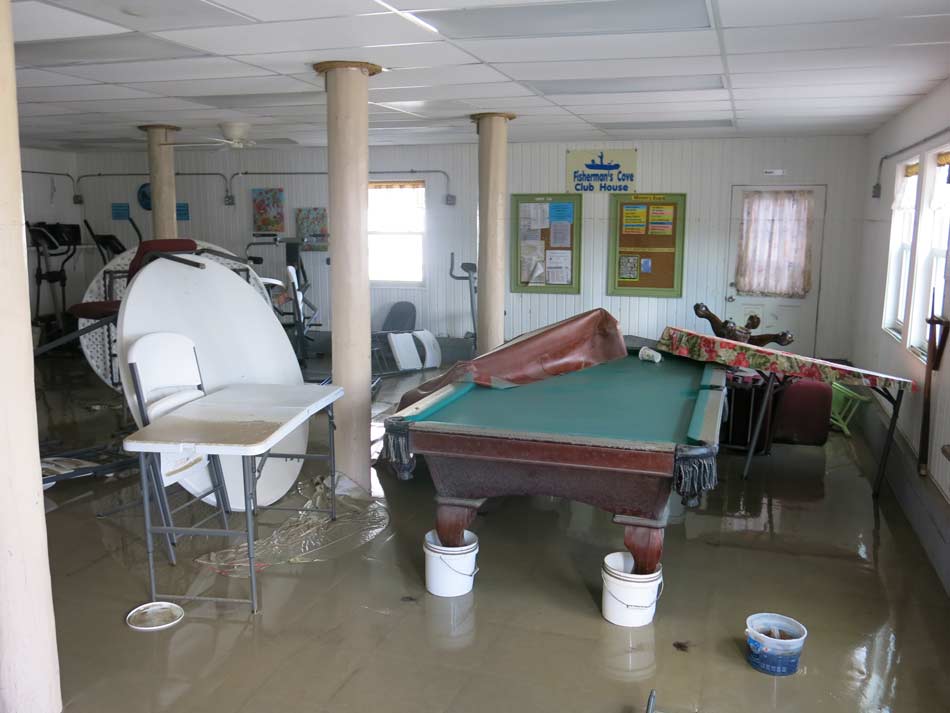 On Saturday, September 16, an AIR damage survey team headed to southwest Florida to conduct damage surveys following Hurricane Irma's second U.S. landfall on Marco Island. To the right of the eye at landfall were two smaller communities—Goodland and Everglades City—which were hit particularly hard by both wind and storm surge.

As the State of Florida is working overtime to restore electricity, water, and some sense of normalcy to the vast majority of the state, some of the hardest hit areas were still in the dark. The Florida Keys were still not completely accessible even to residents and are a long way away from returning to business as usual.
Everglades City
Everglades City was hit fairly hard by surge and wind. Figure 1 illustrates the height of the surge inside a local club house where you can just make out the high water mark about two-thirds of the way up the walls. Literally the whole town was covered in muck and debris; residents, volunteers, and law enforcement were all working hard to clean up the devastation in Irma's wake. From an exposure perspective, the town is designed to expect elevated floodwaters with many homes built on stilts or elevated platforms. Also, much of the mechanical equipment, such as air conditioning (AC) units and electrical boxes, is elevated off the ground.
AIR estimates do include time element losses—that is, additional living expenses for residential properties and business interruption for commercial properties. However, Hurricane Irma's winds and storm surge affected virtually the entire state of Florida, an unprecedented situation, and power outages are likely to be prolonged beyond what the model would ordinarily anticipate. Florida Power and Light, the largest supplier in Florida, had expected to restore power to most customers along Florida's east coast by September 18, but said customers on the west coast may have to wait until September 23, while isolated locations impacted by tornadoes or severe flooding may have to wait still longer. AIR is currently analyzing the potential impacts of these outages and will release findings to AIR clients when they become available. In addition, it should be noted that the "leakage" of storm surge losses into wind policies may be greater than the 5 percent assumed by AIR (per the caveats listed below) because of the delay in allowing home and business owners back into their properties, thus delaying the necessary steps to protect them from damage.
Marco Island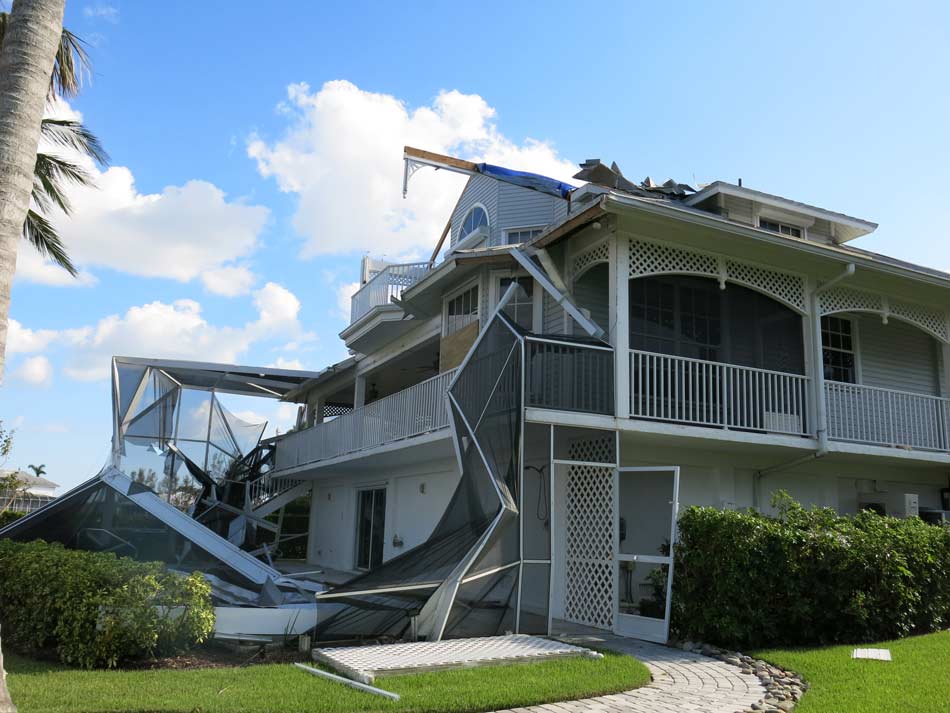 Marco Island is an affluent neighborhood of high-end custom homes. The island was up and running for the most part with electricity, gas, and grocery stores open for business. The frozen produce aisles in the grocery store were all empty due to the power loss which is common across the state. There was much in the way of significant structural damage, but there were many instances of damage to roof coverings, missing tiles, and a few missing ridge caps and trim. In addition, almost every pool had an enclosure of some sort and most of these were damaged.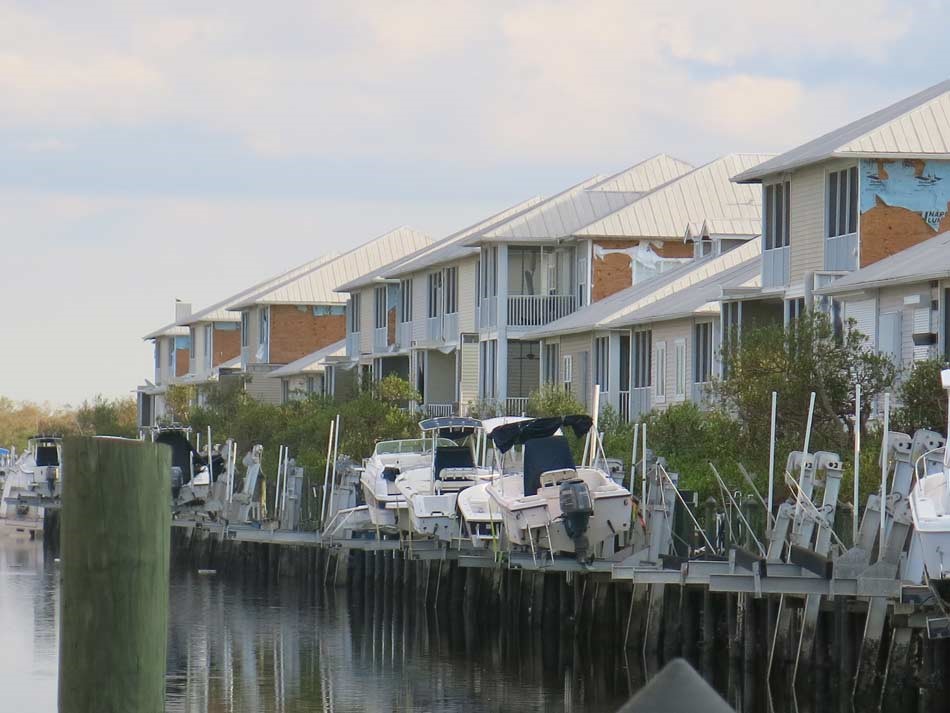 In general the population was very well prepared in terms of mitigation features such as engineered shutters. There were many instances of soffit or flashing damage which caused water ingress and damaged roof insulation. I spoke with some home-owners who described water penetration through the soffits, which then damaged the interior. Figure 2 shows a particular location where there was significant pool enclosure damage as well as roof damage.
Goodland
Goodland is just to the east of Marco Island. Surprisingly, just as you enter Goodland there is a strip of newly built three story houses that are almost identical, each with a garage as the first floor. Every one of these homes had siding damage, screen room damage, and more than 2 feet of surge in the garage (Figure 3). While they had engineered shutters, metal "hurricane-rated roofs" and flood mitigation measures in place, there was still significant damage to their façades, which can allow water to enter the higher floors.
For this leg of the survey, I had the pleasure of working with Dr. Kurt Gurley and Dr. David Prevatt from the University of Florida's Hurricane Research Center in Gainsville. Next up: the Florida Keys.
---
Tim Johnson is an engineer in the AIR Research Department. This article originally appeared in AIR Worldwide's In Focus blog and is republished with permission.
AIR updated estimated insured losses
AIR's estimated industry insured losses for the United States resulting from Hurricane Irma range from $25 billion to $35 billion. These losses include wind and storm surge damage to onshore residential, commercial, and industrial properties and their contents, auto, and time element coverage. Potentially significant sources of loss that are not included in the AIR estimates include loss adjustment expenses (LAE), which may be substantially higher for this storm because of Hurricane Harvey's landfall two weeks prior, resulting in a shortage of available adjusters. Damage to pleasure boats, likely to be significant, is also not included. Litigation expenses associated with Florida's "Assignment of Benefits" are also not modeled and therefore not included in the estimates.
---