Misrepresented driver risks-unidentified drivers, violations, and identity exceptions between customer-supplied information and that provided by external data sources are the top overall source of premium leakage for insurers, accounting for $16.5 billion a year.1 The research is featured in a new Verisk Insurance Solutions Innovation Paper, The Challenge of Auto Insurance Premium Leakage.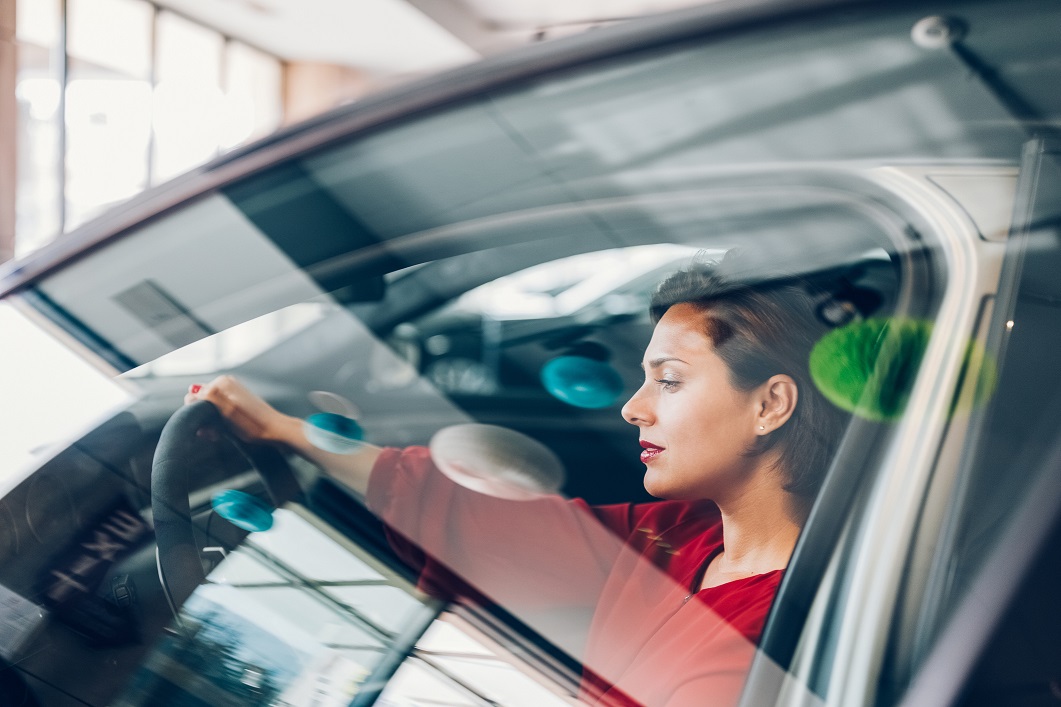 As much as 12 percent of standard and 15 percent of nonstandard policies may have "hidden" drivers.2 The younger the hidden driver, the more additional premium is left on the table.3 And almost three-quarters of discovered drivers are high risk.4 If they aren't found, these drivers can leave an insurer paying claims caused by unrated risks.
Unrecognized drivers account for the largest amount of at least $29 billion in annual premium leakage and easily eclipse any other source cited in the 2016 Verisk Auto Insurance Premium Leakage Survey. This is reflected in the level of concern expressed by insurance leaders: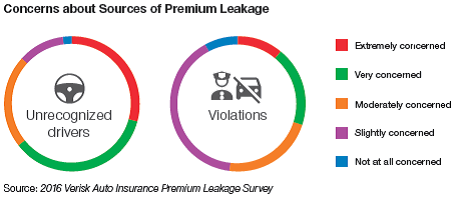 One factor behind unrecognized drivers is the cost to the consumer of adding a newly licensed teenage driver, which can be $2,000 or more per year. And cost aside, it's simply an easy step to overlook, especially for a policyholder who may only think about insurance at renewal or when there's a claim. Another factor is the lingering trend, triggered by the Great Recession, that brought "boomerang kids"—unemployed or underemployed young adults-back to their parents' homes.
Tracking violations
Motor vehicle report (MVR) fees have increased by nearly 50 percent over the past decade,5 which has had a significant effect on the auto insurance market. "Keeping track of policyholders' driving records is critical and expensive, yet still an imperfect part of auto insurers' operations," says Robby Hobbs, Verisk's vice president of auto operations. Insurers that pay more for MVRs may narrow their profit margins, while those that forgo MVRs to avoid the cost may misprice policies.
The use of programs to address driver-based premium leakage varies widely by insurer size. Programs to address unrecognized drivers are more common than those to address violations, especially among insurers below the top 100, possibly due to the cost of violation programs.
Enlightened strategies can help insurers take on the challenge of leakage at a reasonable cost, boosting retention by better aligning premium with risk. When customers trust that the price is right, they have one less reason to shop.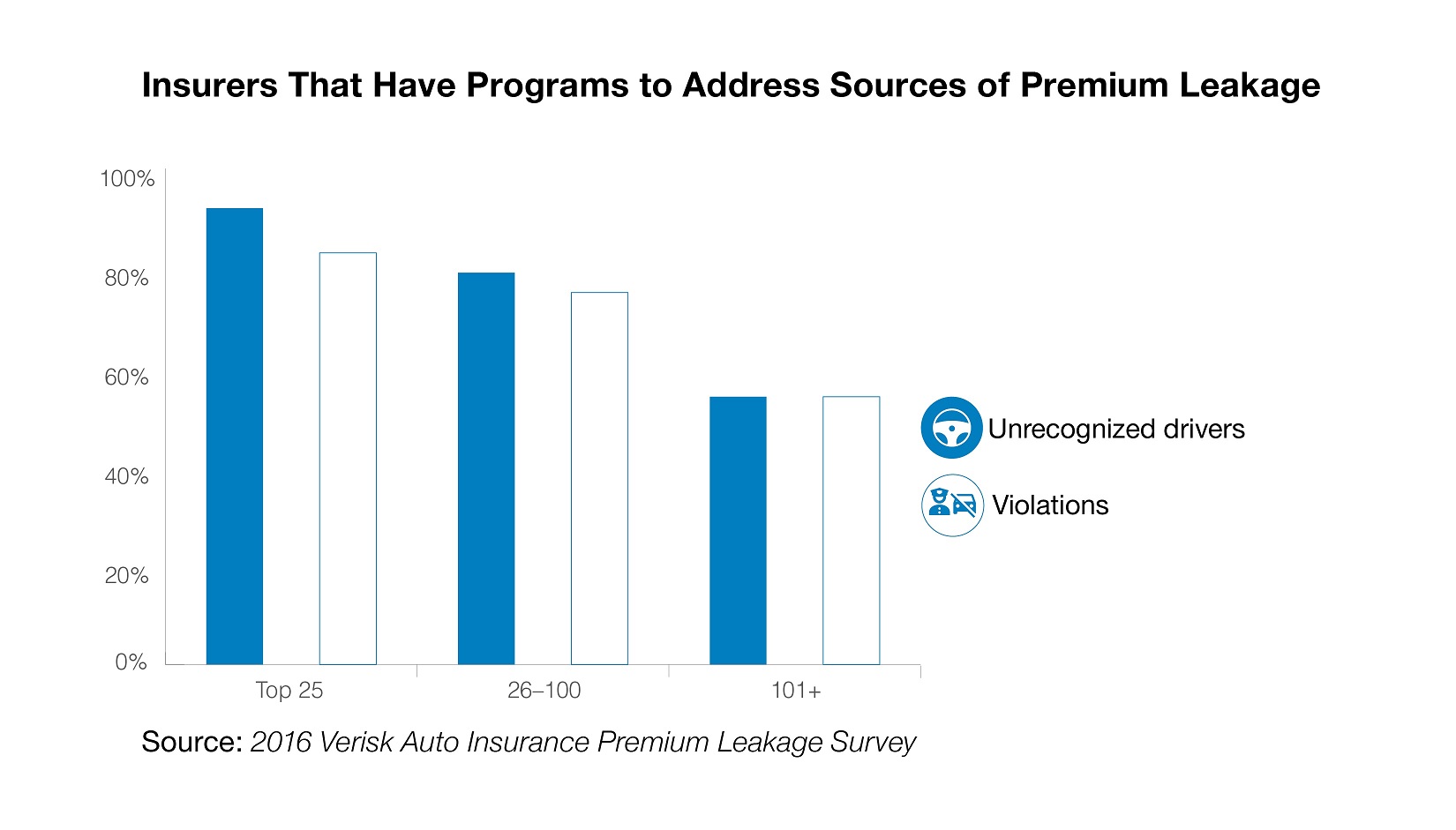 The Innovation Paper is based on the findings of two recent Verisk research initiatives. The premium leakage survey explored insurers' concerns, programs, and plans regarding premium leakage. Verisk also conducted a client analysis for 82 insurers split evenly between the standard and nonstandard markets. The insights from these initiatives provide readers a deeper look at premium leakage by source, best practices for tackling it, and cutting-edge tools that can enable a focused, strategic approach to balance growth, retention, and profitability.
References
1. Verisk estimates
2. Verisk client analysis
3. Ibid.
4. Ibid., "high" or "very high" risk bands as identified by Verisk's RISK:check® score
5. Verisk nationwide analysis of MVR fee increases by state, 2005-2016