Property inspections are a staple of the current underwriting process. During the past few decades, incremental improvements have enhanced inspections, making the process more efficient and the data more useful. However, recent changes could significantly affect how insurers conduct property inspections in the near future.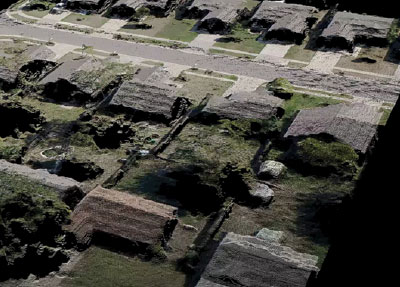 Two fundamental factors are driving those changes: advances in technology and data.
Advances in technologies such as tablet computers, high-resolution aerial cameras, image processing software, and commercial drones are creating new ways to conduct property inspections.
Data, traditionally a result of the inspection process, will soon drive that process — adding new efficiency.
Verisk has identified three trends, driven by those factors, that may significantly influence how insurers conduct homeowners property insurance inspections. Each trend will help insurers get better inspection results while reducing their inspection costs.
Geospatial data from aerial imagery
The insurance industry has used aerial imagery for many years, particularly for claims. But the technology has yet to make significant inroads in homeowners underwriting and property inspections. That will change.
The continued development and enhancement of high-resolution aerial cameras and the softening of FAA regulations on commercial drones will make images with sufficient resolution needed for underwriting (such as the ability to assess roof condition) readily available. More important, technology to capture and process the geospatial data derived from the images is reaching a point where data packets can inform underwriting-related decisions in an automated fashion. As the transition takes place, insurers can begin to use the geospatial data derived from aerial imagery in place of or as a complement to boots-on-the-ground property inspections.
Verisk sees tremendous opportunity using geospatial data for property inspections. Here are several examples of how the industry can use the technology.
Roof inspections — In the future, aerial imagery may eliminate the need for inspectors to climb to the top of a roof. Geospatial data will assess roof condition and provide information such as roof size, pitch, material, shape, and more.
Cross-selling — Geospatial data will tell you about the entire property, not just the structure. For example, you'll be able to identify whether there's a boat or RV parked in the driveway. If so, you can solicit more business from your customer.
Identifying additional and/or adjacent exposures — Are there pools, trampolines, detached structures, or commercial businesses located on the property? In many cases, geospatial data will have the answers.
Property changes over time — From a renewal perspective, it will be possible to compare a structure from one year to the next. You'll know if there's an addition or a new deck that can affect the property premium at renewal.
Insurance to value — You can validate the property characteristics data driving the replacement cost estimate.
Geospatial data derived from aerial images has many potential uses in property inspections. In the future, data elements may be more consistent, more accurate, and simply more numerous from aerial imagery than from traditional inspection methods. Assessing the trade-offs between methods will be an important underwriting challenge.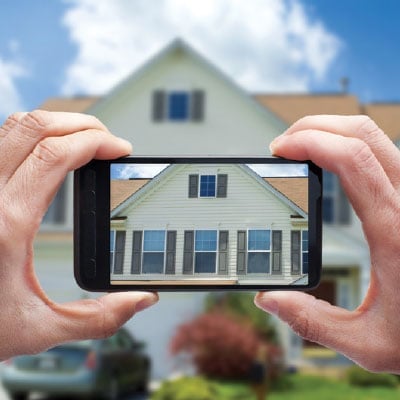 Mobile
There are two ways mobile technology is beginning to have a profound effect on property inspections, both of which will be game changers.
Empowering the inspector
The days of inspecting a property with paper, pens, and point-and-shoot cameras are coming to an end. The efficiency gains of inputting information directly into a tablet computer rather than transposing from paper to computer are too great to ignore. Everything from the data collection process to the completion of reports will be faster using mobile technology. You can take photos and seamlessly add them to the inspection report.
Beyond the efficiency gains, mobile technology will result in smarter inspections. Rather than a one-size-fits-all inspection, mobile technology may enable insurers to change inspection parameters from one property to the next. Using information already known about the property, automated rules can change the "inspection script" to capture the information necessary based on specific attributes of the property and policy type.
Empowering the homeowner
Mobile technology makes it easier than ever to get information and images of a home. A simple-to-use mobile app can provide an opportunity for the consumer to complete a self-inspection in less than 15 minutes.
You can easily capture data and photos of the exterior of a home to identify condition hazards and property characteristics needed for estimating replacement cost. But you can also capture key interior characteristics, including the furnace, water heater, and electrical panel, while simultaneously gathering the data you need to assess accurately the quality of kitchens and bathrooms — all at a fraction of the cost of an interior inspection.
A homeowner self-inspection is also an ideal way to gather information on contents to ensure the homeowner has adequate coverage for possessions and the insurer is charging appropriate premiums. Technology will make it possible to identify and estimate the value of the contents from the images.
Optimizing inspection spend
Inspections are expensive, time-intensive, and in most cases, result in no underwriting action. However, the risk of compromising underwriting quality by forgoing an inspection is real. The growing availability of data and computer processing power is helping insurers make better decisions about which properties to inspect.
The volume and breadth of data available to determine the need for inspections are increasing. The largest hurdle at this point is correlating specific property characteristics with inspection outcomes that lead to an underwriting action. Adding to that challenge is the fact that each insurer is unique and will have different inspection parameters based on its risk management strategy.
The good news is any insurer that wants to spend its inspection dollars more wisely can work with data modeling experts to develop a strategy that will not only advise them if an inspection is necessary but also tell them what type of inspection — drive-by, interior, exterior, roof — is most appropriate.
Insurers that can effectively reduce the dollars they spend on inspecting new business can reallocate those resources to their existing book. That's a key step to ensuring that each property in the portfolio is adequately insured and contributing to a profitable portfolio.
An exciting future
We've been fortunate to see the introduction of some of the most exciting and revolutionary technologies during the past 20 years. The widespread use of the Internet, mobile technology, and microprocessing is on par with advances such as the light bulb, automobile, and airplane. All have changed the way people live their lives.
Technology has already revolutionized how we shop, watch TV, invest, buy insurance, and more. And now the time is right for technology to change how we view the property inspection industry.
---
Prefill data: Does it hurt or help the process?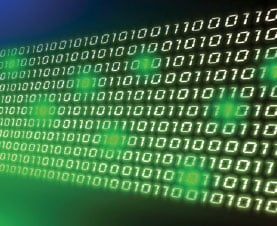 Today's insurers widely use property prefill data to support the sales process by streamlining new-business quote and application functions. They may also use prefill data to calculate replacement cost estimates needed for rating purposes.
However, as more and more insurers use property prefill, they're detecting some of its deficiencies through the property inspection process. Much of the property prefill data delivered to insurers today wasn't created for insurers, but rather for tax assessing purposes. If the data provider doesn't prepare the data for insurance use through quality analysis and scrubbing procedures, property inspections may reveal examples in which data prefill is causing more harm than good.
Estimated replacement cost typically has an effect on the amount of coverage that an insurer requires its customers to carry. Obtaining accurate property characteristics at the point of sale is critical to avoiding insurance to value (ITV) and other underwriting actions. If a property inspection reveals inaccurate prefill data, the policy may warrant reengineering or potential cancellation. That can lead to the loss of customers, make agents unhappy, and have a negative effect on growth and profitability targets.
During the past decade, property prefill has been one of the most important advances in insurance underwriting. However, insurers must be sure the data is of high quality and has been prepared for insurance purposes before using it in the sales and underwriting processes. Some property prefill vendors can boast very high hit rates on key building characteristics, but insurers need to know that using lower-quality data can be more detrimental than advantageous.