Held every March, the ISO Emerging Issues Bracket pits 32 emerging trends and risks against one another, tournament-style. Members of the ISO Emerging Issues Panel choose their favorites in each matchup, with the issues of most concern advancing to each subsequent round. The issues are seeded based on the Emerging Issues Portal web traffic, past Bracket performance, and customer feedback.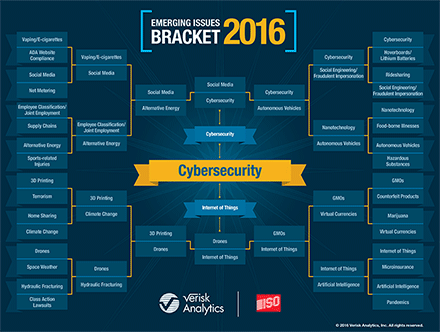 2016's clear winner
It's happened again. For the third straight year, clear favorite Cybersecurity kept the dynasty alive with a convincing win against the Internet of Things (62–38) in the final round of ISO's 3rd Annual Emerging Issues Bracket. (Note: Results are shown as percentages.)
2016 Winner: Cybersecurity beats Internet of Things
2015 Winner: Cybersecurity beats Autonomous Vehicles
2014 Winner: Cybersecurity beats Internet of Things
The growing frequency and severity of cyber attacks continue to keep insurance professionals on the defensive. Just this past February, ransomware hackers were able to extort $17,000 in bitcoin from a Los Angeles hospital network in return for unlocking the network's systems.
4th Round Highlight: Internet of Things beats Drones
But you have to hand it to the scrappy Internet of Things: it has clawed its way to semifinal appearances in each of the past three years. If prior track records are any indication, Internet of Things will be back in the thick of it again in 2017. This year, it pulled off a major upset win against Drones (68–32).
Some ISO staff analysts reviewing the 2016 Emerging Issues Bracket have speculated that consumer data protection concerns could contribute to the continued success for Internet of Things. In January 2016, the Federal Trade Commission released a report entitled Big Data: A Tool for Inclusion or Exclusion, which discussed, among other things, potential concerns related to consumer protection laws and how they may apply to the consumer data collected from Internet of Things devices.
Notwithstanding the 2016 loss, Drones has been something of a dark horse issue in the Bracket, advancing another round with each passing year. Way back in 2014, Drones was knocked out by Climate Change early in the second round. But the issue managed to take flight to the Elite Eight in 2015, falling to the indomitable Cybersecurity. Perhaps the recent ISO activity related to Drones has helped the issue along in the past couple of years.
Upsets abound
There were several shocking upsets in the Bracket last year, such as when Sports-Related Injuries beat the overconfident Virtual Currencies in the first round. This may have been due to coverage of several pending lawsuits against various sports-related organizations, which generally included allegations that the organizations failed to adequately warn players about the dangers of concussions.
Virtual Currencies Beats Marijuana: Could It Be the Blockchain?
3rd Round Highlight: Virtual Currencies beats Marijuana
This year was no different. Despite the continued interest and growing concerns regarding Marijuana— the favorite among Emerging Issues analysts— the issue got knocked out in the first round for the third year running, losing to underdog Virtual Currencies in a veritable buzzer-beater. Virtual Currencies, coming off its disappointing performance in 2015, managed to edge past Marijuana's weak showing, winning the round 51–49.
Some ISO Emerging Issues staff analysts point to the recent attention given to blockchain, the technology undergirding various virtual currencies, as a possible burst of energy in interest for the issue. For more information on blockchain technology, check out the Emerging Issues Portal "Virtual Currencies" topic page.
2nd Round Highlight: GMOs beats Virtual Currencies
Virtual Currencies would go on to lose to GMOs in another close round (54–46), with the recent spate of GMO-labeling legislation in the United States Congress giving GMOs just enough extra boost to seal the win.
Social Media Defeats Vaping/E-Cigarettes, Stuns ISO Emerging Issues Analysts
2nd Round Highlight: Social Media beats Vaping/E-Cigarettes
Vaping/E-Cigarettes, the clear favorite in its division, was also shocked to discover itself the loser in the second round, falling to Social Media 56–44. Social Media hadn't made it out of the first round since 2014, when the issue pulled out an upset win against Supply Chains.
If there was one story that confounded the predictions of even the best Emerging Issues analysts, that story was Social Media's rise. Coming off a major upset win over Vaping/E-Cigarettes, the issue would go on to beat Alternative Energy in a decisive blowout (73–27), thereby advancing to its first Final Four showdown.
Many ISO Emerging Issues Bracket analysts thought Vaping/E-Cigarettes would be the clear winner over Social Media—what with the various reports of possible health hazards from using the devices and reports of the devices exploding and injuring users. It just goes to show - no ones Bracket is perfect!
Seeds in the wind
Hydraulic Fracturing Goes Home Early
2nd Round: Drones beats Hydraulic Fracturing
Some issues popular with many insurance professionals had to throw in the towel early, outplayed by their opponents. Hydraulic Fracturing, for example, continues to rattle the insurance world, particularly in light of the United States Geological Society's new earthquake hazard map that also identifies human-induced earthquakes. But Hydraulic Fracturing couldn't contend with Drones, which continues to receive Federal Aviation Authority Section 333 exemptions via petitions for commercial use (totaling 2,732 approvals as of December 31, 2015).
Nanotechnology Can't Get Much-Needed Win
2nd Round: Autonomous Vehicles beats Nanotechnology
Others didn't make it as far as they did in years past. Nanotechnology lost to Autonomous Vehicles in the second round in a tough match.
The Autonomous Vehicles issue continues to dominate the ISO Emerging Issues Bracket, helped in no small part by several major recent developments. In December 2015, California published draft regulations governing post-testing of autonomous vehicle use. The National Highway Transportation Safety Administration recently announced its plans to publish guidelines for autonomous cars by summer of 2016. The Department of Transportation announced a $4 billion grant program to spur autonomous vehicle development. This is a hot issue that doesn't appear to be losing steam.
No issues left behind
But the ISO Emerging Issues staff analysts do not leave any issue behind in their work to monitor developments that could prove critically important to various property/casualty lines of business.
Social Engineering may have knocked out Ridesharing in the first round (55–45), but you can be assured that the Emerging Issues team continues to keep insurance professionals informed about all the relevant issues in the 2016 ISO Emerging Issues Bracket, as well as other emerging risks and trends—and what solutions ISO is considering to help address them.
The team manages the Emerging Issues Portal, available to all ISOnet® subscribers, offering curated research on more than 40 emerging issues. ISO also discusses emerging issues with customers through its Emerging Issues Panel meetings, held by WebEx several times a year.
So, stay tuned for the 4th Annual Emerging Issues Bracket, coming in March 2017. Will Cybersecurity be dethroned—perhaps by Drones? Or will some new issue emerge that could rocket to victory and affect the property/casualty industry in unforeseen ways?
If you'd like to learn more about the Emerging Issues Portal, our panel, or if you have any questions about ISO's Emerging Issues team, please contact me at lmcmahon@verisk.com or 201-469-2958