A Conversation with Brian Sullivan
Brian Sullivan is a household name in the auto and property insurance industry. As editor and publisher of Auto Insurance Report and Property Insurance Report, Mr. Sullivan brings his keen insights and industry news to personal and commercial auto insurers and homeowners and property insurers every week. Mr. Sullivan also chairs two major industry conferences — the Auto Insurance Report National Conference and the Property Insurance Report National Conference — annual events that bring together industry executives, brokers, and reinsurers to discuss strategic issues and the latest innovations affecting the industry.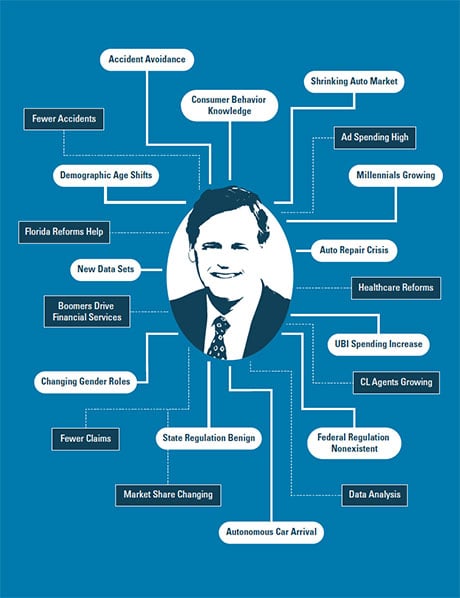 As one of the key sponsors of the recent Auto Insurance Report National Conference 2013 (April 21–23), Verisk Insurance Solutions is pleased to support the outstanding programs and education offered. Mr. Sullivan's work benefits us all.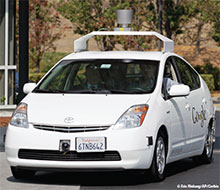 Mr. Sullivan sat down with John Cantwell, vice president, Verisk Underwriting, and Barbara Sohn, Visualize editor and manager, Marketing Communications, to discuss how he got started in the industry, the evolution of his publications and conferences, and key industry trends for the year ahead.
Visualize: You've been a keen observer of the insurance industry for many years. How did you get started in the business, and why did you focus on insurance?
Brian Sullivan: I got into the insurance business by mistake. After graduating from the School of Foreign Service at Georgetown, I worked for the Journal of Commerce, which had an insurance section. The editors asked me to cover the insurance desk. As it turned out, I actually liked it! The reason I like insurance is the reason why most people don't like it. I'm attracted to its complexity — how many moving parts there are. Banking is simple; insurance is complex from many angles — such as the public policy issues and varying corporate needs. It's not easy to get a straight answer in this industry. Why do insurers charge so much for auto insurance? That can take an hour or more to answer; there are so many variables that go into the equation. I frankly like the lack of clarity.
Visualize: Your auto and property newsletters are widely read by carriers, vendors, and others. How did you get started? How do you stay current on the many topics and state-level issues that you cover?
Brian Sullivan: This is the twentieth year we're publishing Auto Insurance Report, which I started in1993, with Property Insurance Report following in 1994. We started the conferences in 1998. The industry has only a few hundred players/insurers. My goal was to get every insurer to read the newsletter. I simply started publishing, and every week I would take the 25 largest insurers in each state and mail a letter with a personal note to the CEO about the newsletter. It took a few years to achieve the penetration we wanted.
Many folks have described me as an entrepreneur, but I was blind to the risks we took back then. I wrote every word personally for the first 12 years before Leslie Hann joined us, now our managing editor. In 2008, Patrick Sullivan joined as a staff writer. We spent every day talking to people to get the correct information. We don't quote many people. In the beginning, that's how I got industry insiders to talk to me. I took their thoughts and words and restated them. It's too problematic to quote state managers for insurance companies directly. So I started writing "this is what's happening." I was on the phone all day, every day, talking to the movers and shakers in the industry.
Visualize: While insurance is a very complicated industry, it's not known for innovation or the quick adoption of new technologies. Is that a fair assessment in your view?
Sullivan: The reason the insurance industry has a reputation for not being innovative is that it's not an early adopter of technologies that come to other industries first. That's not because the insurance industry is slow, but because it's infinitely more complicated than other industries.
Are people in insurance risk averse? I'd say yes — that's the nature of the business. But the upside to that conservatism is that unlike many other industries, the insurance industry doesn't blow up every few years. Big banks and brokerage houses go out of business because of the risks they take. The insurance industry is unwilling to gamble on something that can put them out of business. And it has remarkable stability. Very few insurers of any size ever fail, and no large ones fail, even after catastrophic losses such as hurricanes or earthquakes.
Visualize: You often focus on new ideas and innovation in your conferences and newsletter articles. Those topics are fun and interesting, but are you also trying to prod industry leaders into thinking more creatively about competing in the marketplace?
Sullivan: Yes! That's our job. We try to be a catalyst for new ideas. That's what separates our publications from typical trade publications. We try to venture into uncharted waters and identify trends with an eye toward helping our subscribers and conference attendees learn more. Our job is not just to report but also to provoke people and try to innovate. I've brought well-known but sometimes controversial consumer advocates to speak at our conferences when others wouldn't dare. But I must admit, making trouble isn't always well received.
Visualize: Recruiting insurance industry talent has been a theme you've covered several times in your conferences. Why has this interested you over the years?
Sullivan: I've seen very few insurers that shop in the best colleges for the smartest brains. Somehow, there's a lack of ambition to attract the brightest kids. Many insurers just aren't actively seeking top talent and establishing a path where top talent can grow within their organizations. Too many of us say we got into this industry by mistake, and yet when people do find their way to careers in the insurance industry, they usually love it. There's a disconnect there that insurers need to fix by working harder to recruit top talent.
Visualize: We've noticed that you're not afraid to say or write things about the industry that may be critical, which is why many folks value your commentary. We've talked in general about innovation, but you've also singled out specific carriers on occasion. Without naming names, have you ever gotten any uncomfortable phone calls from an executive?
Sullivan: Yes, I've gotten critical phone calls or e-mails or letters, and anyone who says they enjoy that must be crazy. It's really uncomfortable to be challenged like that. But we strive very hard to steer clear of anything that's personal. I might question management decisions, but the focus is on the decision, not the manager. And the challenges are usually based on pretty obvious results. If the company isn't growing or is losing money, it's hardly going out on a limb to say management isn't doing a good job.
Visualize: Tell us a little about the Auto Insurance Report National Conference this year and how it went.
Sullivan: The auto insurance industry is going through profound changes. We're seeing cars that drive themselves, usage-based insurance, and increasingly complex cars that require increasingly complex repairs — but an overall decline in claims. The conference this year featured sessions on Google's self-driving cars, telematics initiatives, legislative trends, and the customer experience.
The feedback was terrific. It's important to us to see people coming back year after year because that's the best confirmation that the meeting has value. The sessions are also only half the equation. There's no doubt that networking is a huge part of the value of the conferences. The quality of the audience is just as important as the quality of the speakers. That's why we limit attendance and sell out every year. Conference Director Tracie Sullivan works hard to make sure the meeting has just the right balance of attendees.
Visualize: One of the fun segments of your auto and property conferences is "Twenty Trends in Twenty Minutes." What are the trends you find most compelling for the industry in 2013?
Sullivan: Accident avoidance. The focus for the next decade is shifting from protecting the passenger in the event of an accident to avoiding the accident in the first place. The industry is familiar with features to protect passengers, such as rollover cages (designs to protect from rollover), side air bags and protection systems, and front and rear crumple zones. But systems such as autonomous braking, adaptive cruise control, and blind spot sensors can help avoid the accident in the first place. Recent research from the Insurance Institute for Highway Safety confirms that some of these new systems are saving lives and reducing claims.
The next phase in knowledge of consumer behavior. The first phase was the arrival of credit scoring and using that to determine premiums and make underwriting decisions. The next phase is gathering even more data sets about consumers and their behavior and becoming more intelligent about their likelihood of filing claims. You can also use consumer insights to cross-sell more successfully. The industry goal is to settle a claim to maximize consumer satisfaction at the lowest possible cost. Our ability to understand what consumers need and want is key.
The shrinking auto insurance market. There are fewer accidents today than in previous years, and that number will continue to decrease. So of course, fewer accidents mean claims go down and therefore premiums go down. And with the advent of more graduated driver's license programs and education programs for drunk driving, fatalities continue to decrease. Insurers that learn how to take advantage of consumer behaviors will be the ones that grow.
The changing roles of men and women in the economy. The next ten years will see an unprecedented shift of power to women in the economy — both as consumers and as employees. Women are attending schools and graduating more than men, and fewer men are going to college. Women are doing better, and men are choosing to do things that have worse outcomes.
Women think differently than men, and that affects how they purchase consumer goods and services — including insurance. Men used to be dominant buyers, but as women gain more momentum in the economy, companies will start tailoring things more to them. Women are more feature-rich in their research and ask more questions. Among the top 20 carriers, who are the ones thinking about adjusting how they handle their call center process? The companies that grasp these demographic shifts will do well.
The arrival of Millennials and other demographic age shifts. There are entirely new populations now. The baby boomers are becoming seniors. The Millennial Generation (sometimes referred to as Generation Y) is growing tremendously. This younger demographic, born from about the early 1980s to the early 2000s, has certain characteristics that affect buying patterns and consumer behavior: instant gratification, short attention spans, very technologically savvy. Insurers — previously focused more on midlife individuals (the baby boomers) — need to adapt to these older and younger generations.
Visualize: Do you have any parting words for us?
Sullivan: I'd like to thank the insurance industry for its encouragement and confidence in our work all these years. We really appreciate the support you've given our newsletters and conferences, and we will work hard every day to retain your trust and deliver quality products. Our mission is to give the industry the competitive edge it needs to succeed. We hope you'll join us at the Property Insurance Report National Conference, November 10 to 12, 2013, in Dana Point, California, to continue the conversation.