In October 2014, AIR Worldwide released a detailed, physically based probabilistic inland flood model for the United States. The new model provides underwriters and other stakeholders with a comprehensive tool for assessing and managing inland flood risk at a high resolution for locations on and off the many and varied floodplains across the United States.
The applications of flood modeling technology are far-reaching and span the entire insurance value chain. Benefits for insurers may include a more robust view of individual risk pricing sensitivity and new opportunities for flood insurance product innovation. Risk managers can also better identify the assets driving their overall risk and help develop and design cost-effective risk transfer strategies to manage that risk.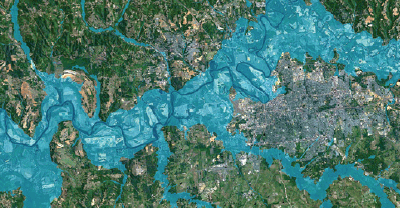 The AIR Inland Flood Model for the United States defines flood events based on an understanding of the physical causes of flooding and how floods propagate through the country's extensive river networks. The model determines damage by calculating the inundation depth at each affected location, taking into account the country's comprehensive system of levees and their probability of failure, as well as regional differences in building codes and building practices.
In addition to accounting for flooding that will occur next to the river, AIR also incorporates flood hazards that can happen away from the river, known as off-floodplain flooding. That can result because of particularly intense rainfall and poor drainage, among other factors.
The AIR Inland Flood Model for the United States is currently available for the Touchstone® (Version 2.0) and CATRADER® (Version 16) catastrophe risk management systems.