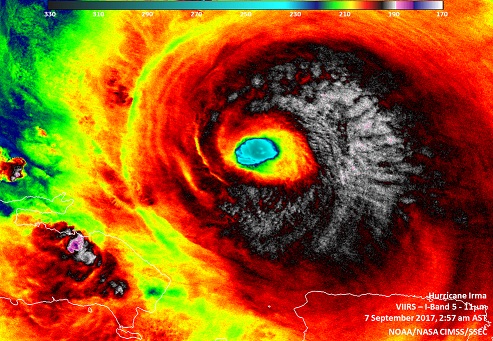 AIR estimates industry insured losses in the United States resulting from Hurricane Irma range from $20 billion to $40 billion. Note that these estimates are based on the National Hurricane Center's (NHC) Sunday, September 10, 5 p.m. EDT forecast advisory for Irma.
These losses include wind and storm surge damage to onshore residential, commercial, and industrial properties and their contents, automobiles, and time element coverage (additional living expenses for residential properties and business interruption for commercial properties).
AIR's modeled insured loss estimates for the United States include:
Insured physical damage to property (residential, commercial, industrial, auto), both structures and their contents
Additional living expenses (ALE) for residential claims
For residential lines, 5 percent of modeled storm surge damage as wind losses
For commercial lines, insured physical damage to structures and contents, and business interruption directly caused by storm surge (other flood losses are not modeled or reflected in estimates; business interruption losses include direct and indirect losses for insured risks that experience physical damage)
For the automobile line, estimates reflect AIR's view that insurers will pay 100 percent of the storm surge damage
2017 indexed take-up rates
AIR's modeled insured loss estimates for the United States do not include:
Losses paid out by the National Flood Insurance Program
Losses resulting from the compromise of existing defenses (e.g., natural and man-made levees)
Losses from the flooding of tunnels and subways
Losses to uninsured properties
Losses to infrastructure
Losses to inland marine, marine cargo and hull, and pleasure boats
Losses from extra-contractual obligations
Losses from hazardous waste cleanup, vandalism, or civil commotion, whether directly or indirectly caused by the event
Other non-modeled losses, including those resulting from tornadoes spawned by the storm
Losses for U.S. offshore assets and non-U.S. property
Summary
After battering a string of Caribbean islands since its first landfall in Barbuda on September 6, Hurricane Irma made landfall on Cuba's northern coast as a Category 5 storm on Friday, September 8. Irma weakened to Category 3 as it interacted with land throughout Friday and into Saturday morning, but reintensified to a Category 4 storm as it turned north toward Florida on Saturday night.
Irma's center crossed the lower Florida Keys at 9:10 AM on Sunday, September 10, making a first U.S. landfall on Cudjoe Key at Category 4 strength, with maximum sustained winds of 130 mph, according to the National Hurricane Center (NHC).
The storm weakened to Category 3 status before it made its second landfall on Marco Island at 3:35 PM EDT on the southwest coast of Florida, just south of the city of Naples. Sustained winds at landfall were 115 mph, according to the NHC.
As of 5 p.m. EDT, Irma remained a large hurricane, with hurricane-force winds extending 80 miles from the center and tropical storm-force winds extending some 220 miles. As such, nearly the entire state will be subject to strong winds and torrential rains, and a very dangerous storm surge of up to 10-15 feet is expected along parts of Florida's west coast. Tornadoes are also possible, especially on the east-central coast, according to the National Weather Service (NWS).
Reported impacts
Cuba
In Cuba, more than 1 million people evacuated ahead of the storm according to the government news agency. The provinces hardest hit by Hurricane Irma include Camaguey, where it made landfall, as well as Ciego de Avila, Sancti Spiritus, Villa Clara, and Matanzas. Reported damage includes downed trees and utility poles, ripped off roofs, and some instances of collapsed buildings. Flooding from storm surge is widespread, including significant damage to low-lying parts of the capital of Havana.
Florida Keys
Hurricane Irma lashed the Florida Keys with extreme winds and torrential rains, its center passing just 20 miles east of the popular tourist destination of Key West. The low-lying islands are extremely susceptible to damage from storm surge, and there is only a single road (along with dozens of bridges) that connects the islands to mainland Florida; the road was ordered closed on Sunday. In Key Largo, the roof was blown off the building where emergency officials were planning operations. A U.S. Air Force relief mission via cargo planes is scheduled for Monday. The full extent of damage remains unknown.
Mainland Florida
Across South Florida, downed trees, signs, and utility poles and flooded or debris-strewn streets are a common sight. More than three million homes are without power and officials say that the outages could last for weeks. At least 10 inches of rain have fallen in parts of Florida, including in Okeechobee. The Army Corps of Engineers, which discharged water from Lake Okeechobee in advance of Irma's arrival, has said that they do not anticipate levee failure. Indeed, while rainfall totals of 10-15 inches with isolated pockets of up to 20 inches are expected across Florida, Irma's forward motion should prevent the kind of accumulations and resulting flooding seen two weeks ago in Texas from Hurricane Harvey.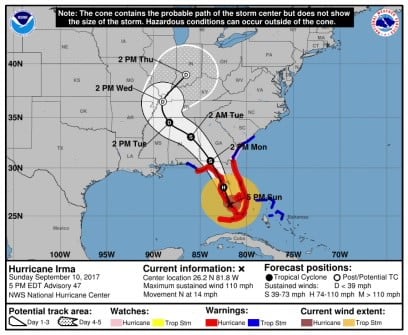 Strong winds in Miami, with gusts up to 95 mph, toppled two cranes, and streets in parts of the Brickell financial district, which is on Biscayne Bay, were flooded. A roof was ripped off a home and crashed into a neighboring home.
A tornado that touched down in Palm Bay destroyed six mobile homes. A few other tornadoes have been spotted so far. The full extent of damage will only become apparent in daylight.
Outlook
By the 8 p.m. NHC advisory, Hurricane Irma had been downgraded to a Category 2 storm with sustained winds of 105 mph. Irma is forecast to track north-northwest up the west coast of Florida, making a direct or near direct hit on the Tampa Bay area. Though weakening, Irma is expected to maintain hurricane strength through Monday morning, according to the NHC. It is expected to reach Georgia by Monday afternoon, where it will encounter increasingly strong wind shear and quickly weaken. However, torrential rains are expected to produce inland flooding, with life-threatening flash floods, throughout much of the state.
Irma remains a large and dangerous storm that will affect nearly all of Florida. Exposure value in the coastal counties along the Gulf Coast up to Tampa, which will bear the brunt of the impact, is estimated at $1 trillion.