Every March, the ISO Emerging Issues Bracket pits 32 emerging trends and risks against one another, tournament-style. Insurance professionals from various parts of the industry are surveyed and asked to choose their favorites in each matchup, with the issues of most concern advancing to each subsequent round. The issues are seeded based on web traffic to the Emerging Issues Portal (ISOnet® login required), past Bracket performance, and ISO customer feedback.
The 2017 Winner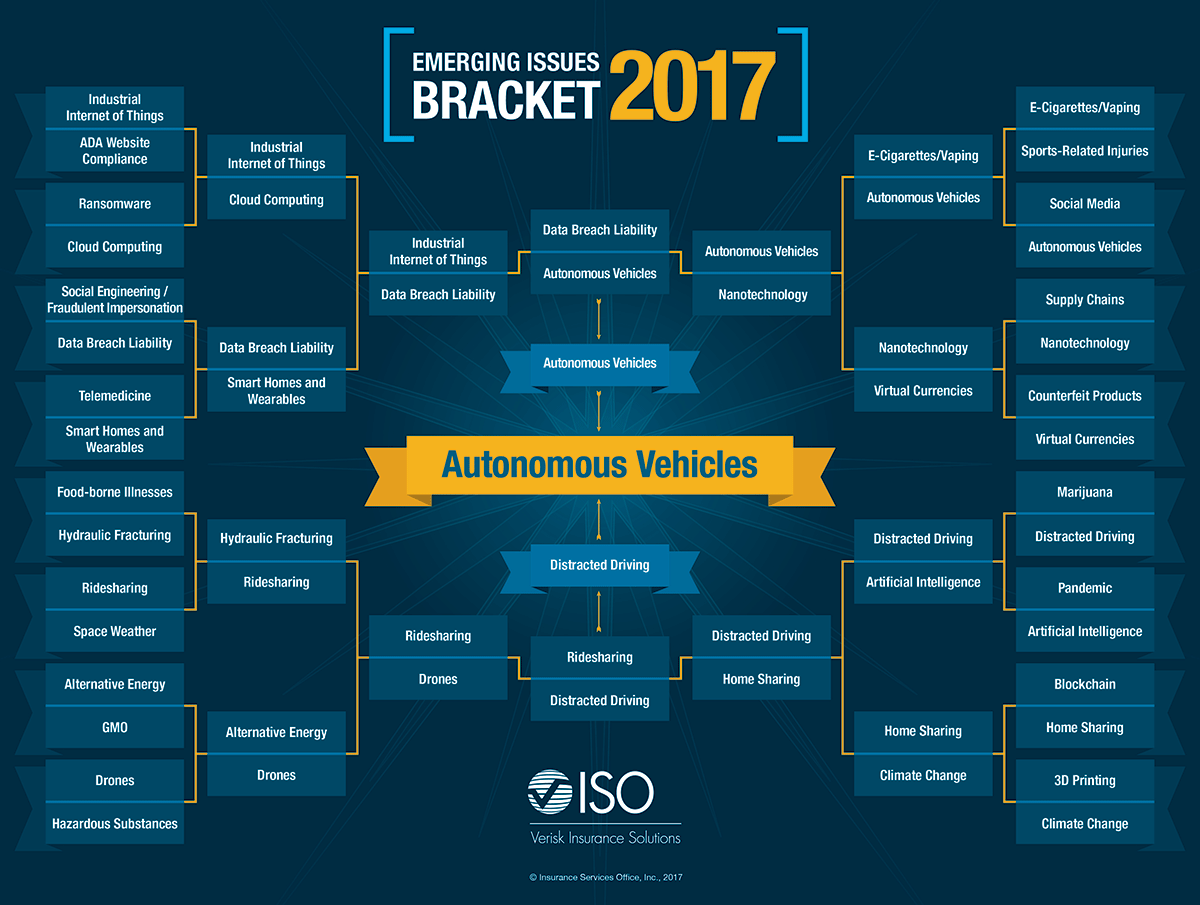 For the first time in ISO Bracket history, cybersecurity didn't win it all. Autonomous vehicles defeated distracted driving in the final round to become the winner of our 4th Annual Emerging Issues Bracket.
2017 Winner: Autonomous Vehicles beats Distracted Driving
2016 Winner: Cybersecurity beats Internet of Things
2015 Winner: Cybersecurity beats Autonomous Vehicles
2014 Winner: Cybersecurity beats Internet of Things
In fairness, cybersecurity didn't even get a shot this year. As we reported before the start of this year's Bracket, cybersecurity has proven so dominant and affects so many other emerging issues that we decided to switch things up this year. We broke up the dream team. Instead of "cybersecurity," ISO's 2017 Emerging Issues Bracket featured certain cyber-related issues, including, among others, ransomware, the industrial Internet of Things, and telemedicine.
Despite autonomous vehicles' victory, cyber-related topics made a strong showing, with data breach liability making it to the semifinals. But as we reported last year, autonomous vehicle developments aren't losing any steam — and the potential insurance implications are still largely unknown.
Did your bracket get busted this year? Don't worry, there's always next year: Stay tuned for ISO's 5th Annual Emerging Issues Bracket, coming in March 2018. Can marijuana finally make it past the first round? Or will some new issue emerge that could rocket to victory and potentially affect the property/casualty industry in unforeseen ways?
If you'd like to learn more about the Emerging Issues Portal or our panel, or if you have any questions about ISO's Emerging Issues team, please contact me at lmcmahon@verisk.com or 201-469-2958.