No one likes a workers' compensation claim—not the employee, employer, or insurer. Insurers can screen risks during the underwriting process, but making worksites as safe as possible for everyone means avoiding the claim in the first place. Insurers can recommend workplace loss control measures to eliminate or minimize safety and health risks; help employers provide workers with safe and healthy working conditions; and help protect workers from workplace hazards to avoid injuries, illnesses, and incidents. Fewer injuries mean fewer claims.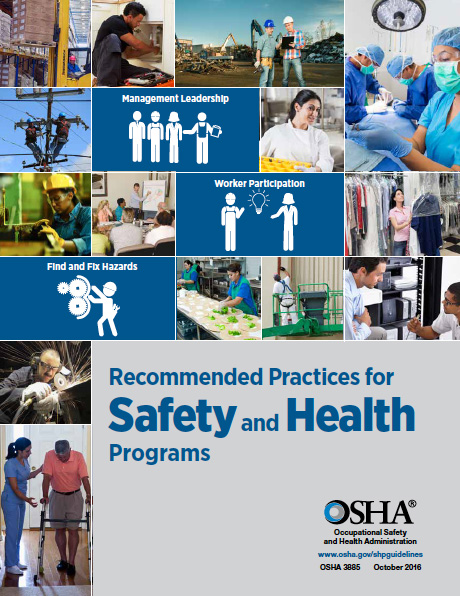 The Occupational Safety and Health Administration (OSHA) recently updated its Recommended Practices for Safety and Health Programs, the first update in almost 30 years. The guide provides straightforward methods for insureds to establish safety and health programs. OSHA's approach is based on seven core elements, and each is described in detail in the guide. It also includes plans and action steps that, if followed, can help limit workers' compensation claims. The seven core elements are:
Management Leadership
Worker Participation
Hazard Identification and Assessment
Hazard Prevention and Control
Education and Training
Program Evaluation and Improvement
Communication and Coordination for Host Employers, Contractors, and Staffing Agencies
The OSHA guide also provides a reference to various resources and tools, such as a safety and health audit form that can be used for self-evaluation, along with ten recommended steps for starting a safety and health program. Here are the recommended steps:
Make safety and health the top priority at all times.
Lead by example.
Put a reporting system in place.
Offer training.
Conduct inspections.
Ask workers to provide ideas on controlling hazards.
Set up hazard controls.
Create instructions for emergency situations.
Gather worker feedback before making important workplace changes.
Strive for improvement.
To supplement this quick list, here are expanded recommendations for implementing OSHA's ten steps to safety.
Some employers may find the recommended practices challenging, but using the ten simple steps offered in the guide will give an employer a solid base from which to take on some of the more structured actions presented in the recommended practices. See the sidebar for additional information and tips on those steps. In addition to Recommended Practices for Safety and Health Programs, OSHA offers Recommended Practices for Safety and Health Programs in Construction. Both guides can be valuable resources for insureds.
To learn more about loss control information that you can provide to your insureds, please visit Verisk's Engineering and Safety Service (E&S™) website, www.verisk.com/ess.
---