According to the December 2015 report Structure Fires in Stores and Other Mercantile Properties, published by the National Fire Protection Association (NFPA), grocery and convenience stores have the highest frequency for fire occurrence (28 percent) and are third-highest in losses (16 percent) of all mercantile properties. Fires in auto service stations, repair shops, and vehicle sales occupancies resulted in the greatest loss of life (31 percent) and the highest number of civilian injuries (27 percent).
Data for the NFPA report is derived from the U.S. Fire Administration's (USFA) National Fire Incident Reporting System (NFIRS) and the NFPA's annual fire department experience survey. The report offers a great deal of statistical data. For example, fire departments in the United States respond to an estimated 13,570 fires in stores and other mercantile properties annually. These fires caused an average of $604 million in direct property damage each year from 2009 to 2013.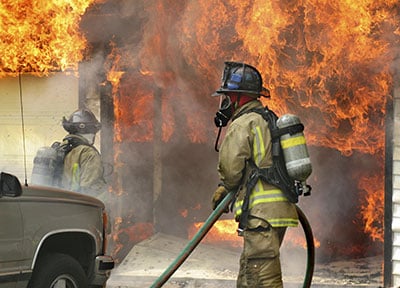 While overall frequency of fires in mercantile properties declined from 2001 to 2015 by more than 27 percent, the total direct property damage per year has increased more than 33 percent. By comparison, there were an estimated 483,000 fires in all structures during the same time frame. Stores and other mercantile properties were only 2.8 percent of the overall fire experience—and roughly 6.1 percent of the total property losses in the United States.
According to the 2015 report, the greatest total direct property damage per year occurred in properties listed as unclassified (21 percent). These are properties where the specific type wasn't reported by the fire department. Fires in stores and mercantile properties are more prevalent during daytime hours (9 a.m. to 5 p.m.), but average direct property losses are twice as high during the overnight hours (9 p.m. to 5 a.m.) when these properties are normally unoccupied. Cooking equipment accounts for the greatest fire frequency (21 percent) and the highest number of civilian deaths (33 percent). Fires caused by electrical equipment and wiring resulted in the greatest amount of direct property damage (27 percent), followed by intentionally set fires (20 percent).
The NFPA report Structure Fires in Stores and Other Mercantile Properties can be downloaded from the NFPA research and reports website. It's just one of the topics covered in scores of news and technical reports that Verisk – insurance solutions' Engineering and Safety Service (E&SSM) sent to subscribers in February. Our experts provide reports and technical services to our subscribers on fire protection, workers compensation, industrial hygiene, commercial vehicle, product liability, general liability, and other topics. You can distribute many E&S reports to policyholders to help them educate themselves on sound risk control.
Find out more about the Engineering and Safety Service, or download our brochure.