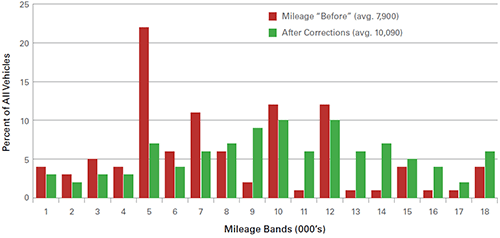 In 1963, Colonial Penn Insurance Company (CP) was formed and specialized in serving the retiree market. Long before the days of the Internet or even television advertising, CP marketed through direct-mail "kits" with an enclosed paper quote-request form. The company was an early adopter of "sophisticated" mileage rating bands (for example, under 3000, 3000 to 6000, 6001 to 9000, and so on). CP designed its mileage plan to attract and retain low-mileage drivers, especially "senior" drivers who weren't being well served by other insurance companies at the time. While CP no longer operates as an auto writer, the company set an early standard for mileage rating that no doubt influenced insurers that followed.
Over the years, more insurers started using annual mileage as an important rating factor. In 1988, California's Proposition 103 resulted in many changes to auto insurance, including mandating the use of mileage in rating. And while certain regulations aren't always popular with carriers, mileage as one criterion makes sense.
Cars that spend more time on the road have significantly more "exposure" and are more prone to hit something—or be hit (very few accidents happen in a garage). That intuitive understanding is borne out in loss cost projections. Higher-mileage drivers can have loss costs up to twice the costs of lower-mileage drivers.
But getting annual mileage "right" is still a challenge today. Consumer and agent estimates are notoriously error-prone. Historically, insurers have relied on the customer's self-disclosed mileage estimate, which was once the only technique available.
As the graph above indicates, insurers need to manage annual mileage. Left unchecked, a book of business will develop a mileage distribution that has two fundamental problems: 1) The average mileage is very low and doesn't approach actual driving behavior for a population of consumers. 2) The distribution isn't natural. The "before" spikes at 5K, 7K, 10K, and 12K are fairly typical. Consumers and agents may often provide a nice round number or sometimes attempt to circumvent common rating bands (for example, below 7500).
Today, insurers use a variety of techniques to obtain accurate mileage estimates, including new mobile application–based solutions. The table below summarizes some of the most common techniques used in the industry, along with their pros and cons.
As with all underwriting and rating variables, getting mileage information right is a competitive necessity. Accurate rates depend on accurate information. But a great customer experience is also a competitive necessity. So is keeping information costs low. The insurers that learn how best to orchestrate these sometimes conflicting objectives will be those that potentially achieve the most success.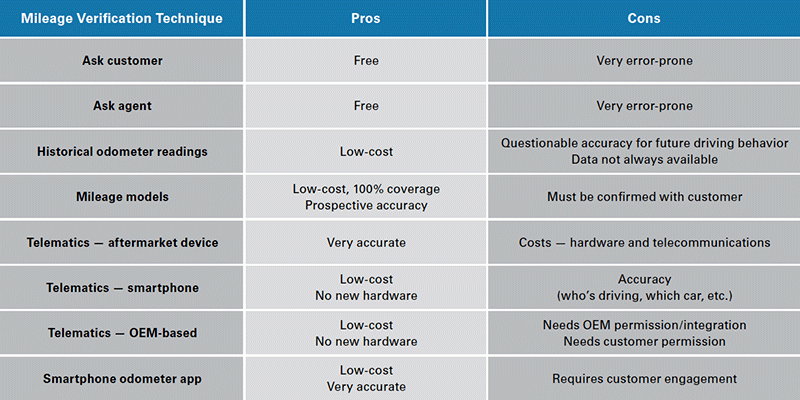 Verisk is a leader in helping insurers evaluate the many options available for mileage verification and implementing the best mileage programs for each situation. To learn more, please contact John Cantwell at jcantwell@verisk.com.
Learn more about Verisk's Mileage Solutions.