As today's market moves toward digitization, we understand that efficiency and profitability are key and Analyze Re's Matisse can help. Matisse was created with our clients in mind to deliver an intuitive and customizable analytics dashboard that streamlines reinsurance and retrocession pricing, simplifies structuring workflows, and facilitates intelligent portfolio management.
Matisse is customizable and flexible enough to fit the needs of various users. Whether you're an underwriter or a portfolio manager, Matisse can adapt to suit countless diversified workflows to help improve proficiency and accuracy of metrics.
Let us introduce you to Nova Re, a fictional reinsurance company we will use to illustrate the very real benefits of Matisse. Nova Re uses Matisse to improve multiple workflows throughout their organization. Using Matisse saves them time and resources by streamlining the handoffs between applications and avoiding the errors and miscommunications that can occur with manual processes.
Senior Cat Modeler
Nova Re's senior catastrophe modeler, Jane, has the requirement to compare results from multiple model outputs and needs the ability to view everything in one place. With Matisse, she can easily combine losses from multiple cat modeling providers and evaluate the loss results, side by side, all in one place, keeping them organized on her own customizable dashboard where she can see only the results she wants shown (Figure 1). She can also easily reflect Nova Re's own unique view of risk by creating a custom formula to apply weightings to the loss results of each cat model. Once she has completed her analysis, she can prepare the layers for the underwriter to price and move on to her next task.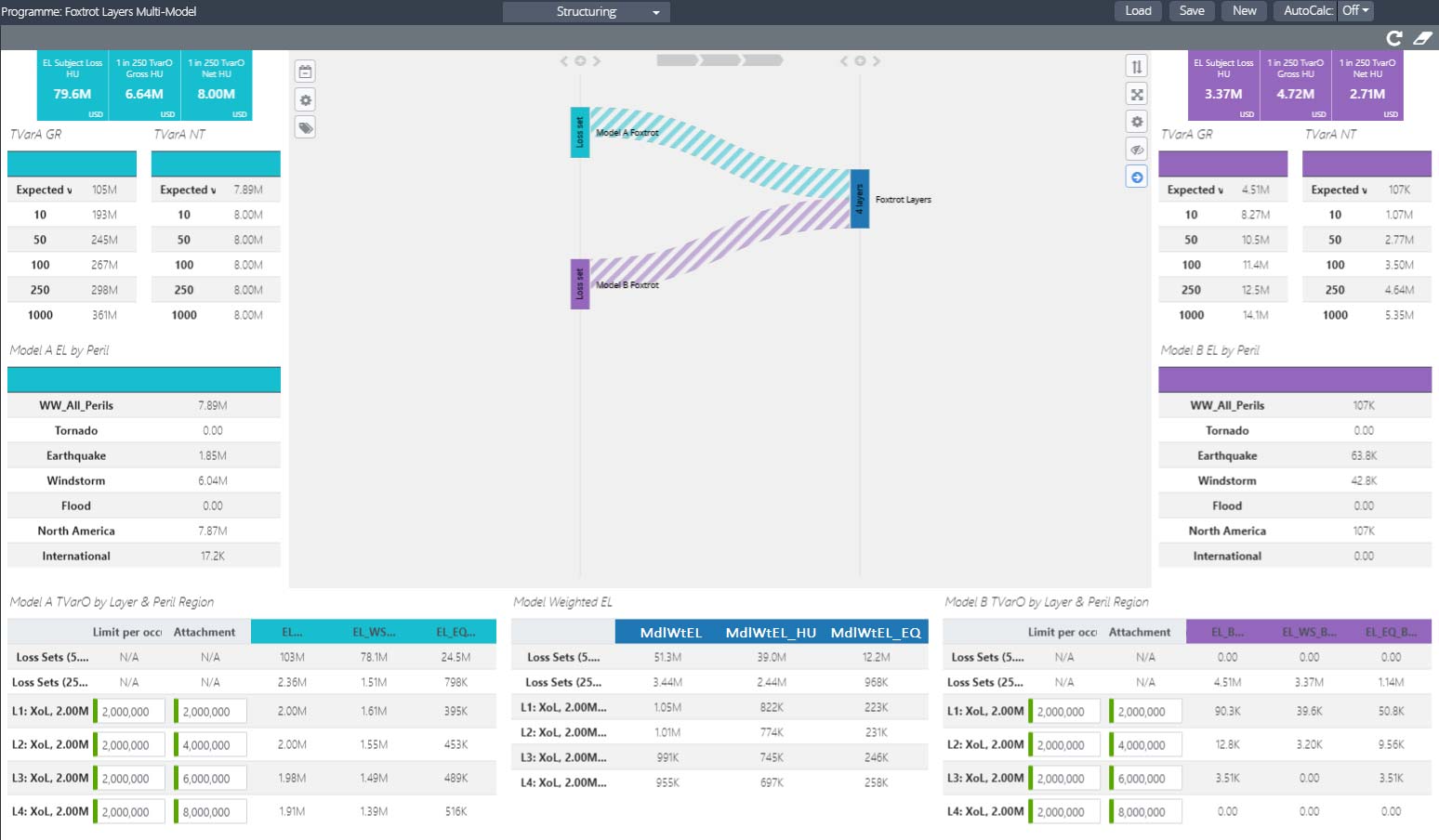 Underwriter
Chris, an underwriter, evaluates hundreds of potential deals a day, so he needs to see all his analytics in one place to quickly assess the profitability of each deal and move on to the next one. Within Matisse, Chris can see all the data he needs to on his customized dashboard without having to switch between applications, saving him valuable time. He can view the modeled losses for each contract, the overall structure, as well as a final pricing table where he can use his own technical pricing calculations to recalculate on the fly (Figure 2). Once he has assessed the deal's profitability against the portfolio with views to marginal impacts, he can pass his results on with confidence to the chief risk officer.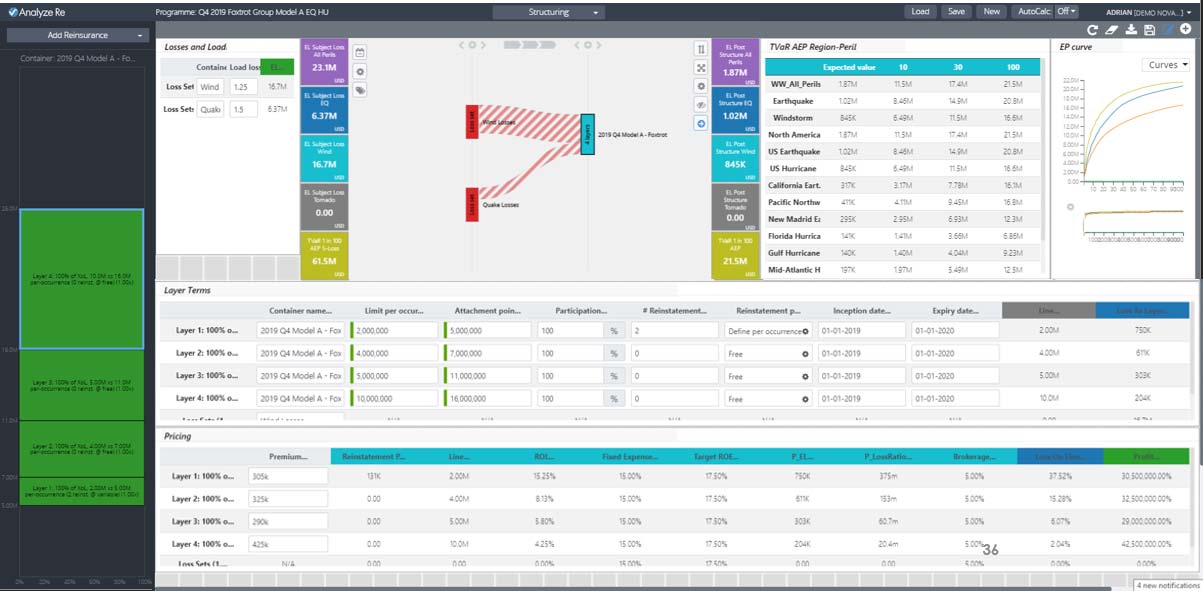 Chief Risk Officer
After collecting results from Chris and the other underwriters, Kelly, the Chief Risk Officer, needs to efficiently assess each business unit individually, review overall group-level metrics, and evaluate the effectiveness of current retro programs. As the business landscape changes for Nova Re, Kelly has ever more complex scenarios to review, which has become time-consuming and makes evaluating the increasingly complex retro programs difficult. Using Matisse, she can create her own custom dashboard, which will show only the metrics required by the business for reporting. Everything she needs is organized in one place, so she can confidently report on a combined view to the executive team (Figure 3).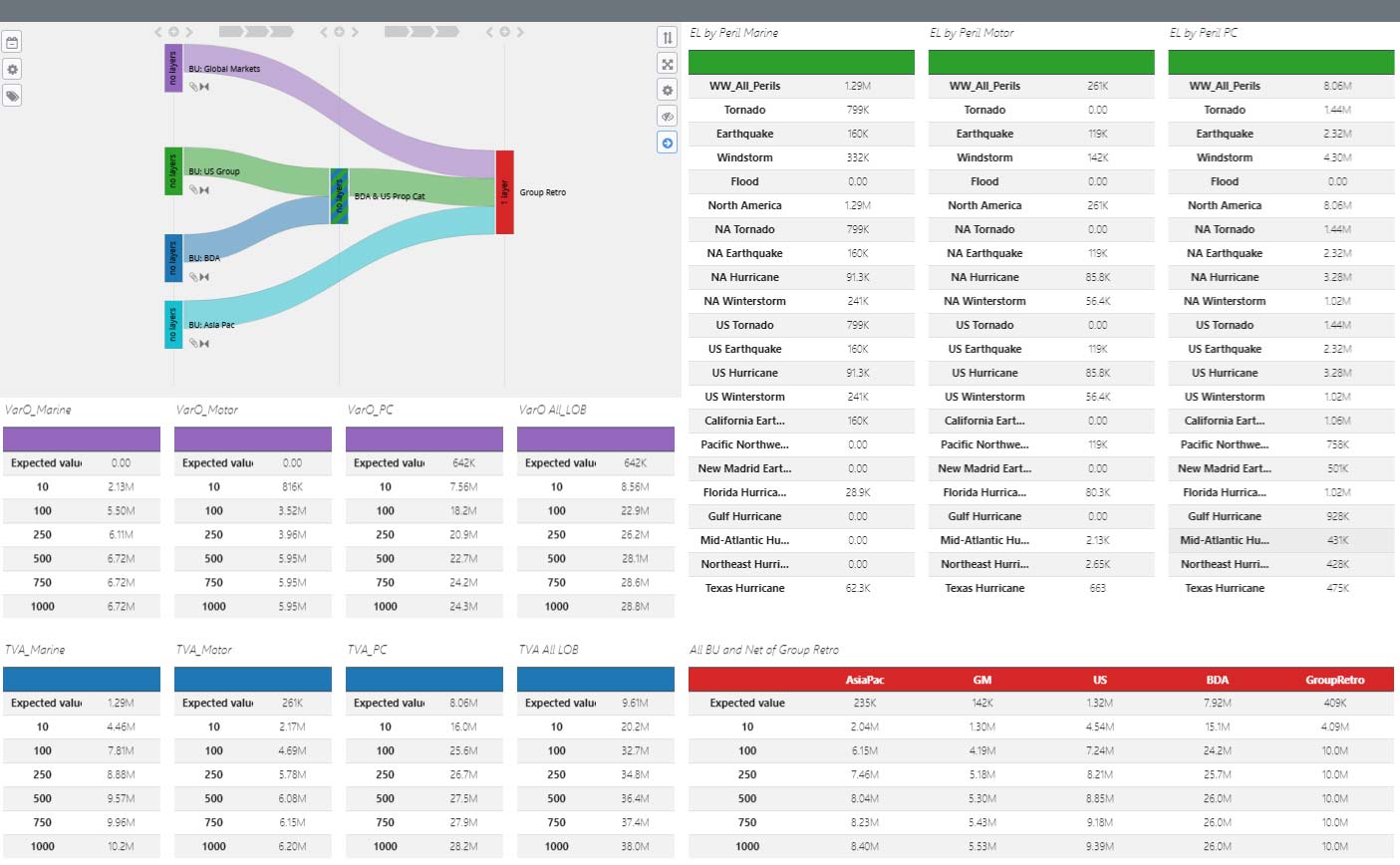 Using Matisse, Nova Re was able to empower their teams with more intuitive, in-depth analytics, which provided an overall increased confidence in their portfolio. The insights gained by using Matisse are now able to help shape their priorities.
What Can Matisse Do for You?
Matisse is a self-contained solution for everyone on your team and can be customized to leverage each person's role to drive top-line growth. Matisse can save you valuable time and resources, providing precise and targeted metrics, while helping you avoid the kinds of errors and miscommunications associated with manual processes. Save your teams valuable time during your next renewal season with Matisse.