Farmers used to only have two main concerns when they sent their produce to market: how fresh were their fruits and vegetables and how much would they need to charge for them. But today, farmers also worry about other parts of the journey from farm to table: the processing and shipping methods they use after harvest, the safety of the products they sell, and the security of their customer data.
Just consider the following exposures that can affect both farmers and their insurers: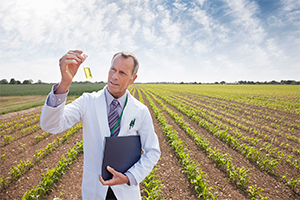 Genetically modified organisms (GMOs)
For decades, farmers have been raising genetically modified crops that are often more resistant to plant disease and feature a more consistent appearance. But while the World Health Organization (WHO) has said that genetically modified foods have not been shown to affect human health, the organization has developed guidelines for countries to evaluate the safety of new genetically modified products. Globally, international food authorities are concerned that GMO foods could have potential effects on human allergies and antibiotic resistance.
In the United States, a significant number of consumers want to know more about whether the products they buy are derived from GMOs. According to an Associated Press-GfK poll last year, 66 percent of Americans favor requiring food manufacturers to label products that contain genetically modified organisms or foods grown from seeds engineered in labs. But only about four in ten of those surveyed said the presence of such ingredients was very or extremely important to them.
The U.S. Food and Drug Administration (FDA) has published guidelines that companies can use to inform consumers about products derived from genetically engineered food. But those guidelines are only voluntary, and the growing awareness and concerns about GMOs are creating potential liability exposures for policyholders and insurers. What if a consumer or organization sues a farm for damages caused by genetically modified produce? What if a farm claims it lost business when a neighboring farm's GMO seeds contaminated its fields? Who will pay for the potential liability?
Product recalls
Genetic modification isn't the only issue that causes farmers to worry about their crops. They're also concerned about their product being safe for consumption. About one in every six people in the United States gets sick from food-borne illnesses annually, according to the Centers for Disease Control and Prevention. Some of those illnesses are the result of pathogens that spread easily among raw fruits and vegetables (leafy greens and cantaloupes are among the most well known).
In January, a large produce manufacturer withdrew all of the packaged salad products from one of its U.S. plants after a Listeria outbreak in multiple states was linked to the facility.
The decision was announced only a few weeks after a produce company recalled 174 bulk-packed containers of its cucumbers out of concern that the vegetables may have been contaminated with Salmonella.
For farmers whose output can vary each year based on the weather, the question of another unpredictable cost is significant: Who would pay for a large product recall?
Cyber risk
Of course, it's not just the produce that poses risks for today's farmers. Their data could also fall into the wrong hands. Like other professionals in the digital age, farmers rely on computers to help manage their crops and livestock, operate machinery, communicate with suppliers, accept credit card payments from customers, and keep track of finances and billing. But with computers comes the potential risk of a data breach, which may result in confidential customer information being accessed by hackers.
If a data breach occurred and sensitive information was released, who would be responsible for the potential liability costs? Who would pay for a firm to investigate the breach, recover the data, and keep customers informed?
A new farm insurance program
To meet the needs of modern agriculture, ISO is revising all of its farm coverage forms and more than half of its endorsements. We're also introducing 20 new endorsements to cover a wide range of exposures. The filings, scheduled to take effect in December 2016, include, among other things, new:
optional liability exclusions for bodily injury and property damage resulting from genetically modified beans, crops, grains, seeds, plants, trees, shrubs, animals, or fish

coverage options that reimburse the insured for certain product withdrawal expenses resulting from a product recall or tampering

electronic data liability coverage and exclusionary endorsements for bodily injury and property damage resulting from access to or disclosure of confidential or personal information
We've also introduced new property and liability endorsements designed to cover a wide range of agritainment activities. Agritainment refers to farm activities designed to entertain visitors, such as corn mazes, pick-your-own fields, and petting zoos.
You can learn more about ISO's new Farm Insurance Program on our farm webpage. If you have any questions, please feel free to contact me at Kevin.Poll@verisk.com or 201-469-2015.