LOCATION - Wildfire Risk
Verisk offers you multiple services to manage wildfire risk at the address level to support underwriting decisions, select rating plans, and manage exposure concentration.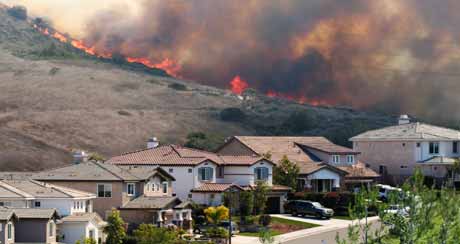 Wildfires have increased dramatically during the past decade. In the United States, an average of about 3 million acres burned each year between 1970 and 1999. In the 2000s, the average increased to about 6.8 million, and since 2010, the average has exceeded 7 million acres a year.
FireLine® helps you manage the increasingly threatening wildfire risk. FireLine provides a score for the risk factors of fuel, slope, and access, as well as an overall hazard score. It also identifies properties located in Special Hazard Interface Areas —risks exposed to wind-borne embers. FireLine is available in 13 states and also in Western Canada.
Verisk also offers the California Brush Fire Service, which provides the name of the hazardous brush area and the identifier code. That information lets you quickly and easily determine your brushfire exposure and eligibility for California FAIR Plan credits.
For more information about wildfire services
Call us at 1-800-888-4476.