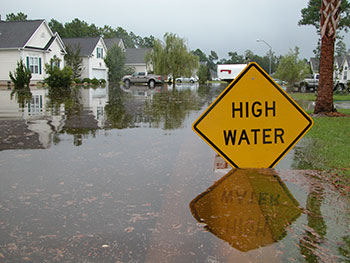 Imagine for a moment that you're living in an old house in the Northeast when a flood strikes your neighborhood. Your basement is underwater, along with your boiler and circuit breaker, your septic tank is overflowing, and the motels nearby are booked.
Coverages and exclusions
If you're one of the millions of people across the United States who purchased coverage from the National Flood Insurance Program (NFIP), you have some protection. But even with that coverage, you may face a long and expensive road to recovery, some of which may or may not be covered. That's because the coverages and exclusions in your flood policy, through NFIP, are likely not the same as those in your homeowners policy.
NFIP, which has been providing flood insurance for nearly half a century, is more than $23 billion in debt, primarily due to large payouts from Hurricane Katrina and Superstorm Sandy. With NFIP up for reauthorization this year (September 30, 2017), Congress and many insurers are hoping to see the program reformed and the flood insurance market revitalized. But before any revitalization occurs, insurers, brokers, and agents will need to educate customers and raise their awareness about the risks of flooding and the coverages available. And to develop a personal lines flood market, insurers will need to understand where NFIP falls short and offer personal line policies that meet current homeowners' needs.
What NFIP doesn't cover
NFIP offers coverage for both building and personal property—up to $250,000 for a one- to four-family structure and $100,000 for its contents. That coverage, though, is limited and doesn't cover a number of exposures that homeowners face. These include:
Basements: Basements are usually the first part of the house to flood. But the NFIP policy offers only limited coverage. The building coverage will cover the replacement of items needed to support the structure, such as a boiler or circuit breaker, but the contents coverage would only cover a washer and dryer or freezer (and the food in it). Neither policy would cover what many might consider basic basement improvements, including finished floors, ceilings, and walls. If you want your formerly finished basement restored, you would need excess coverage or other funds.
Living expenses and additional costs to comply with ordinances or laws: When a home is flooded, homeowners often have to rent temporary housing until repairs are completed. NFIP doesn't cover loss of use, such as additional living expenses incurred because of flooding. In addition, if an ordinance or law requires building code changes to be incorporated into a home's repair following a flood, such costs are typically not covered under NFIP. If you need to rent a hotel room out of town for hundreds of dollars a night or repair your home to comply with existing building codes, those costs can add up quickly.
Damage outside your home: NFIP won't cover any property outside your home. That includes septic systems, wells, retaining walls, and decks, just to name a few. Any damage to trees or plants would also not be covered. After a major storm, all of these items can add up, and some, like the septic tank, will need to be fixed for you to return home.
Policies of the future
If NFIP is reformed, private insurers will need to develop policies that more closely meet the needs of homeowners. That means not just filling in gaps in NFIP coverage but also structuring the insurance so it's easy for homeowners to understand and meets their individual needs.
Consider the damage sustained by your home: The actual damage to your home is $225,000, but the cost to replace it is twice that amount. How will you make up the difference? In some cases, NFIP flood insurance will pay only the actual cash value (ACV) of the damage to your property, up to the policy limit of $250,000. In most cases, typical homeowners policies pay replacement cost value (RCV). You didn't realize this before. How will you make up the difference?
You also didn't realize what's the cost to you before your insurance kicks in. NFIP flood insurance has two separate deductibles for building and contents coverage, unlike homeowners policies that contain a single deductible for building and contents. So if you were not prepared or aware, the loss may cost you much more than you anticipated.
Maybe most frustrating is that you didn't even know your home was at risk for flood. Many of the NFIP flood hazard maps, perhaps including yours, have become outdated because of urban growth and changes in coastlines. Also, many of the most recent, large scale, flood events have extended into areas that are outside of the traditional flood plains. There is a need for products that are affordable, and are based on data and analytics that closely reflect your home's individual risk.
Verisk solutions in the works
At Verisk – insurance solutions, we're creating new flood insurance products and solutions to help insurers assess flood hazards, make more informed pricing decisions, provide coverage appropriate to today's marketplace, and assist in the post-loss adjustment process. This summer, we began filing loss costs, rules, and forms throughout the contiguous United States for commercial lines. We'll continue the process for personal lines later this fall.
---
Marc Treacy is Managing Director of Flood insurance at ISO. To learn more about Verisk's flood solutions, contact Marc at Marc.Treacy@verisk.com.This article originally appeared in ISO's Between the Lines in Spring 2017. It has been updated.