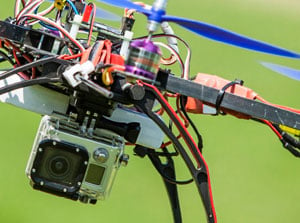 The U.S. Federal Aviation Administration (FAA) recently announced its much-anticipated final rule related to commercial use of small unmanned aircraft systems (UAS, otherwise referred to as "drones").
The rule is the first finalized FAA regulation for routine commercial drone use, which the agency has described as an important step for "opening pathways towards fully integrating UAS into the nation's airspace". The agency has also stated that the rule "could generate more than $82 billion for the U.S. economy and create more than 100,000 new jobs over the next 10 years."
As commercial drones begin to take flight in growing numbers, more businesses may begin to look for solutions addressing their risk exposures from drones. In recent years, ISO has introduced several drone endorsements for several commercial lines of business.
How it started
In 2012, Congress passed the FAA Modernization and Reform Act, which directed the agency to develop regulations integrating nongovernmental drones into the US airspace. Until such regulations were finalized, the FAA was authorized under Section 333 of the Act to grant exemptions with respect to commercial drone operations on a case-by-case basis, with the first such exemption granted in September 2014.
A number of the Section 333 exemptions granted by the FAA were subject to certain conditions and limitations, including: that the drone plus payload weigh less than 55 pounds; that the drone not be operated at an altitude that exceeds 400 feet or at speed of more than 100 miles per hour; that the drone be operated within visual line of sight of the operator; and that drones not be operated at night, within 5 miles of certain airport reference points, or within 500 feet of "any nonparticipating person". By June 8, 2016, the FAA had granted over 5,300 such exemptions.
What changed?
The final rule, which will take effect in August 2016, retains similar conditions and limitations the FAA had imposed in connection with a number of Section 333 exemptions, including those related to drone and payload weight (rule section 107.3), drone speed and altitude (section 107.51), and the visual line of sight requirement for drone operators (section 107.31).
16 and Up: Individuals 16 and older can now obtain a remote pilot certificate by passing an "initial aeronautical knowledge test" at an FAA-approved knowledge testing center.
The Edges of Night and Day: The rule allows for drone operations during civil twilight (generally 30 minutes before sunrise and 30 minutes after sunset), provided the drone is equipped with certain anti-collision lighting.
Waivers: Crucially, the FAA will allow companies to apply for a certificate of waiver to some of the requirements under the new rule, including those related to daylight operations and pilots operating drones within the visual line of sight.
ISO Drone Endorsements
Although the final version of the FAA rule was only released recently, ISO introduced endorsement options to address drone-related exposures for Commercial General Liability (GL) and Commercial Umbrella/Excess (Umbrella) back in 2014. During the first half of 2016, we introduced additional options for Commercial Property, Businessowners, Commercial Inland Marine, Capital Assets, and Agri-CAP™ (development for Farm is underway). These options were not developed in response to the Section 333 exemptions discussed above, but rather in anticipation of the final FAA rule. As such, ISO's coverage-related options can still help insurers address drone risks.
ISO's options to modify coverage under its Commercial General Liability and Commercial Liability Umbrella/Excess programs came into effect in 2015, addressing bodily injury, property damage, and other potential liability related to drones. Six core options are available under each program (GL and Umbrella): Three are optional exclusions, and three are coverage options addressing liability arising out of the ownership, maintenance, use or entrustment to others of drones. Each coverage option allows for limited coverage for designated drones, with respect to designated operations or projects.
We also recently filed additional endorsement options under its Commercial Liability Umbrella and Commercial Excess Liability programs, designed to provide limited following-form coverage with respect to unmanned aircraft, with planned implementation by November 2016.
Similar to the flexibility that is available under the GL and Umbrella options, in 2016 ISO filed optional endorsements to address liability exposures related to drones under the Businessowners program, with a planned effective date of December 1, 2016. While the approach to offer optional exclusions and coverage options is consistent with GL and Umbrella, these options have been consolidated into two endorsements in Businessowners.
ISO introduced commercial drone forms and endorsements for use in its nonfiled Inland Marine Handbook program in February, 2016. Also in 2016, ISO filed drone endorsements under its Commercial Property, Capital Assets, and Agri-CAP™ programs, with a planned effective date of December 1, 2016. These products are coverage options addressing first-party property damage to commercial drones, related equipment and data, with respect to designated unmanned aircraft operations. The inland marine product offering also includes an option for covering cargo carried by a drone.