A study published by a major ridesharing service provider in 2015 reported that more than 60 percent of its drivers work in other full- or part-time jobs.
From a personal auto insurer's perspective, that percentage may sound comforting. After all, the more time people are at their other jobs, the less time they can work as drivers for transportation network companies (TNCs) and potentially get into accidents.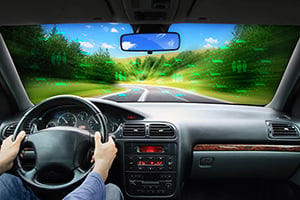 From a commercial auto perspective, though, that statistic can be far more troubling. Some TNC drivers may decide to drive in the course of their full- or part-time employment. If that's the case, what happens if they decide to use their company vehicles for providing ridesharing services? An ensuing accident could conceivably result in a claim that the commercial auto insurer never anticipated when underwriting the commercial auto policy.
And what if the insurer had been made aware of the TNC activity? How many TNC-specific insurance solutions are available today?
Those are some of the reasons why ISO is creating new tools to help commercial auto insurers address the risks of ridesharing. In the coming months, we plan to introduce these program enhancements:
A new Transportation Network Auto classification plan with corresponding rules and related rating information. This class will be further segmented by usage factors that will help insurers distinguish between those insureds that engage in full-time TNC driving and those that do so only part-time. That information will help commercial auto insurers offer coverage to drivers of TNCs.
Optional commercial auto endorsements addressing the exposures of ridesharing or other shared automobile-related services.
These additions provide insurers with tools to help (a) manage a commercial auto insured's potential activity as a ridesharing driver and (b) underwrite and price the risk more accurately.
Commercial auto isn't the only area that faces ridesharing exposures. Earlier this year, we introduced personal auto coverage options addressing ridesharing services. Specifically, we introduced an endorsement to reinforce the current "public or livery conveyance" exclusion in our Personal Auto Program, along with two new personal auto coverage options that insurers can use with TNC drivers. One coverage option would generally apply from the time the driver logs in to the TNC platform through a mobile device until he or she accepts a ride request. The other would typically apply from when the driver logs in to the TNC platform until a passenger occupies the vehicle.
If you have any questions about ridesharing programs, please visit our Ridesharing Insurance Resource Center. If you have any questions about our Commercial Auto Program, please feel free to contact me at ablancher@iso.com or 201-469-2632.