P/C insurers report a $1.7B net underwriting loss in nine-months 2016
By
Beth Fitzgerald
| January 30, 2017
A year can make a big difference in the property/casualty insurance industry. Just consider the changes in nine-months insurer financial results shown in the latest report that we published with the Property Casualty Insurers Association of America.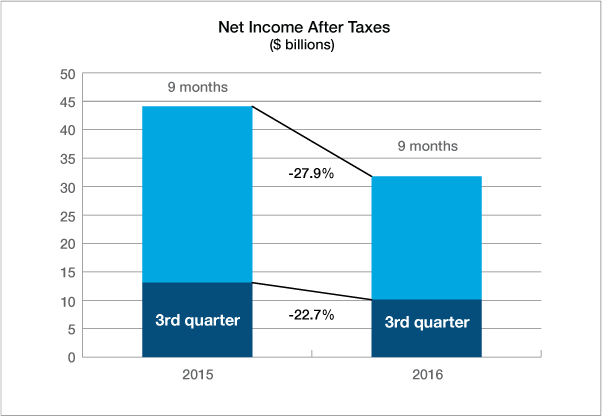 Net Underwriting Loss: Insurers suffered a $1.7 billion net underwriting loss in the first nine months of 2016, after enjoying a $7.3 billion net underwriting gain a year earlier. Their combined ratio deteriorated to 99.5 percent in nine-months 2016 from 96.9 percent in nine-months 2015.
Premium Growth Slowed: The growth for net written premiums slowed to 2.8 percent in nine-months 2016 from 4.1 percent a year earlier.
Investment Yield Declined: The annualized investment yield for insurers declined to 2.9 percent in nine-months 2016 from 3.1 percent a year earlier. Both yields are significantly lower than the 3.7 percent average annualized quarterly yield for the last ten years.
With underwriting gains becoming losses, premium growth slowing, and investment yields shrinking, it's not surprising that net income after taxes dropped to $31.8 billion in nine-months 2016 from $44.1 billion a year earlier.
Policyholders' surplus offers hope
But there are some reasons for hope. Policyholders' surplus continued to grow in nine-months 2016 and reached a record high of $688.3 billion by September 30, 2016. The Federal Reserve raised interest rates in December 2016 and is expected to increase rates further in 2017. Eventually, insurers' investment yields should likely improve.
One of the biggest challenges insurers are currently facing is how to improve underwriting results. There's no question that those insurers that incorporate robust data and analytics will be better equipped to make the best possible decisions about the risks they insure.
---