No Matter What You Call It, "Ride-Sharing" Presents New Challenges for Insurance
By
Sandee Perfetto
| February 10, 2015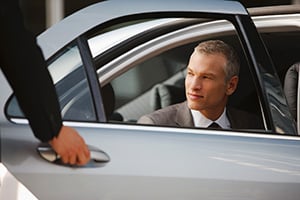 What do you call mobile apps that people use to order car service?
In an update to its Stylebook, a writing style guide for journalists, the Associated Press told journalists to stop calling them "ride-sharing" apps. Instead, AP suggested two alternative terms: "ride-hailing" or "ride-booking."
The reality is that "ride-sharing" service providers, also called transportation network companies (TNCs), require passengers to pay for rides offered through a network of drivers.
The drivers make their own hours and use their own personal cars. The process is simple: Passengers use the apps to locate drivers nearby and request a ride. Once the driver accepts the request and the ride is complete, the passenger must pay for the ride through the TNC app, which takes a percentage as commission from every fare.
If you think that sounds like a taxi or car service, you're not alone. The problem is that the insurance TNCs reportedly provide drivers is different than the coverage often purchased by taxi companies. The TNCs provide primary liability and uninsured/underinsured motorist (UM/UIM) coverages that apply only when a driver has accepted a ride request or is carrying a passenger. If the drivers are looking for passengers but haven't accepted a ride or want to submit a claim for damage to their car, they're likely to turn to their personal auto insurer for help.
At ISO, we've been tackling the exposures of TNCs head-on.
"Public or Livery Conveyance" Exclusion: In September, we introduced an Advisory Notice to Policyholders that explains how driving for a TNC may be considered operating a "public or livery conveyance" and is currently excluded in the ISO Personal Auto Program. You can read the circular here (ISOnet® login required).
Personal Auto Options under Development: We're in the process of developing an endorsement that would offer an option to cover TNC drivers from the time they log in to the app until the passenger has entered the car. Providing this option addresses potential challenges in the claims handling process as TNC coverages may vary when the passenger is not in the vehicle. We've also developed a reinforced version of the public or livery conveyance exclusion this year that will explicitly address TNCs. You can read the circular here (ISOnet login required).
Commercial Auto Alternatives: You can use the ISO Business Auto Coverage Forms to insure TNCs and their drivers. However, since our commercial auto program doesn't specifically address TNCs, it might be difficult to evaluate rates and collect data. That's why we're currently considering options in our commercial auto program to address TNC drivers explicitly and possibly the TNC itself.
New Report on ISOnet: We've released a new report that provides an in-depth look at the potential risks of TNCs and some of the ways that ISO, trade organizations, and state legislatures are responding. To read the report, click here. (ISOnet login required).
If you have any questions about insurance for "ride-sharing" or TNCs, please feel free to contact me at sperfetto@iso.com or 201-469-2705.
---