As more builders use wood as the primary building component in modern buildings, there's a growing concern for fire safety during the construction process. Large volumes of wood at construction sites, as well as exposed wood surfaces during construction, can lead to massive fires and large property losses. Several trade associations and building code groups are working on those concerns.
In May 2016, Ontario, Canada's Ministry of Municipal Affairs and Housing (MMAH) released guidelines that provide best practices for fire safety during construction of mid-rise wood buildings. Fire Safety During Construction for Five and Six Storey Wood Buildings in Ontario: A Best Practice Guideline is designed to help "minimize the risk of a significant construction site fire occurring in the first place, as well as to reduce the spread and impact of such a fire should one occur."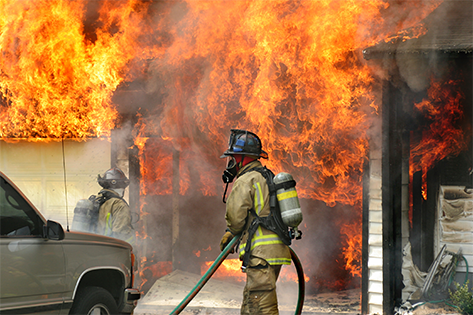 Guide has tremendous crossover use
While created to address Ontario's new building code that allows the construction of mid-rise buildings of predominantly wood construction for residential and office occupancies, the guide has tremendous crossover use. It's a valuable tool for the fire service (particularly for preplans and firefighting), building code officials, construction, design, and loss control for property insurers throughout North America. The guide also covers program requirements for architects and engineers to include in their respective designs and specifications to facilitate adherence to best practice guidelines during construction.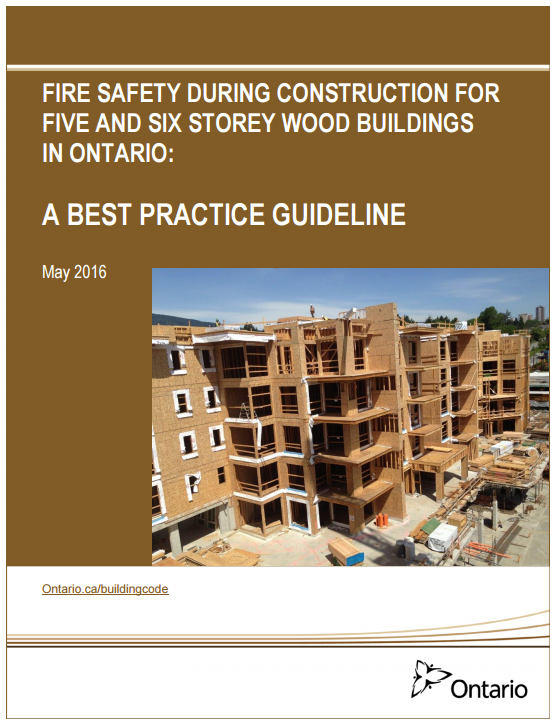 While following best practices may not eliminate all risk, it should minimize the risk of a significant construction site fire occurring and reduce the spread and effect of such a fire should one occur. The guide is written in a narrative format aimed at describing best practices, and it offers easy-to-follow tables and examples designed to address fire risks during mid-rise wood construction.
The guideline is "intended to support and encourage a culture of safety on the construction site." It's divided into eleven sections, including Fire Safety Planning, Emergency Notification and Building Egress, Site Security, Hot Work Protocol, Storage of Combustible and Highly Flammable Materials, Housekeeping and Waste Management, and Fire Protection and Firefighting. You can download the guide from the Ontario Ministry of Municipal Affairs and Housing website.
Additional Resources
In addition to the Ontario guide, several other valuable references can be used to help manage fire risks during the construction phase, especially when wood products are a significant component of the building.
Construction Fire Safety Practices
The website for the American Wood Council (AWC) provides information and guides that builders and fire departments can use to better manage fire risks related to the construction process. The AWC offers three manuals:
Manual 1 – Basic Fire Precautions during Construction of Large Buildings
Manual 2 – Hot Work during Construction of Large Buildings
Manual 3 – Fire Department's Role in Prevention and Suppression of Fires during Construction of Large Buildings (with simple-to-follow recommendations to manage fire risks)
The manuals can be downloaded free of charge at their website.
Guide to Fire Risk Mitigation
The United Kingdom's Structural Timber Association website provides videos and checklists to help manage fire risks at construction sites using larger volumes of lumber.
NFPA 241: Standard for Safeguarding Construction, Alteration, and Demolition Operations
Published by the National Fire Protection Association (NFPA), NFPA 241 provides measures for preventing or minimizing fire damage to structures, including those in underground locations or during construction, alteration, or demolition. Written as a consensus standard code, NFPA 241 addresses a wide variety of fire risks related to buildings under construction or repair.
Fire prevention is just one of the topics covered in scores of news and technical reports that Verisk Insurance Solutions' Engineering and Safety Service (E&S™) recently sent to subscribers. We offer a wide variety of risk control information, with topics vital to our loss control audience. Our experts provide reports and technical services to subscribers on fire protection, workers compensation, industrial hygiene, commercial vehicles, product liability, general liability, and other topics. You can distribute many E&S reports to policyholders to help educate them on sound risk control. For more information about E&S, click here or download our brochure.

For information about ISO Community Hazard Mitigation services for firefighting and building codes, visit our website.