Errors and omissions in the new service economy
By
Stephen Whelan
| October 7, 2015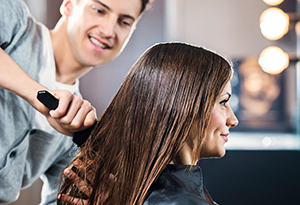 What do career counselors, hairstylists, and travel agents have in common?
If you answered "nothing," you're correct. When it comes to the job descriptions — writing resumes, cutting hair and booking trips are about as different as you can get.
But from an insurance perspective, each of those service providers shares one common trait — the risk of a costly mistake.
It only takes a little imagination to think of what could go wrong and how that could affect a business' finances.
Consider the following scenarios:
A career counselor enhances a client's resume, helping his client secure a new position. Soon after the client begins the new job, the employer discovers some exaggerations in his resume and fires him.
A hairstylist recommends a new hair color for an actress right before an audition for a new movie. The actress is upset with her new hair color, bungles the audition, and doesn't get the role.
A travel agent books a honeymoon at a top resort hotel. But when the couple arrives, the hotel has no record of their reservation, and the couple is forced to stay at another hotel, where they're charged a premium.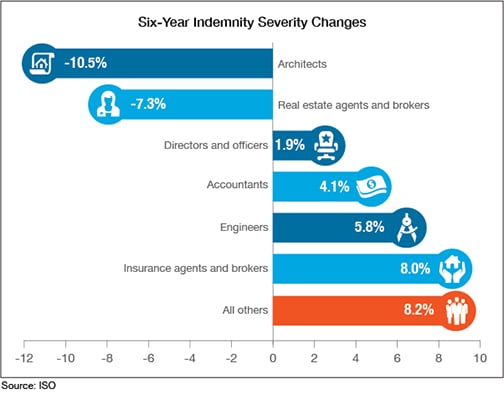 Miscellaneous Professional Liability is growing: Accountants, engineers, and directors and officers aren't the only risk classifications that generate significant losses. ISO data shows that "all other" classes have experienced the greatest six-year indemnity severity trends of any class. "All other" classes includes certain risks currently planned as being eligible for the ISO Miscellaneous Professional Liability program.
Evaluating the risks
When mistakes do happen, many businesses turn to their insurance policies, which often include a commercial general liability or businessowners policy. The problem in many cases is that the policies only protect them from bodily injury or property damage, not the errors and omissions common in professional settings.
That's why it's important for you to take a close look at the businesses you insure and consider whether they need professional liability insurance.
One way to begin this process is to see whether businesses have already taken formal steps to prevent errors. You can start by determining which of your insureds have licenses or certifications or require them from their employees . Today, a wide range of professions — including hairstylists, security guards, and travel agents — can require state licenses. While the requirements and their enforcement vary by state, that extra credential is becoming the norm, rather than an added bonus. A 2013 study in the Journal of Labor Economics estimated that 35 percent of employees in the United States are either certified or licensed by the government.
You may also want to know whether your insureds have invested in measures to control quality, such as conducting staff evaluations. Measuring errors can be challenging, especially if it's a small business providing customized services such as haircuts. But if the business has developed standards and is tracking potential problems over time, then you know it's concerned about the effects that errors and omissions could have.
Finally, you may want to look at whether your insureds have developed a written customer service policy. That type of policy shows that the business cares about building and maintaining trust with its customers and preventing complaints about service from turning into expensive litigation.
Insurance options
To help insurers meet the professional needs of those businesses, ISO is developing a new Miscellaneous Professional Liability Program that combines the base errors and omissions coverage with class-specific endorsements, along with manual rules and loss costs. The new program will initially feature 20 classes, including advertising services, answering services/call centers, career counselors, corporate trainers, court reporters, life coaches, photo studios, salon services, tour operators, and translation services. For those jobs that don't fit any of the initial classes, there will also be a class called Errors and Omissions – Not Otherwise Classified.
The program will also offer flexibility for insurers
Separate limits: Basic Miscellaneous professional liability coverage will be offered on the basis of defense within limits. However, the ISO program will also offer an option to provide the coverage with separate limits for defense and indemnity.
Coverage definitions and options: Endorsements will be available to modify the definition of professional service for a given classification (for example, adding or removing coverage for certain services provided by the insured; to provide coverage for independent contractors, volunteers, and joint ventures; and to provide deductible offsets when the insured resolves a claim through mediation or binding.
We're considering adding other potential classifications in the future. If you have any questions, please feel free to contact me at Stephen.Whelan@verisk.com or 201-469-2704.
---