First there was a need.
The team behind Verisk's CV-ALIR® observed a challenge facing auto carriers complying with state automobile liability insurance reporting (ALIR) requirements. ALIR regulations often vary from state to state and can create compliance and IT issues if an insurer is doing business in multiple states.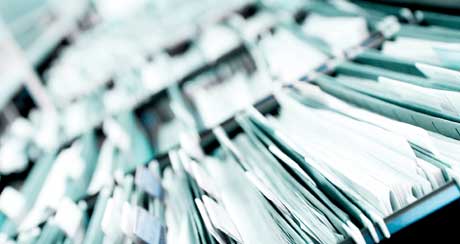 CV-ALIR lets auto insurers report transactions (including mandatory verifications) directly to the motor vehicle agencies in multiple states via one interface, without the need to develop and manage an electronic reporting program for every state in which they do business.
What sets CV-ALIR apart is its unique decision engine, which was feasible because of the distinct way in which Verisk collects and stores Coverage Verifier data. A game changer, the CV-ALIR decision engine lets insurers send their data files to the Coverage Verifier database in a single-format daily feed. This decision engine is also able to sort changes that have occurred on a policy and can identify how or when to report changes to third parties.
Verisk processes customer data according to individual state requirements and manages all communications to and from various state departments of motor vehicles. CV-ALIR lets insurers receive acknowledgement of their submission and correct any errors in their files.
In addition to streamlined reporting, a big benefit of CV-ALIR for insurers is that they no longer have to dedicate IT and compliance underwriting resources to support ALIR requirements. Verisk tracks all changes, which are consistently undergoing revision in various states.
Contributing significantly to the CV-ALIR program's success as it celebrates its ten-year anniversary is the CV-ALIR customer service team. The team is available by phone, online chat, or email to help customers negotiate the many changes that have occurred in the automation of liability reporting over the years. They're also there to assist with coverage questions or to help customers overcome challenges involved in launching a program.
A heroic effort
A good day for the CV-ALIR customer service team is when a customer they've helped ends up being the hero for one of their customers.
That happened recently when an auto insurer who called the CV-ALIR help center was in turn able to assist a distressed policyholder who found herself in a stressful situation and feared her car would be immediately towed.
The policyholder was at risk of a license suspension in a state known for towing. Working with the carrier, a CV-ALIR customer service representative provided guidance to initiate a response that not only relieved the suspension, but also updated the state records simultaneously.
As a result, the policyholder was relieved and grateful to the insurer for coming to her assistance in a moment of need. The insurer looked like a hero—and all it took was a quick phone call to the CV-ALIR customer service team.
Would you like to learn more about CV-ALIR? The business need for CV-ALIR continues to grow, with the number of states requiring insurance reporting totaling 36.