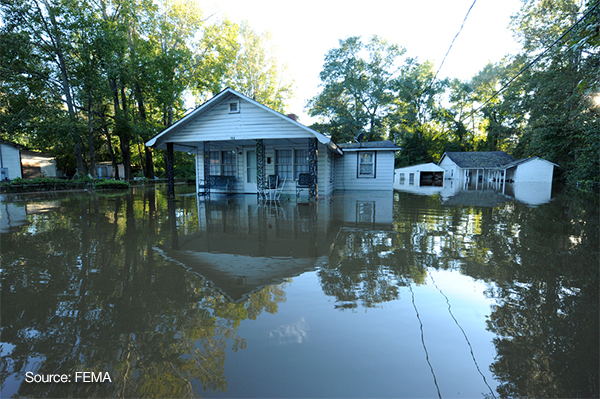 Catastrophe modeling firm AIR Worldwide estimates insured property losses along Hurricane Matthew's deadly and destructive track up through the Caribbean and the southeastern United States coastline will be between USD 2.8 Billion and USD 8.8 Billion.
The estimates range from USD 2.2 billion to USD 6.8 billion for the United States, and USD 600 million to USD 2.0 billion for the Caribbean.
Fatalities attributed to Hurricane Matthew have exceeded 1,000 in the Caribbean—almost all in Haiti—and about 40 deaths in the United States.
Fifth hurricane of Atlantic hurricane season
Hurricane Matthew passed through the Windward Islands and Barbados on September 28 as a tropical storm. By the next day, Matthew developed into the fifth hurricane of the 2016 Atlantic hurricane season. The storm quickly intensified, becoming a major hurricane, with maximum sustained winds of 115 miles per hour by midday September 30. Late that day and through October 1, its intensity peaked at Category 5 with winds reaching 160 miles per hour. On October 4, Matthew clipped western Haiti and eastern Cuba as a Category 4 storm. The storm then traversed the Windward Passage to the Bahamas, which it hammered as a Category 4 and Category 3 storm for two days, beginning October 5. Hurricane Matthew continued to weaken as it skirted the eastern coast of Florida and then the coasts of Georgia and South Carolina.
In Florida, from Port St. Lucie to Jacksonville, the winds outside the eyewall downed trees, power lines, and signs, and stripped away roofs, awnings, and siding. Storm surges and high waves eroded beaches and washed away boats and vehicles. The center of the storm came as close as 25 miles from shore near Cape Canaveral, where it damaged roofs, windows, and siding and caused some flooding at NASA's rocket launch facility. The roof of an apartment building collapsed in Brevard County, and mechanical equipment was damaged at Daytona Beach International Airport.
In Georgia, Matthew tracked farther offshore, but the storm surge pushed into river inlets and low-lying areas near Savannah. More than a foot of rain fell in some locations, inundating roads and structures. Wind downed trees in Savannah, and the storm surge near Tybee Island reached record levels, approaching 15 feet.
The storm made landfall in McClellanville, South Carolina, as a Category 1 hurricane on the morning of October 8. In South Carolina, moderate to major flooding occurred along several rivers. Hilton Head Island experienced storm surge damage, including damage to marinas. A significant area of downtown Charleston was flooded. Several feet of water inundated Market Street and the Historic Charleston City Market area in the eastern part of the city, as well as Calhoun Street in the western part of the city, cutting off access to much of the area. Beachfront communities, including Myrtle Beach, experienced significant storm surges and beach erosion. Satellite images indicate roof damage to numerous properties.
Although the hurricane rapidly lost its tropical characteristics, its damaging impacts persisted, particularly from storm surges and heavy inland flooding, which extended to North Carolina and Virginia. In North Carolina several rivers reached record levels. In some areas of Virginia, 10 inches of rain fell.
Power outages affected millions of homes and businesses, and all forms of travel were severely disrupted. In some locations, Hurricane Matthew's winds exceeded 100 miles per hour, the storm surge reached 9 feet, and as much as 17 inches of rain fell. More than 3 million people were evacuated across the region.
In the U.S., insured losses include wind and storm surge damage to onshore residential, commercial, and industrial properties and their contents; automobiles, and coverage of additional living expenses for residential properties and business interruption for commercial properties. The Caribbean estimate encompasses a similar set of losses, as well as precipitation-induced flooding damage.