In this third installment of our continuing series examining regional growth patterns and their effect on reconstruction costs during the 2012–2016 housing recovery, we examine the West in greater depth. (Also read the article introducing the series.)
New Mexico, Montana, and Idaho drive increases in the West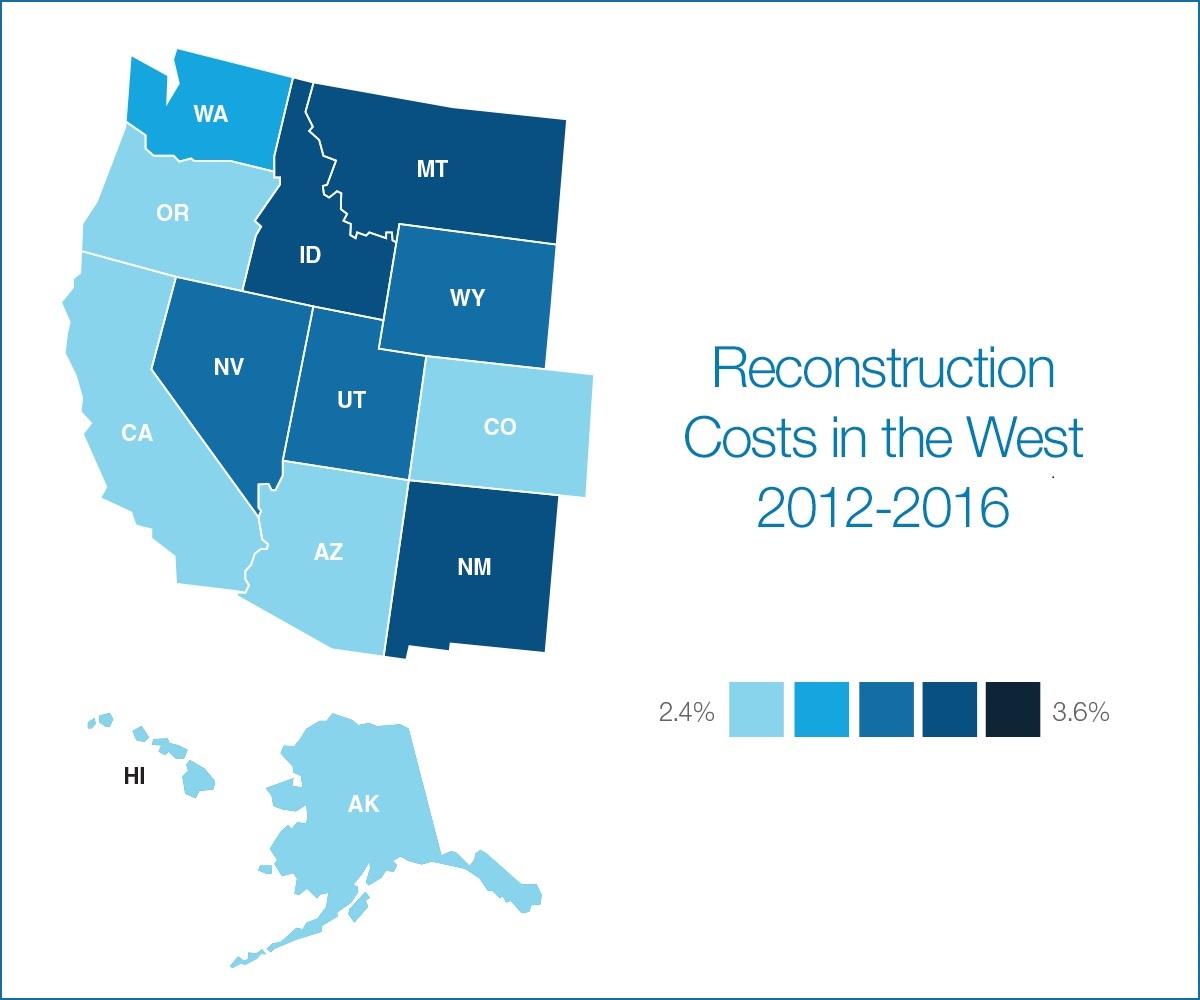 With an average annual growth rate of 3 percent, the nation's West region ranked second highest in reconstruction cost growth during the 2012–2016 United States housing recovery. The region even edged out the overall highest-ranked Northeast in two of those years—2014 and 2015. But as regional cost increases slowed in 2016, the West slipped back to a second-place ranking in reconstruction cost growth once again.
However, the West led the United States overall from 2012 to 2016 in material composite growth, with the region ranking number one for four of the five years. The West was second in rising labor costs during the same five-year period. And while the Northeast led the nation in labor cost growth for three years (2012, 2013, and 2016), the West had the highest increase in labor costs in 2014 and 2015.
The Mountain and Pacific states
The United States Census Bureau divides the West into two subregions: the Mountain (Montana, Idaho, Wyoming, Nevada, Utah, Colorado, Arizona, and New Mexico) and the Pacific (Washington, Oregon, California, Alaska, and Hawaii) subregions. In the Mountain subregion, New Mexico, Montana, and Idaho saw costs rising the fastest, recording a 3.6 percent average annual growth rate between 2012 and 2016. Wyoming, Nevada, and Utah saw costs growing at approximately 3.2 percent. Colorado and Arizona recorded growth rates below the national average of 2.9 percent. In the Pacific subregion, Washington experienced a 3 percent average annual growth in costs, while growth in the remaining states was below the 2.9 percent national average.
And in 2016, the Mountain subregion experienced the fastest growth in labor costs in the nation, as well as the quickest rise in material composite costs in 2014 and 2015.
Water management and boom in mineral resources fuel price increases
Exceptional reconstruction cost growth in certain areas is often difficult to attribute to specific causes. However, in states like New Mexico, severe climate dryness is creating a need for water conservation. This need might manifest itself indoors in the form of low-flush toilets, water-friendly washing machines, and evaporative air coolers; and outdoors through xeriscape or water-efficient landscapes and rainwater harvesting systems. Compliance with these regulations carries additional expense, which may drive reconstruction costs even higher. These requirements increase demand for building materials and specialized labor which, in turn, increases reconstruction costs.
In other states where reconstruction cost growth rates were high, such as Montana and Idaho, mineral resource production played a significant role. In Idaho, Montana, and Wyoming, substantial cost increases were predominantly related to the great shale oil boom that occurred in those states between 2006 and 2015. The economic boom fostered demands for a new labor force. Workers flocked to the area for new high-paying jobs, and with them came increased demands for housing. Heightened demands for labor and new housing factored into rising reconstruction costs.
The data used for this analysis comes from Verisk's 360Value® database, which is compiled by Xactware. Xactware uses a research process that tracks costs from tens of thousands of contractors and claims adjusters, extensive material and labor cost surveys, and an analysis of more than 5 million actual damage repair estimates for claims each year.
Learn more about 360Value Replacement Cost Estimates.