Verisk Volunteer Week
In 2017, we sponsored our fourth annual Verisk Volunteer Week—a resounding success across the company and around the world—in places as diverse as Australia, Canada, China, India, Israel, and the United Kingdom as well as virtually all our locations in the United States.
The week provided an outstanding way to encourage teamwork and promote workplace volunteerism and employee engagement. More than 1,300 employees contributed 4,500-plus hours to help in food pantries, homeless shelters, parks, children's homes, schools, hospices, wildlife reserves, and animal shelters.
Here's a sampling of activities.
AIR Worldwide, Hyderabad, India
Colleagues at the AIR Hyderabad office offered many great volunteering suggestions weeks before the event.
They began with a blood drive in association with Aarohi Blood Bank, which primarily helps children diagnosed with thalassemia and leukemia. About 55 employees participated in the drive.
Another employee suggestion was to adopt the Nachiketa Tapovan Vidya Mandir School, which provides free education to 250-plus underprivileged children. School administrators and teachers told the volunteers that at the top of their wish list was a science lab where students grade five and up could perform experiments. The school had the necessary space but not the funds. Science being at the core of what AIR does, the employees felt an instant connection and decided to fund the science lab.
Because the Indian celebration of Diwali, the Festival of Lights, was right around the corner, employees also sponsored lunch for the schoolchildren and staff. Volunteers handed out goodie bags of chocolates and fruit and were showered with thank-yous, "Happy Diwali" greetings, and heartwarming smiles in return.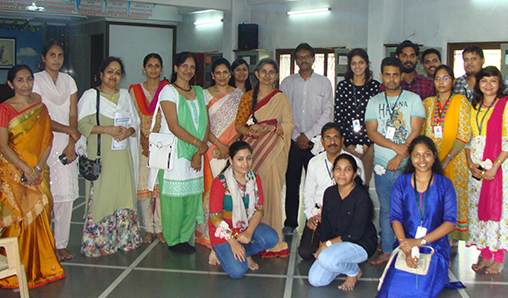 Argus and Xactware, Melbourne, Australia
Members of the Melbourne Argus and Xactware teams spent a fulfilling day with OzHarvest, Cooking for a Cause, a charity that turns unused food from supermarkets and restaurants into meals for the underprivileged. With teamwork and a bit of skill, the volunteers prepared corn fritters with tomato salsa, Middle Eastern chicken and carrot pastries with hummus, and a delicious bread-and-butter pudding for 100 people.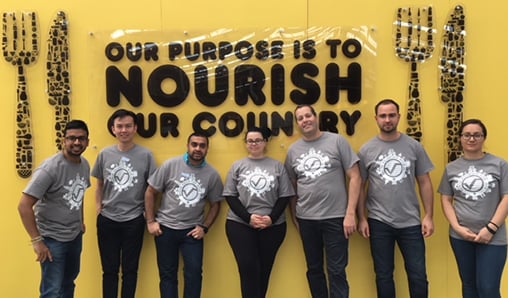 Argus, White Plains, New York
Employees volunteered with three organizations.
Battle of the Books is a book-based trivia tournament for Westchester County youth grades 4 through 10. It promotes a love of reading in children and teens by exposing them to titles and authors they might not otherwise encounter, encouraging them to think of their local public library as a resource for entertainment, and inspiring teamwork and good sportsmanship. For the Battle of the Books, Argus volunteers served as timekeepers, score runners/aggregators, and parking attendants.
The Argus team spent a few hours sorting and packing donated food for distribution to the needy at the Food Bank of Westchester.
Volunteers spent a day on a Habitat for Humanity construction site in Chappaqua, helping to transform an old church into apartments for two families. They used jackhammers to prepare for laying the foundation, put up plastic windows, and assisted with prepping sections for next steps.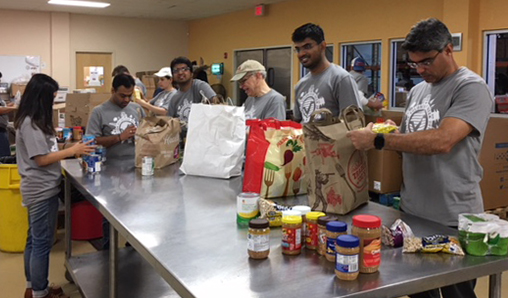 Verisk 3E, Canton, Ohio
About 30 colleagues returned to Stark County Parks, staining bridges and fences on the Sippo Valley Trail to protect them against the harsh Ohio winter weather. They also collected items and provided two baskets to be raffled off at the Friends of Pets silent auction; proceeds support the veterinary efforts of the Stark County Dog Warden. Others volunteered at Interfaith Community Services and the Mountain Shadows Campus Gardening Project. This team helped by gardening, replacing fascia boards, putting together hygiene and winter weather kits, and assisting in food distribution.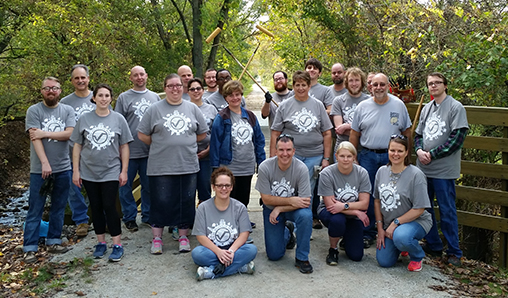 Verisk 3E, Montreal, Quebec, Canada
Volunteers again helped to prepare meals at the Salvation Army, which is always so appreciative of the support. This year marks the 100th anniversary of the Salvation Army "Doughnut Lassies," who courageously served soldiers on the frontlines in France during World War I.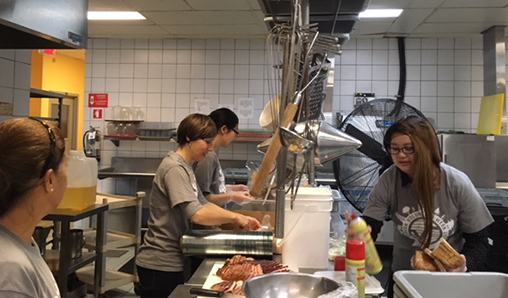 Verisk and ISO, Jersey City, New Jersey
This year, the businesses at corporate headquarters volunteered with many organizations over the course of Volunteer Week. Here are a few examples.
During the Foundation for Hospital Art PaintFest, the Verisk Jersey City team collaborated on three paintings for the children's wing of a local medical center. The bright and cheerful paintings of monkeys, elephants, and butterflies are sure to bring comfort to patients and their families.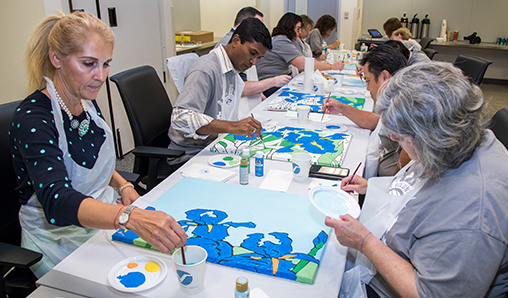 Volunteers also teamed up with the Jersey City Parks Coalition, working at Pershing Field, Harsimus Memorial Park and Cemetery, and Riverside Park to beautify the green spaces in time for fall.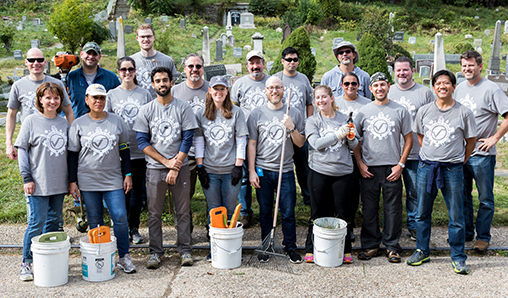 At Jersey City's Liberty State Park, Verisk volunteers worked with the park's horticulturist to plant bulbs that will bloom in the spring.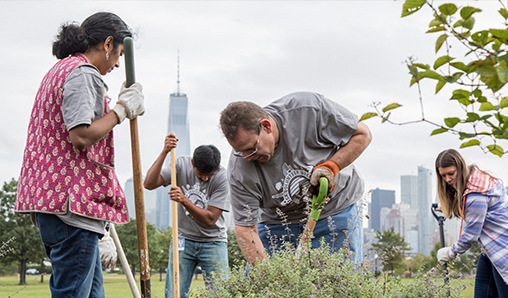 Verisk Risk Rating, Surrey, England
For their first volunteer week, employees took part in a variety of activities.
One group volunteered at a local hospice, the Princess Alice, steaming clothes, sorting through donations, working behind the counter, and creating a spooky window display for Halloween. They also spent an emotional hour learning how their volunteerism has helped the Princess Alice and about other ways to support the hospice.
A colleague dedicated her volunteer day to a vulnerable neighbor who needs extra support. With the help of her mother and father, she cleaned up the neighbor's garden.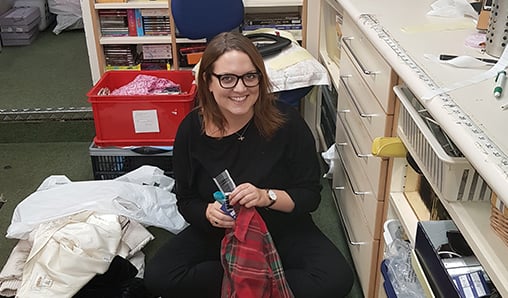 Wood Mackenzie, Houston, Texas
After Hurricane Harvey and the string of recent natural disasters in North America, our teams expanded October's Volunteer Week. We organized activities associated with CSR, wellness, Diversity & Inclusion, and the Women's Network.
Jeans Weeks: Employees could wear dress-down attire for two weeks with a hurricane relief donation.
Kids' meals lunches: Volunteers packed more than 1,000 lunches to be delivered to children facing debilitating hunger.
Thank-you cards for first responders: Colleagues took time out of their day to design and provide thoughtful messages on handmade cards to be delivered to first responders, particularly those involved with Hurricane Harvey rescues.
University of Houston Hispanic Business Student Association: Employees spoke to many students about the energy business, Wood Mackenzie, jobs and internships, and compiling a solid resume.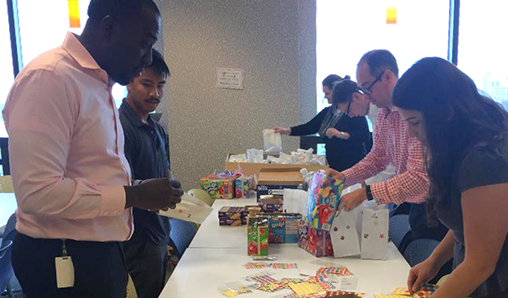 Xactware, Lehi, Utah
Our staff volunteered at four elementary schools, doing grounds cleanup and painting curbs and a playground. Several employees took part in the Hour of Code, demonstrating basic online coding to fifth and sixth graders. (It's exciting to introduce STEM learning opportunities to students of all ages.) We also participated in a Habitat for Humanity build. Employees with and without a construction background worked on framing and roofing. When the house is finished, it will be home to a family of five and is one of many builds Verisk Lehi staff have participated in over the years.