Social
We're committed to maintaining an inspired workforce through competitive compensation and benefits, a professional atmosphere, personal and career development opportunities, work/life balance, and responsive leadership.
We advance issues of global and national importance and support the communities where we work and live.
UN Global Compact
In September 2019, Verisk joined the UN Global Compact, the world's largest corporate citizenship and sustainability initiative. As a participant, Verisk supports and commits to making the principles of the UN Global Compact part of our corporate strategy, culture, and day-to-day operations—and to share this information and the progress we've made with our employees, customers, partners, suppliers, and the communities in which we live and work. Verisk further commits to helping address challenges embodied by the UN Sustainable Development Goals.
Learn more about our commitment to the UN Global Compact.
Our People
Verisk takes great pride in our people. We employ more than 8,600 individuals around the world, with a mix of skills and talents in areas including commercial banking and finance, data science and artificial intelligence, economics, information technology, marketing, natural resources, predictive analytics, and statistical modeling. Our employees hold advanced degrees, certifications, and professional designations in fields as diverse as actuarial science, chemical engineering, environmental health, fire protection and safety, insurance, mathematics, meteorology, nursing, physics, and risk management.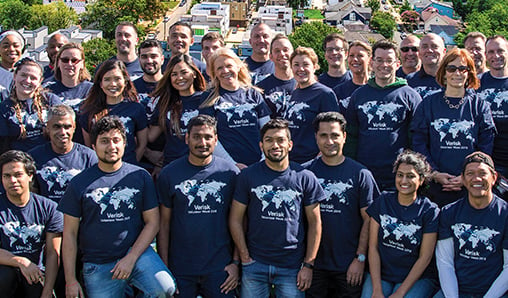 Our Culture
We continually strive to develop a diverse workforce, involve and empower all our employees, and encourage collaboration throughout the organization. Surveys conducted by outside organizations and our own annual employee engagement survey—a continuous loop of engagement, feedback, action, and change—indicate that we're achieving the desired results in these critical metrics.
Charitable Giving
Verisk reinforces its commitment to social responsibility through philanthropy. On a global and national level, we provide direct financial and in-kind support to advance important initiatives sponsored by leading organizations with missions and activities that complement our professional expertise and brand. We also support the communities where our offices are located and address challenges of interest to our employees.
Learn more about our charitable giving.
Verisk Volunteer Week
In 2018, we sponsored our fifth annual Verisk Volunteer Week—a resounding success across the company and around the world.
Learn more about Verisk Volunteer Week.
Promoting Opportunity
Verisk engages with community stakeholders to promote career opportunities.