A Look Ahead: ISO ClaimSearch Transformation
By
Carlos Martins
| July 23, 2014
It is with great excitement that we announce our plans to transform ISO ClaimSearch® into a more powerful system that will include vast improvements in results and usability. Over the years, ISO ClaimSearch has become an integral part of the claims handling process, and now it's time to advance the system for greater ease and efficiency than ever before.
One of the first steps in the systemwide upgrade is a fresh new design for the ISO ClaimSearch website. While you can still expect the same comprehensive and critical claims information, the new site will provide a far more intuitive, user-friendly, and productive experience:
cleaner, more dynamic customer experience
graphics to provide greater context for the data you receive
interactive components for access to more detailed information
improved site organization to make important features easier to find
links to industry news and updates, including regular insights from our blog
a mobile version for users active with customers in the field
Here's the preliminary design for the ISO ClaimSearch site: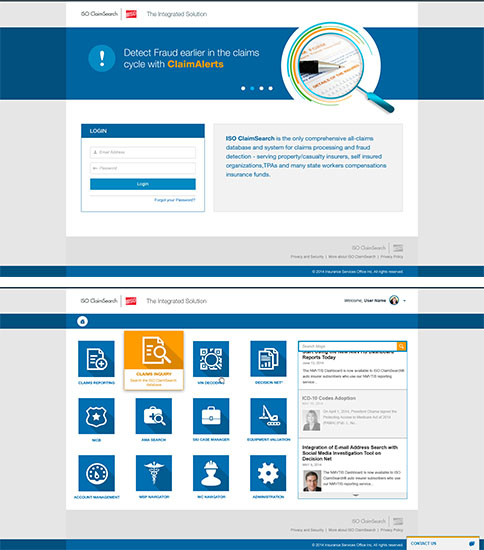 What do you think? We want to incorporate your feedback into the redesign, so take a moment to let us know your thoughts.
As ISO ClaimSearch moves into the future with a new look, functionality, and site design, we'll actively keep you informed. You can expect to hear from us frequently in the coming months through e-mails, articles, and training to provide everything you need to take advantage of and feel at ease with the redesigned site and new features. If you have any questions, please feel free to contact ISO ClaimSearch customer support at info.ClaimSearch@iso.com
---