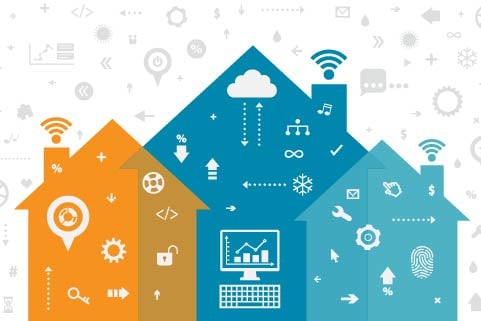 Accuracy and speed are two pillars of successful property underwriting—and often the hardest to achieve. Insurers usually sacrifice one for the other, typically sacrificing speed for accuracy. However, customers are beginning to demand top-notch customer service, and they want it fast. It won't be long before the speed-for-accuracy sacrifice is unsustainable to maintain a competitive market position.
Detailed and accurate prefill essential
Detailed and accurate property prefill is the only way to achieve both speed and accuracy. However, past perceived challenges have curtailed the use of prefill. Today, insurers primarily use prefill data for estimating replacement costs—typically a trust-but-verify approach—where the homeowner confirms the data before it's used.
Currently, most prefill used by property insurers is based on public records data, which is primarily used for the purpose of property tax assessment. Property insurers have been reluctant to rely on this data alone because of inconsistent quality across the thousands of local jurisdictions that collect the data.
Insurers that use public records data without effective quality control measures and mapping may not fully trust the data for insurance purposes. Such hesitancy is understandable: Inaccurate data can lead to problems, including underinsurance, poor customer experiences, and premium leakage.
Evolving property prefill
To meet evolving customer expectations—such as being served how and where the customer prefers—the industry is heading toward a new paradigm of homeowners underwriting similar to the experience of getting a ride with Uber. Customers can simply enter a few pieces of data about themselves and their home to get an accurate quote instantaneously.

To achieve this goal, property prefill must be improved in three primary ways: leverage new machine learning technology, use the wide range of data sources currently available, and have the flexibility to add new data sources as the Internet of Things grows.
Managing multiple data sources
There are numerous data sources you can use to assess the insurability of properties under consideration for homeowners insurance. Verisk's 360Value®, for example, currently uses public records data, previous underwriting and claims estimates, geographic information system (GIS) data derived from satellite imagery analysis, and roof age data. Regardless of the source, the accuracy of the data can vary by geography, region, or even the individual property.
For example, for a particular address, the most reliable data for year built may come from public records. For the same address, previous claims data may provide more reliable roof cover information. Public records may show the residence has no pool, but new aerial imagery reveals that one has recently been installed on the property.
Policyholders: 'Fast, faster, fastest'
Speed is another essential part of the equation to answer the demands of today's "I want it now" customers. Many insurers have lost potential customers by taking too long to process an application. Virtually all prefill today is instantaneous, but it's not smart. The challenge is adding intelligence with speed to a multisource prefill capability.
A fast, intelligent multisource property prefill database evolves constantly. The data is preprocessed, analyzed, and aggregated into a single database, providing a scalable system without adding any processing time to a transaction. When an address is matched, the most reliable data for each field is prefilled instantly.
Machine learning
Since the most reliable data source can vary by property and change over time, machine learning technology is essential. Today's property underwriting environment is not fully automated. Even when prefill is used, it's often confirmed by an agent, customer service representative, inspector, or the homeowner when the application is processed online. In any case, a person has the opportunity to evaluate the data and update it if necessary.
The machine learning process lets you enhance the data over time. For example, if total living area is consistently overridden from a particular public records jurisdiction, machine learning can detect that pattern and prefill the data from a different source. If an alternative data source is not available, the field can be left blank for a person to update. Machine learning makes the data more accurate over time, increasing data confidence and underwriting effectiveness.
Property prefill of the future
In addition to self-improvement over time, the prefill database needs to add new data sources easily. It's just a matter of time before the property data derived from aerial imagery is seamlessly added to the prefill data set. This "ground-truth" data will be the most comprehensive and accurate data source available. Property data from real estate listings and other sources is also viable for insurance use.
It's not just property data that needs to be considered. The property prefill of the future will include everything an insurer needs to underwrite a homeowners policy, including claims loss histories, fire protection data, mortgage, applicant, or occupant/household data.
A better customer experience
The ultimate goal is a solution that prefills an entire homeowners insurance application. To satisfy today's customers, your prefill tool must create a positive, customer-driven experience. It should streamline the new business process and speed up transactions for quick premium calculations that won't change before bind.
Getting it right and providing it fast are measures that will only grow in importance as new customers enter the market, particularly millennials starting to buy homes and new generations that have grown up with technology. The insurer that embraces the new prefill solution is the insurer that will be successful.