Hail and Interest Rates Hurt Property/Casualty Insurer Results in First-Quarter 2016
By
Beth Fitzgerald
| July 13, 2016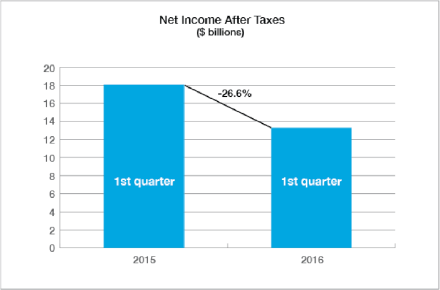 Property/casualty insurers saw their results worsen in the first quarter of 2016 because of both one-time events and long-term trends. Severe hail in several southern states contributed to $4.8 billion in direct insured property losses from catastrophes striking the United States—the highest first-quarter catastrophe losses in the country since the 1994 Northridge earthquake. At the same time, interest rates remained low, leading the industry's annualized quarterly yield on investments to drop to 2.9 percent, its lowest level this century.
All of this resulted in insurers' net income after taxes falling to $13.3 billion in first-quarter 2016 from $18.1 billion in first-quarter 2015—a 26.6 percent decline.
The good news is that insurers remain well positioned to respond to marketplace needs. Policyholders' surplus increased $2.6 billion to a new record-high of $676.3 billion as of March 31, 2016, from $673.7 billion as of December 31, 2015.
Are any of these results surprising? As I mentioned in my previous column, insurers are facing serious challenges—many of which are evident in a press release and report on insurer results that we published with the Property Casualty Insurers Association of America (PCI).
Consider the following:
Premium growth slowed: Net written premium growth slowed to 3.2 percent in first-quarter 2016 from 3.8 percent in first-quarter 2015. The growth rate in net earned premiums also slowed, to 3.5 percent in 2016 from 3.7 percent for first-quarter 2015.
Combined ratio deteriorated: Insurers' combined ratio deteriorated to 97.5 percent for first-quarter 2016 from 95.7 percent for first-quarter 2015.
Net investment income declined: Insurers' net investment income—primarily dividends from stocks and interest on bonds—declined 6.6 percent to $10.9 billion in first-quarter 2016 from $11.7 billion in first-quarter 2015. That's the lowest quarterly investment income since $9.9 billion in third-quarter 2004. Interest rates are expected to remain low, and it could take a while before investment yields return to their historic norm.
At times like these, insurers need to make the best possible decisions about the risks they insure. I hope you'll join me November 2-4 at our 2016 Risk and Analytics Summit. Attendees will have the opportunity to share best practices, network with peers, discuss critical industry trends, and learn about Verisk's latest products and services.
If you have any questions, please feel free to contact me at Beth.Fitzgerald@verisk.com.
---