Overview
Verisk has compiled guidelines to help underwriters work successfully with insureds to reduce or eliminate hazardous conditions in the use, storage, and maintenance of flammable and combustible liquids.
The misuse of flammable and combustible liquids can cause property losses of catastrophic proportions. Flammable and combustible liquids ignite easily, cause severe fires and explosions, and release toxic fumes. In those scenarios, the potential for loss of life is also very real.
Almost any type of occupancy—anywhere in a facility—may contain flammable and combustible liquids. Those liquids have many different uses, including painting/coating, cleaning, and lubricating, and are excellent solvents. They are also a source of fuel and often serve as raw materials in manufacturing.
Hazards and loss costs
As an underwriter, it's important for you to understand how a risk uses, stores, and maintains flammable and combustible liquids. Such knowledge is vital to your ability to identify possible dangers, evaluate the potential for loss, and successfully work with the insured to reduce or eliminate those hazardous conditions.
Verisk considers flammable and combustible liquids, among other occupancy hazards, when developing specific property loss costs.
For example, we examine:
The kinds and amounts of liquid
How the liquids are stored
Whether the facility has proper protection for the liquids
Our loss cost surveys include relative hazard analysis of construction, occupancy, protection, and exposure. For more information on hazards and loss costs, go to Loss Cost Reports.
The following ProMetrix reports include information on flammable liquids: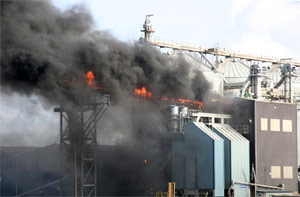 Flammable and combustible liquids can be a fire hazard
Flash points
The flash point is the lowest temperature at which a liquid gives off enough vapors to form an ignitable mixture with air.
Manufacturers and the National Fire Protection Association (NFPA) use the flash point to ascertain a liquid's flammability. You can use the flash point to determine the volatility of the flammable liquid. For example, gasoline is very volatile, and fuel oil is much more difficult to ignite.
A flammable liquid is a liquid with a flash point below 100oF (38oC). A combustible liquid is a liquid with a flash point at or above 100oF (38oC).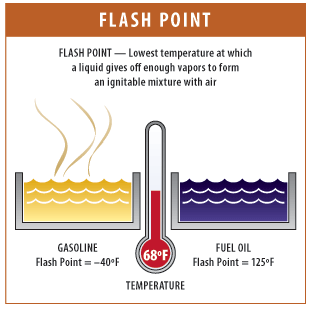 Identify flammable and combustible liquids
Most manufacturers use labels or placards to identify flammable and combustible liquids in shipment. That identification method is different from the NFPA 704 system, which identifies the presence of hazardous materials—including flammable and combustible liquids—at fixed sites. Fixed sites can include factories, laboratories, and other facilities.
The diamond sign characterizes the NFPA 704 system. The diamond identifies the hazards of a material and the degree of severity of health, flammability, and instability hazards. Hazard severity is indicated by a numerical rating that ranges from zero (0), indicating a minimal hazard, to four (4), indicating a severe hazard.
The diamond distinguishes the hazards by spatial orientation and by color. The spatial arrangement of the hazards is health at 9 o'clock, flammability at 12 o'clock, and instability at 3 o'clock. The hazards use the following color coding: blue for health, red for flammability, and yellow for instability.
The 6 o'clock position represents special hazards and has a white background. The special hazards in use are:
W, which indicates unusual reactivity with water and serves as a caution about using water in either firefighting or spill control response
OX, which indicates that the material is an oxidizer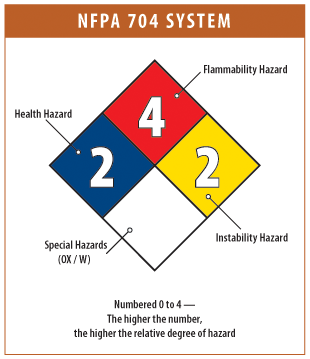 More on identification
While the NFPA 704 system is simple to apply, people who are technically competent and experienced in interpreting the hazard criteria—according to NFPA standards—should perform the hazard evaluation. Often, a qualified individual can determine the ratings in the facility using the data available from the manufacturer supplied Material Safety Data Sheet (MSDS). The MSDS contains information on hazardous materials, including handling procedures and spill response measures. The NFPA 704 standards document describes the technique to perform the ratings.
NFPA 704 doesn't include the actual ratings for specific chemicals. Two other NFPA documents contain hazard property information — NFPA 49, Hazardous Chemicals Data, and NFPA 325, Guide to the Fire Hazard Properties of Flammable Liquids, Gases, and Volatile Solids. The Fire Protection Guide to Hazardous Materials contains all the NFPA documents.
If a rating isn't available in those documents, you can use the NFPA 704 rating system to rate chemicals of interest. Because local conditions have a bearing on the rating, even if your chemical is listed in one of those sources, you may still want to adjust the rating to ensure that conditions don't affect the listed rating.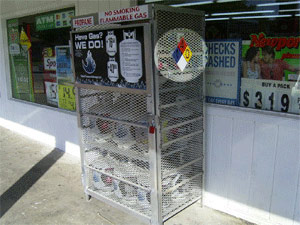 Propane tank storage with NFPA 704 system identification
Storage
When examining a risk where flammable and combustible liquids are present, underwriters should determine whether the storage tanks and containers meet standard requirements. The types and amounts of stored flammable and combustible liquids affect many of the requirements.
To keep liquids and vapors from entering a building, underground tanks must have standard fill/vent pipes at a certain distance from building openings. Above ground tanks must have a fill/vent at least 24 inches from the building opening and must be equipped with standard piping and other devices.
Inside storage areas must have:
Liquid-tight floors and floor-wall junctions
Fire-resistant construction
Explosion-proof wiring and electrical equipment
Listed fire doors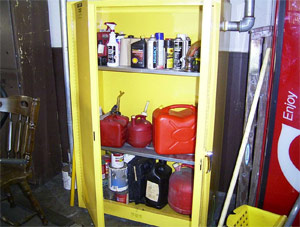 Inside storage area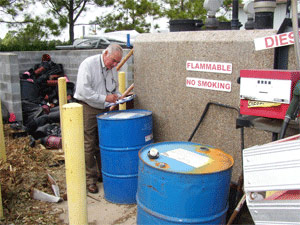 Checking the contents of liquid storage containers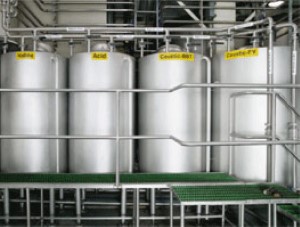 Proper storage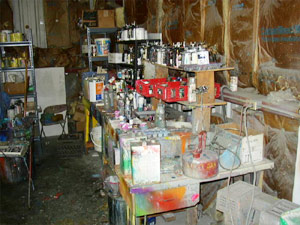 Improper storage
Painting/Coating
During painting/coating processes, flammable and combustible liquids have increased exposure to many ignition sources, such as electrical equipment, heating devices, and hot metal. Underwriters should understand the hazards associated with the following operations.
Quenching/tempering
This process presents serious fire hazards because it involves putting very hot metal parts into a liquid.
Flow coating
Flow coating refers to the application of coating material with nozzles or slotted dispensers. Hazardous conditions may exist if materials are combustible, if heat processes are part of the flow coating, and if surplus materials aren't collected properly.
Dip tanks
Dip tanks are vats filled with flammable or combustible liquids. Manufacturers use them for dipping a wide range of items, such as furniture, tools, and various materials used in manufacturing processes. The tanks must have overflow and fire protection.
Spray booths
Spray booths are power ventilated structures that enclose spray operations. Many manufacturers and repair facilities use spray booths. Fires involving liquids and residues from spray operations ignite easily, spread rapidly, and are difficult to extinguish.
Safe spray operations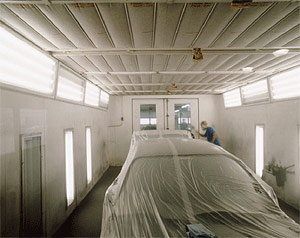 Unsafe spray operations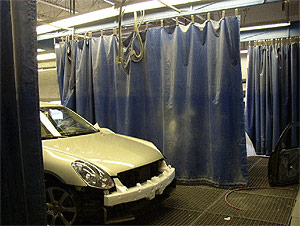 Typical hazards
Improper handling
Losses often occur if companies don't follow proper procedures when mixing and blending liquids, filling storage containers, or cleaning tanks and other containers.
Human error
Individuals working with flammable and combustible liquids must have proper training to use them. Otherwise, there's greater risk of an accident.
Faulty or inadequate fire protection
The insured should have proper extinguishing agents, automatic sprinklers, or other methods to extinguish a fire caused by flammable or combustible liquids.
Lack of vapor control
Most vapors from flammable liquids are heavier than air and can flow downward. That may cause the vapors to reach an ignition source, such as a water heater or furnace. Proper venting and piping can help prevent this danger.
Improper handling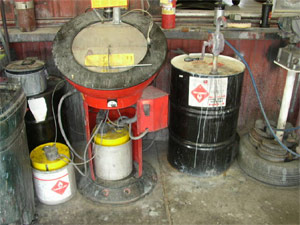 Ignition sources need proper venting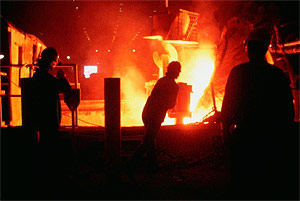 Underwriter's checklist for flammable and combustible liquids
Are storage tanks constructed, supported, and protected properly?
Are storage cabinets properly constructed — given the type of liquid stored in them?
Can the storage cabinet adequately accommodate the amount of liquid stored in it?
Does the storage area clearly identify that flammable and combustible liquids are present?
Will storage containers protect the liquid from ignition?
Do personnel follow proper procedures when they fill containers or when liquids are present?
Is the area around flammable and combustible liquids free of anything that could cause ignition?
During painting/coating processes, are flammable and combustible liquids exposed to ignition sources?
If spray applications are used, is there a standard spray booth or room?
Is the spray booth or room cleaned regularly?
Has the facility installed a fire protection system?
Do personnel inspect and maintain the fire protection system regularly?
Additional resources