In this fourth installment of our continuing series examining trends in reconstruction cost increases during the 2012–2016 housing recovery, we take an in-depth look at what happened in the Midwest, which experienced the third-highest rate of growth. (Also read the article introducing the series.)
North and South Dakota drive Midwest replacement cost increases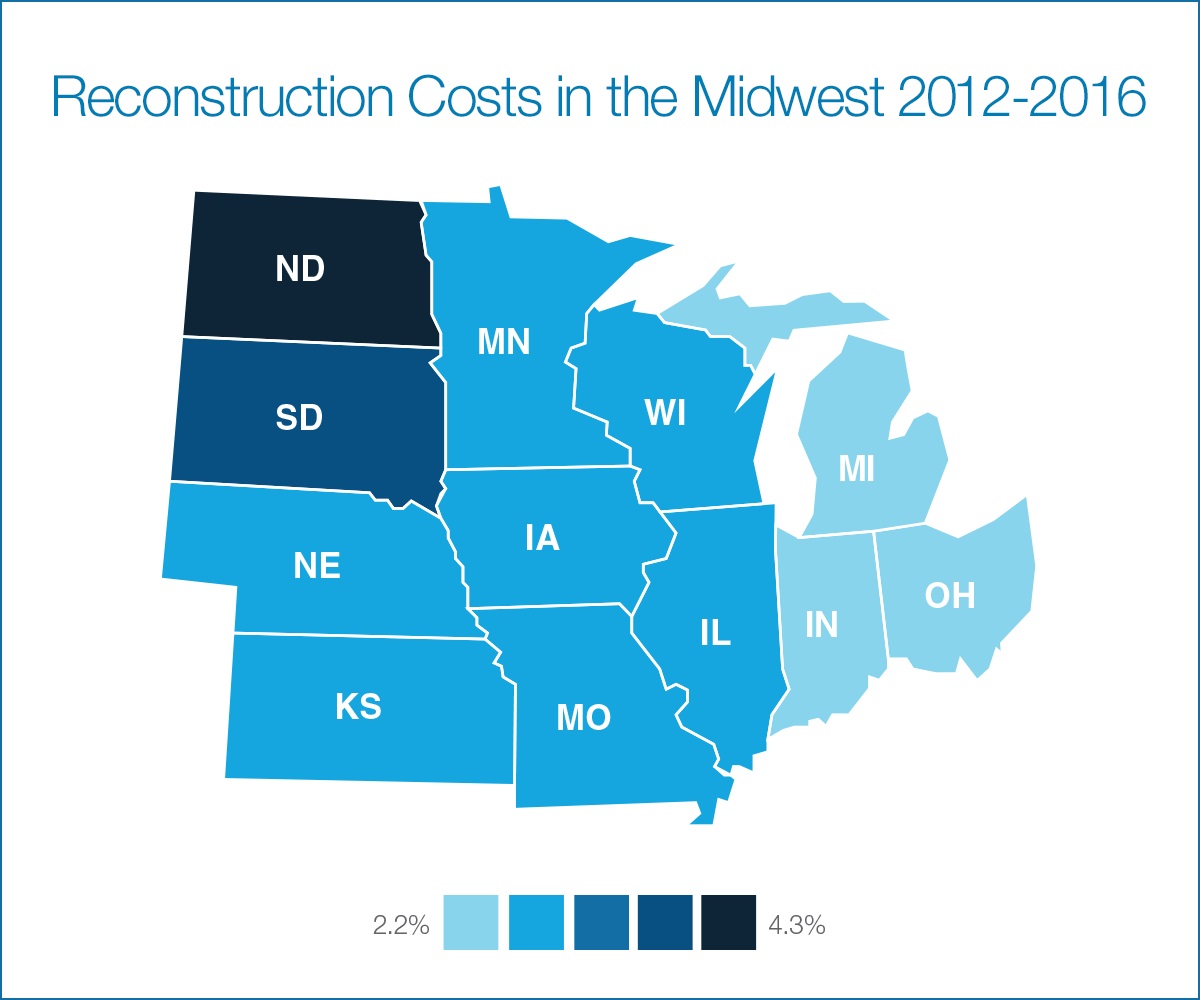 The Midwest experienced the third-highest reconstruction cost increases in the nation, recorded at an average annual rate of 2.8 percent. Material costs grew significantly in the Midwest between 2012 and 2016, and while the region didn't lead the United States in overall labor cost increases, it ranked in the top spot in 2014.
According to the United States Census Bureau, the Midwest is divided into two subregions: West North Central (North Dakota, South Dakota, Minnesota, Iowa, Nebraska, Kansas, and Missouri) and East North Central (Wisconsin, Michigan, Illinois, Indiana, and Ohio). North Dakota and South Dakota dominated states in the West North Central subregion on the cost spectrum, recording 4.3 and 3.5 percent average annual reconstruction cost increases, respectively. Growth in the remaining states within the West North Central subregion fell somewhere between 2.7 and 2.8 percent.
The East North Central subregion saw much slower growth. Wisconsin and Illinois both recorded cost increases of 2.8 percent over the period. Michigan experienced cost growth of 2.5 percent, while Ohio and Indiana both had a 2.2 percent rise in costs in the years examined.
Unlike the Northeast, where all states recorded cost increases rising above the national average, the only Midwest states to do so were North and South Dakota.
Did the oil boom make costs soar in the Dakotas?
Exceptional reconstruction cost growth in certain areas is often difficult to attribute to a direct cause. But behind the steep rise in reconstruction costs in the Dakotas—the two states that experienced the highest growth of all the Midwest states—evidence points to the great oil boom occurring in those states as a major factor. A sudden demand for labor to work the oil fields coupled with the need to house a rapidly growing workforce certainly played a role in increasing reconstruction costs.
The data used for this analysis comes from Verisk's 360Value® database, which is compiled by Xactware. Xactware uses a research process that tracks costs from tens of thousands of contractors and claims adjusters, extensive material and labor cost surveys, and an analysis of more than 5 million actual damage repair estimates for claims each year.
Learn more about 360Value Replacement Cost Estimates.