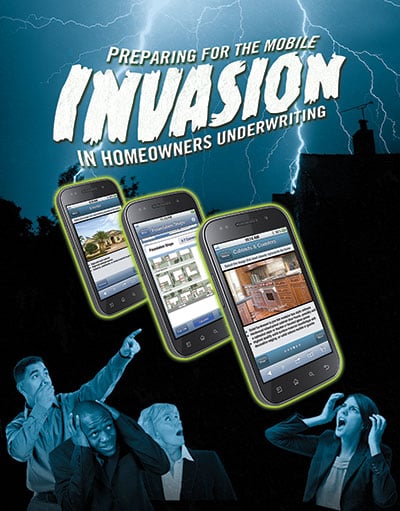 Mobile technology influences how most people live today. You can use smartphones to book a vacation, trade stocks, start a car, and much more. Mobile technology is also making a mark on the property insurance world — and becoming more common for claims support and auto policy quotes.
However, the use of mobile technology to support the homeowners quoting process is in its infancy. Today, the use of mobile devices for homeowners underwriting is typically limited to advertising that directs insurance buyers to agents or call centers for the policy quote. While web-based homeowners insurance quoting is still uncommon, there's no question that will change. As homeowners increase their use of Internet technology for insurance, insurers need to meet the evolving requirements of customers or risk getting left behind.
That said, agents and call centers will continue to be essential sales channels for homeowners insurance for many years to come. Therefore, insurers need to plan for multiple underwriting workflows and, in some cases, different underwriting requirements based on sales channel.
The potential of mobile computing in replacement cost estimation
One aspect of the homeowners quoting process requiring special attention in a multichannel sales environment is development of a replacement cost estimate. Unlike other policy-quoting analyses, replacement cost estimates require detailed property-specific information.
That poses an industrywide challenge: How much property information should insurers require when developing an estimate? Insurers need to find the appropriate balance between ease of estimating replacement costs and the reliability of the results. Requiring less property information increases ease of doing business but can negatively affect reliability.
The challenge is difficult enough for insurance agents or company employees, but extending the balancing act to the consumer will put insurers to the test. Or will it? Could a mobile-based solution be the answer to reliable, customer-verified replacement cost estimates?
Replacement cost estimates are only as good as the property information on which they're based. And the more verified information used for the estimate, the more reliable the results. Regardless of the sales channel, mobile technology can play a key role in developing replacement cost estimates.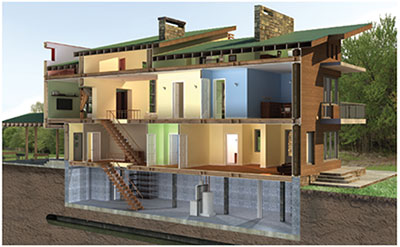 Mobile devices support current homeowners workflows
For agent and call center insurance sales, staff members can use mobile technology to support data collection and validation during the quote process. In cases where insurers want more information on which to base the estimate, the homeowner can use a smartphone or other mobile device to confirm, update, and/or add to the property characteristics used in the estimate. That approach provides the extra benefit of enabling the homeowner to take photos of the home — both interior and exterior — essentially providing the insurer with a free property inspection. Embedded GPS devices can confirm that a homeowner took the images at the property under consideration.
Many insurers feel customer-verified property information takes some uncertainty out of the assessment, thereby reducing the risk. When the insurance buyer confirms property information and the subsequent replacement cost estimate, you bring your customer into the decision-making process, reducing the likelihood of conflicts in the event of a claim. Just as insurers offer auto insurance discounts for telematics programs, they can offer discounts to encourage policyholder engagement.
Homeowners policy quoting through mobile platforms
Mobile technology is ideally suited to facilitate homeowners insurance quotes and offers the added benefit of making it easy to collect the property data needed for the replacement cost estimate. When property owners start a policy application using mobile technology, they can answer a simple progression of questions about their home. Those answers create the foundation for the replacement cost estimate based on detailed, customer-verified property characteristics.
There are several ways insurers can make the process even easier for the homeowner. First, insurers can prefill property characteristics into a mobile device once the homeowner enters the address. That lets the property owner confirm and update the information, rather than enter it from scratch. Additionally, or when prefill isn't available, the mobile platform can support graphical help fields. For example, when the homeowner needs to input the roof shape, the platform can display visual examples, verifying the data is correct. In addition to facilitating the replacement cost estimate, mobile devices can geocode the property location. That confirms the property address and forms the basis for additional location-based underwriting analytics, including fire protection information, predictive modeling, catastrophe hazard risk, and more.
Mobile devices are ideal for capturing images of property. Homeowners can take photos of the kitchen, electrical panel, heating/AC unit, and other property characteristics. By using mobile platforms to incorporate pictures into the policy application, insurers can quickly determine eligibility or proper rating. They can also address liability questions more easily by requesting photos of the family dog or backyard trampoline.
Mobile technology can also support the sales process. For example, when integrated with automated business rules, insurers can process mobile-based policy quotes quickly, 24 hours a day, seven days a week. That increases the chances of closing a sale before a buyer seeks out a competitor. The technology also helps insurers reengage with prospects who abandon mobile-based policy quotes. When homeowners abandon quotes on a mobile device, the insurer can send a text message to see if they're still interested or include an incentive to complete the application. Mobile technology is also ideally suited to social sharing. If insurers provide a superior sales experience for homeowners, they may want to share that experience with friends.
Mobile technology is a complete game-changer in countless industries and will continue to influence the way consumers conduct their daily lives. Regardless of your current sales channels, mobile devices can play a key role in sales. When effectively rolled out for homeowners underwriting, mobile technology will increase ease of doing business (both for the insurer and the homeowner), reduce underwriting expenses, and provide better data on which to base replacement cost estimates and underwriting decisions.
Underwriting is just the beginning. Mobile technology can also play an important role in policy renewals, helping insurers confirm the property is insured to value and policy information remains current throughout the life of the policy.