Old MacDonald Had a Farm, but the New MacDonald…
By
Kevin Poll
| July 11, 2016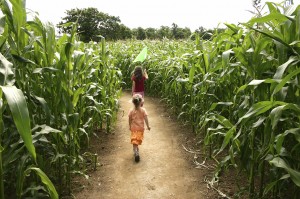 "Old MacDonald" had a farm. And on that farm, he had a cow, a chicken, and acres of land — all of which he used to make money at the market.
The "new MacDonald" has a farm experience. There's a corn maze here, a pick-your-own field there, here a hay ride, there a petting zoo, everywhere some potential revenue.
And the new MacDonald isn't alone.
According to the 2012 Census of Agriculture, more than 33,000 farms in the United States offer agritourism and recreational services, also known as agritainment. That's 42 percent more farms than the previous census in 2007. That segment, as a whole, also seems to be bringing in more money. Agritainment income grew 24 percent since 2007 to more than $704 million a year.
With the new attractions, however, come new risks. Most farms are designed for raising crops and livestock, not entertaining visitors.
Potential Risks
You don't have to live on a farm to know some of the risks. Consider the following scenarios:
Unpaved paths: Most farms are covered with dirt or grass, not asphalt. While taking a tour or picking some fruit, a visitor could fall and break an ankle.
Animal licking: A group of children feeding animals in a petting zoo could contract bacterial infections. Some of those children could suffer from significant gastrointestinal pain, and a few might develop kidney and blood conditions.
Bumpy ride: A patron taking too bumpy of a hayride up a hill with the family could begin to develop neck pain. The pain might become chronic in nature.
When you consider agritainment as a whole, one can probably count more than 40 types of income streams, each of which brings its own unique risks. There are horseback rides, haunted houses, concerts, wine tastings, and camps — and most have the potential to see injuries to children and adults. There are also farm stands, or stores, that sell not just the farm's produce but cider donuts, sauces, and spreads. The potential for related liability for injury can rise as each of those products is added to the shelves.
Mitigation Measures
Fortunately, there are a number of ways to help mitigate the risks. For example, farms with hayrides should carefully plan routes to avoid inclines that could make the wagon unstable. They should also inspect the wagon every day and make sure it's sturdy and safe for passengers.
Farms that operate petting zoos may not be able to eliminate all potential for animal-borne disease, but farmers can set up washing and disinfecting stations next to every coop or pen. In addition, posted signs can notify visitors that those who feed animals are required to thereafter wash or otherwise sanitize their hands.
For farm tours, farmers can map out a tour path that's kept clean and used by guides. If it's a self-guided tour, they can install signs that clearly indicate the route and fence off areas that could be hazardous to visitors.
New Coverage Options and Classifications
Because of the growth of agritainment and its potential risks, ISO has developed new endorsements, and drilled-down risk classifications, to help insurers to customize their approach to insuring various agritainment exposures. The classifications apply to a wide range of activities, including bike riding, cross-country skiing, farm-related educational classes, and pick-your-own fruits and vegetables.
The new endorsements address separate liability coverage, including bodily injury and property damage coverage, and property coverage with respect to the agritainment described in the endorsement.
The liability endorsements also address medical payments coverage.
ISO plans to file the agritainment endorsements in the second quarter of 2015, along with additional farm coverage options with respect to product withdrawal and debris removal, and various other enhancements and revisions to the program. If you have any questions, please feel free to contact me at Kevin.Poll@verisk.com or 201-469-2015.
---