There's an advertising race taking place in the United States personal lines property/casualty insurance sector—the reason being that fewer new customers are entering the market.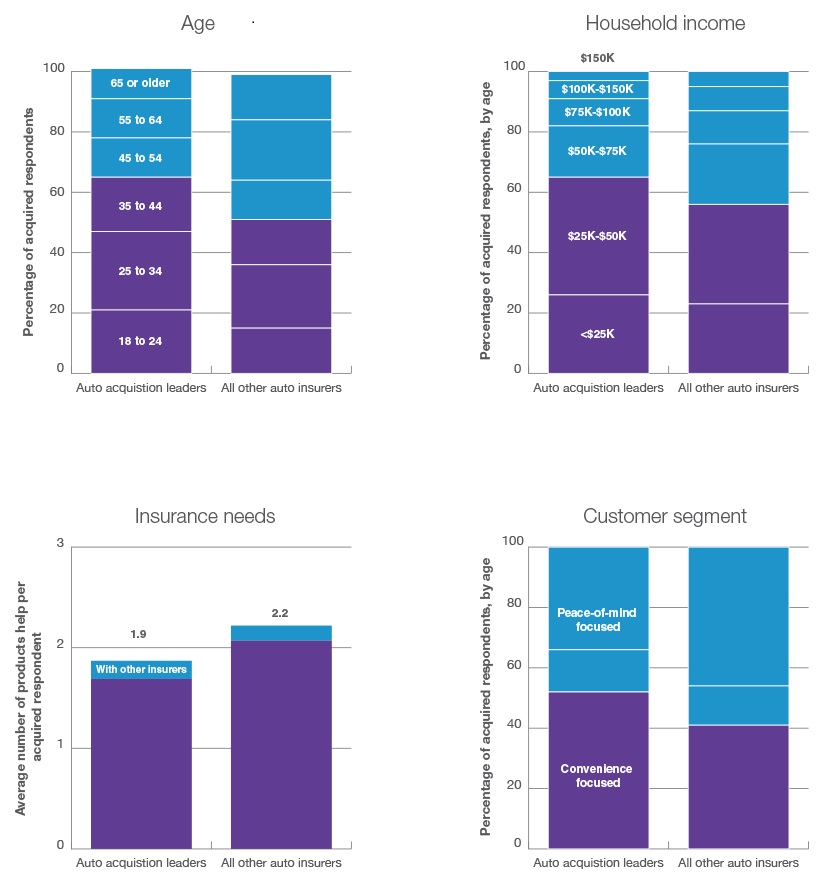 Last year, customer growth increased by just 1 percent in auto and 4 percent in home, for a total of 2 percent in property/casualty overall. Those figures were reported in Bain & Company's most recent survey (conducted by Research Now) of nearly 26,500 U.S. consumers. Most acquired customers are people who switch from a competitor.
Slow premium growth
As a result, many insurers may feel a bit like Alice in Wonderland, running at top speed with barely any forward motion to show for the effort. With annual population growth in the United States at just 0.7 percent, according to U.S. Census data, insurers have seen slow overall growth in net premiums written―just 2.7 percent over the past five years, according to SNL Financial. To improve their growth rates, insurers rely on acquiring and retaining customers.
But very few insurers excel in both areas. That's true for several reasons. Acquisition leaders tend to attract customers who are highly price-sensitive—and thus more likely to defect when presented with a lower-priced offer. Their customers tend to be younger, lower income, and have fewer insurance needs (see Figure 1). These companies spend more on advertising and favor such direct distribution channels as online and contact centers.
Path to success
An analysis of Bain's consumer survey can help inform insurers about what they can do to succeed in both acquisition and retention. Customers report that they buy home and auto insurance primarily based on price, followed by a carrier's reputation. That's been reinforced in advertising of the past few years, with most ads conveying one of two themes—low price or peace of mind. The payoff is clear: Ad spending correlates directly with customer acquisition rates, as Bain's analysis shows. The top performers in acquisition spend 50 percent more per customer on advertising than the average performer through a steady succession of price-based themes. Their direct model, using no or few agents, structurally has lower expense ratios than a traditional insurer, allowing them to deliver on their low-price promise.
Price-sensitive consumers
The catch is that highly price-sensitive customers are more prone to defect to a competitor because of price. Of those who do defect, more than half move to an insurer that offers a savings of less than 20 percent on their premium. Companies that lead in retaining customers take a different tack. Our survey analysis finds that retention correlates strongly with higher customer loyalty, as measured by Net Promoter Score®, a management tool used to gauge the loyalty of a firm's customer relationships. Customers who promote their primary carrier stay longer and buy more products, and they make more referrals to friends and colleagues (see Figure 2). As a result, promoters are worth nearly seven times more than detractors. And greater retention accounts for three-quarters of that additional value.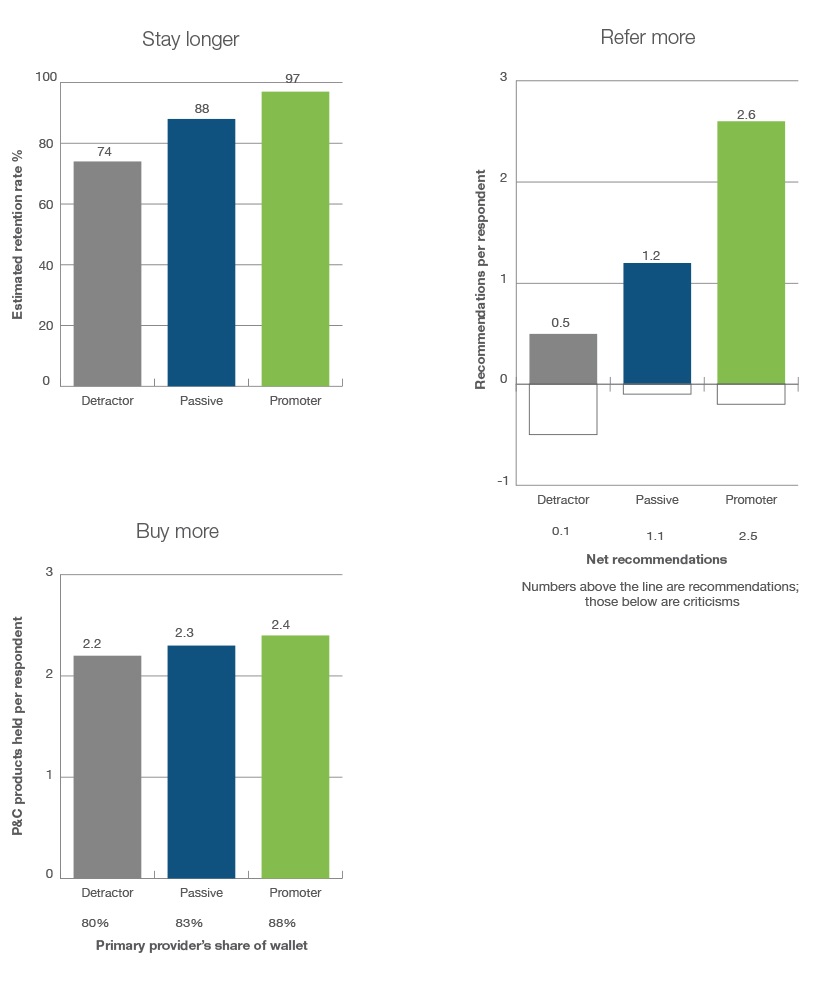 The survey analysis has practical implications for all insurers, whether they emphasize acquisition or retention. First, insurers should refine their marketing to be more selective about which customers they acquire. Attracting only price-sensitive customers will likely generate higher turnover down the road, so insurers that choose this route will have to manage costs continually to attract an outsize share of new customers and maintain their market position. As the acquisition race escalates, moreover, there may come a point of diminishing returns from advertising. This means that insurers would benefit from exploring how to make advertising and direct marketing more effective now.
Insurers that focus ad themes on peace of mind or convenience could shift from a broadcast mode to a "narrow-cast" mode, focusing on a smaller audience so they can target the most attractive customer groups. And they could intensify tailored marketing once the customer is onboard to provide information that the customer values or that might reassure them that "we've got your back." Advanced analytics can help mine demographic, behavioral, and other data to build predictive models that improve the accuracy of matching tailored products to target segments.
One major insurer, for instance, mines customer data to inform its targeted marketing, which may be triggered by a life event, such as offering additional auto insurance to a family when a child turns 16. The second major implication of the survey analysis points to retaining price-sensitive customers. This requires insurers to step up their pricing and product innovations so customers have strong reasons to stay and buy more products.
Some innovations depend on price-related features. Several insurers reward safe driving, and many major carriers offer "accident forgiveness," where a higher-priced policy buys no increase in premium after the first accident. Other innovations stem from advances in digital technologies, notably in-vehicle telematics programs, which typically record driving behavior and use the data to inform the underwriting process.
Telematics hasn't yet achieved high penetration rates for most insurers because some customers have been wary of the intrusion and insurers have been reluctant to push the technology aggressively. But as mobile technology continues to advance rapidly and more people accept location-tracking services, telematics seems certain to flourish. The Verisk Telematics Data Exchange™, which provides access to driver data directly from auto manufacturers, will make access and consumption of telematics data easier for insurers and improve the customer experience.
Additionally, start-up insurers are beginning to offer other telematics-based innovations. One insurer has launched, in several states, an auto policy that sets price by number of miles driven. Route-based pricing could also soon appear as evidence mounts that certain highways are statistically safer than city streets. For most property/casualty insurers, reigniting organic growth involves a choice between excelling in acquisition or retention. Both models, however, benefit from a dedicated focus on earning customers' loyalty and the value created by greater retention, cross-selling, and referrals.
---
David Whelan and Sean O'Neill are partners with Bain & Company's Global Financial Services practice. They are based in Chicago.
---