The growth of drones, 3D printing, and home sharing is giving people around the world the opportunity to experience what in the past they could only imagine. Thanks to those three innovations, a person can be a pilot without boarding an airplane, manufacture products without running a factory, and rent rooms without opening a hotel.
But with those opportunities come new exposures that could affect coverage in both homeowners and personal auto lines. In this Visualize roundtable, Jeff De Turris, William Schlager, and Dan Bachman discuss these new advancements in technology and how they could affect the way we understand, mitigate, and insure risk.
What are the greatest benefits of 3D printing, drones, and home sharing?
Jeff De Turris: With 3D printing, improved technology available at a lower cost has the potential to bring science fiction closer to reality for us all. If you own a 3D printer, you could eventually create many of the products or parts you need at home instead of purchasing them at a store. You could reduce shopping trips and save on gas while producing only what you need when you need it. 3D printers have built mugs, light fixtures, and even cars. The possibilities are endless.
William Schlager: For home sharing, the greatest benefits are convenience and cost. Home sharing websites typically allow homeowners to rent part of or their entire home to short-term visitors, often for extra income. For the short-term visitor, the benefit frequently lies in paying a reduced cost over a traditional hotel.
Dan Bachman: If there's any innovation that could change the way we live, it's drones. People interested in model airplanes and photography could buy drones and get a bird's-eye view of the world. Those who are worried about home security could use drones for surveillance. Even if you're just sitting on your couch, you could use a drone at some point to inspect your roof for damage. When it comes to the potential benefits of drones, the sky's truly the limit.
What risks could the new technologies bring for homeowners and personal auto insurance?
Schlager: Home sharing may involve multiple perils. First, as with any form of hospitality, there's the risk of property damage. Who will pay if the home you rented (illegally in some cases) is trashed or if a homeowner's property is stolen or damaged? Secondly, who will be legally responsible if a liability loss, such as bodily injury to another person, occurs while owners rent the home?
Jeff De Turris: 3D printing also comes with its share of risks. Let's say you buy a 3D printer for your home. Who's liable if a 3D object you printed breaks and injures someone? You, the manufacturer of the printer, or the company that supplied the 3D printing materials? You don't need to use the printer personally to be liable for how it's used. If children are able to produce dangerous 3D objects at home, parents could see their potential liability exposure grow.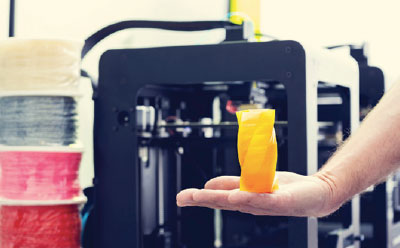 The risks of 3D printing could also affect personal auto. There are already reports of hobbyists building entire cars with 3D-printed equipment. If more drivers start printing auto parts at home and installing them in cars, they could face safety exposures on both the property and liability fronts.
Bachman: Anything that flies thousands of feet in the air is, by nature, full of risk. But drones pose their own special level of risk, as they're easy to buy and can be operated by anyone. If you accidentally fly your drone into your home or car, you could face major property damage. If your drone flies into your neighbor's backyard, there could be privacy issues. If others are injured or have property damage, you could face significant liability exposures.
How is ISO working to address these new and emerging risks?
Schlager: The ISO Homeowners Policy Program currently contains policy coverage provisions that may address some aspects of the occasional rental of a dwelling. We're now reviewing those provisions to determine whether changes are warranted to reflect the emerging trend of home sharing. We're also monitoring the topic as part of our Emerging Issues Portal available to ISO participating customers.
De Turris: 3D printing has been a hot topic for our Emerging Issues Panel, which has more than 100 members from across the insurance industry. It's also been the subject of a white paper entitled The Promise and Perils of 3D Printing.
Download a complimentary copy.
Finally, we've compiled a significant amount of research on 3D printing in our Emerging Issues Portal on ISOnet®. It's a great site, and I urge you to check it out.
Bachman: We've been tackling the drone risks head-on. We recently produced a white paper that looks at a number of those issues. It's called Exploring Drones: How Unmanned Aircraft Could Change the Way We Live, Work, and Think about Risk.
Download a complimentary copy.
We recently discussed drones with our Personal Property Panel and are considering coverage tools to address the exposures.
Jeff De Turris, assistant vice president in the Personal Lines Division for ISO Insurance Programs and Analytic Services, is in charge of all aspects of producing and developing the company's personal lines rules, forms, and pricing products. He's also ISO's point person on emerging issues. He facilitates the company's customer advisory panel on emerging issues and coordinates ISO's study of and responses to topics identified as important concerns for the future.
William (Chuck) Schlager, manager in the Personal Lines Division for ISO Insurance Programs and Analytic Services, is responsible for managing the research, development, and implementation of the company's rules, forms, and pricing products for the personal property lines of business, including homeowners, dwelling property, and watercraft. Before assuming his current role, Chuck held various personal lines positions at ISO, where he actively worked on developing many new products, including the ISO Watercraft Program and the ISO Personal Umbrella Program.
Dan Bachman, senior assistant manager in the Personal Lines Division for ISO Insurance Programs and Analytic Services, is primarily responsible for developing the company's rules and pricing products for the personal property lines. He's also responsible for supervising the introduction of many of our multistate form, rule, and loss cost filings, including the ISO Homeowners 2011 Program.